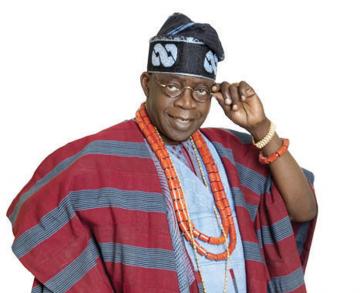 Ikeja (NAN) – The National leader of the All Peoples Congress (APC), Bola Tinubu, arrived into the country from London on Thursday night, declaring that he was hale and hearty.
Tinubu arrived at the Murtala Muhammed International Airport, Lagos aboard a chartered jet that landed about 10.50 p.m.
The former Lagos State governor said that he was never admitted in any hospital in London, wondering where his opponents got the information from that he was very ill.
He attributed the rumour to the handiwork of his political opponents who wanted to know at every time his whereabouts and what he was politically up to.
He said that it was unimaginable for anybody to be spreading rumours that he  was ill adding that the last time he travelled abroad to treat a knee injury he made it public.
"Some people are deliberately fabricating information that I have a medical or health problem. This is evidence of distrust of people in this country,'' he said.
Tinubu said that he went to London "for a deserved rest" and to strategise on how to turn around the APC to take over government from the ruling party.
He said that the APC, "as a medical and pharmaceutical therapy" was ready to offer a cure to the myriads of political and economic problems plaguing the nation.
"After the Osun governorship election, I planned a long vacation for a deserved rest. I simply just traveled abroad to rest, study and learn new things from people who have positive influence on me.
"I went to learn from people who are more experienced in handling opposition politics. I do not have to disclose to people my vacation location or the reason why I am traveling.
 Tinubu was received by the Speaker of Lagos State House of Assembly, Adeyemi Ikuforiji and other APC stalwarts.