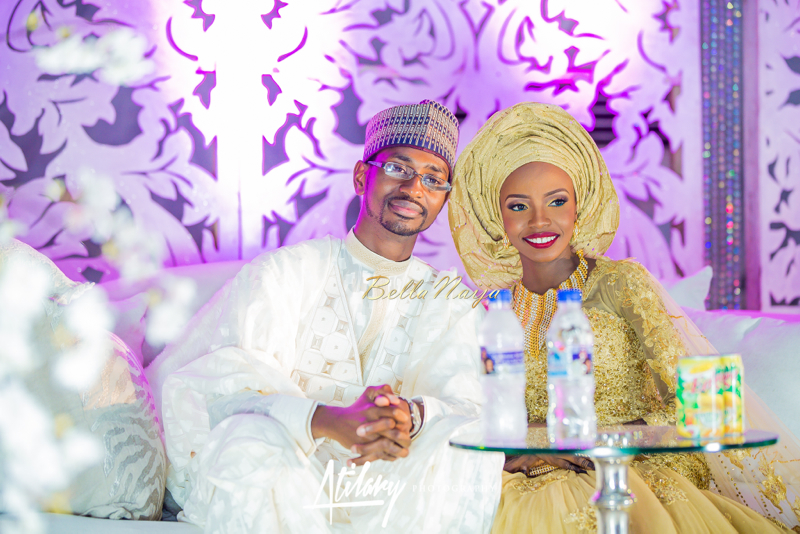 BellaNaija Weddings is proud to present Farida Salisu Yusha'u & Abubakar Sani Aminu's wedding! The multi day celebration in the historic city of Kaduna was truly spectacular.
How They Met
Farida and Abubakar met at his sister's house. She shared with BN Weddings,
"We became friends for a while and then eventually started dating. Everything fell into place after that."
The bride and groom decided to get married, and followed traditional rites for The Proposal. Farida shared with us,
"In our culture there's no such thing as a proposal with a ring and all but what we normally do is the groom-to-be sends his elders to go and the bride-to-be's elders and they talk it out. After all of that the bride's elders accept to give the groom their daughter. Then it becomes official. "
For couples about to start their life together as One, Farida shares this Advice,
"Life is too short, whatever happens, forgive. Never let a third party in your relationship"
For the wedding day,
"Brides and Grooms to be make sure you dance like you have never danced in your life. Express the Joy you have in you!"
BellaNaija Weddings wishes Farida & Abubakar a beautiful life as One.
***
~ Pre-Wedding Photos: Maigaskiya Photography
~ All Wedding/Event Photography: Atilary Photography
Banquet/Bridal Shower – Pink Fashion Theme
"The Banquet was because I wanted to have fun with my girls before the wedding actually began. I wanted it to be Formal so I told everyone to wear long baby Pink/Black long dresses. I wore a grey and Black dress to look different. The theme was because of my love for fashion and Ema made my day with the decoration!"
Henna
"Henna Days are Part of the Hausa/Fulani culture. Its almost impossible to have a wedding without Henna. The Bride's hands and legs are beautifully decorated in preparation for the wedding. I wore a brown lace because once Henna stains your clothes, it doesn't go off. My Beautiful Henna was done by Najma, a well known mehndi artist in the north."
Kamu
"Morrocan theme. For My Kamu I didn't want "too much decoration". I just wanted simple decor with lamps, colourful carpets and pillows. I also wore a very bright peach dress for this event to stand out as the bride.
The Peach Dress was tailored to what my mom wanted. She was so into getting what she wanted I let her have it. The Color and Design, All her! I customized her idea to my taste and made sure it had a lot of stones on it too!"
Dinner
"I went with a Winter wonderland theme because I wanted My Gold Dress To Pop out like "The sun shining in the middle of a storm" lol I'm all jokes I know but really thats the best way I can describe it. That night I glowed in the dark as expected. The lighting was dark and the stage was bright.
The All Gold Dress was tailored to what my mom and I wanted. I wasn't really down with the Gold at first but my mom insisted because its her favorite color. I'm a blingy kind of person so I made sure it was heavily beaded and sparkly."
Wedding Fatiha/Yini
"My Husband and I decided to wear all white because that was the day we were officially recognized as a couple, as one and also because we were considered to have completed half of our Religion. Another reason was because it is a sign of Peace and Purity (I have Always been a Fan of white)."
Conveyance of the Bride
"My mom Made sure I wore Green and Gold That Night because Green is a traditional Color of Islam. The Arabic word for "greenness" is mentioned in The Holy Qur'an not just once and it is used in Describing the People of Paradise."
Budan Kai
"Budan Kai in English means Unveiling. This is an event by the Groom's side to unveil their new bride and welcome her into the family.
I wore Purple and lilac because felt the need to use a darker color. It was different from the brighter ones I wore throughout the wedding. That event Marked the end of the wedding, and beginning of our life together."
***
Photography
Wedding Pictures: Atilary Photography | Instagram: @atilary_ | Twitter: @atilary | Email: Atilarystudio (at) yahoo.com
Pre Wedding Shoot: Maigaskiya Photography | Instagram: @maigaskiya
Wedding Info
Wedding Dates/Venues/Colours
Banquet: 26th August 2014 | Colour: Baby pink
Henna Day: 27th August 2014
Dinner: 28th August 2014 | Yaradua hall Murtala Mohammend square Kaduna | Tiffany Blue
Kamu: 29th August 2014 | Silver Sand No 19 Katuru road Unguwansarki Kaduna | Coral and Cream
Wedding Fatiha/Yini/Conveyance of the bride: 30th August 2014 | Almannar Juma'at Mosque Kaduna
Budan Kai: 31st August 2014
Bride's Attire
Banquet: Christian Louboutin shoes & BCBG MAX AZRIA clutch
Dinner: Guisseppe Zannoti shoes & Nicoli clutch
Kamu: Moreschi shoes and Bebe clutch
Wedding Fatiha: Rene Caovilla shoes and BCBG MAX AZRIA
All white Attire: Ibrahim from House of Kaya Kaduna
Budan Kai: Christian Louboutin Shoes and Dune clutch
Henna Artist: Najma Ibrahim | Instagram: @najmalina | Email: [email protected]
Makeup
Pre wedding shoot,Dinner,Kamu,Wedding Fatiha and Budan Kai: Mamza Beauty | Instagram: @mamzabeauty | Email: Mamzabeauty (at) gmail.com
For Banquet and Henna: Ilaura's makeover | Twitter: @iOSLaura | Instagram: @ilauras_makeover
Vendors
Wedding Planner: Asua Badeh
Wedding Cake: Dalema Bakery Kaduna
Banquet
Banquet Decor: Monarch Designs Limited | Instagram: Monachdl | Email: Monarchdl (at) yahoo.com
Dessert: Dalema Bakery Kaduna
Cake: Dalema Bakery Kaduna
Cupcakes: Crafty cakes Kaduna | email: engrashleyj (at) yahoo.com
Cocktails (Mocktails): Nikoy Kaduna | email: adenikeoyedele61 (at) yahoo.com
Dinner
Dinner Decor: Blue Velvet Marquee | Instagram: @bluevelvetmarquee | Email: info (at) bluevelvetdecor.com
Food: Shuhuratu Dupe catering services | phone: 08034505211
Dessert: Piped | Instagram- @piped
Cocktails: Cocktails In and Out | Instagram- @cocktailsinandout | Email: cocktailsinandout (at) yahoo.com
Entertainers: Ibro and crew
MC: Helen Paul
Kamu
Kamu Decor: Blue Velvet Marquee | Instagram: @bluevelvetmarquee | Email: info (at) bluevelvetdecor.com
Food: Mohfat catering services, Kaduna | Email: Mohfati2000 (at) yahoo.com
Entertainers: Sani Danja and crew
MC: Lilo