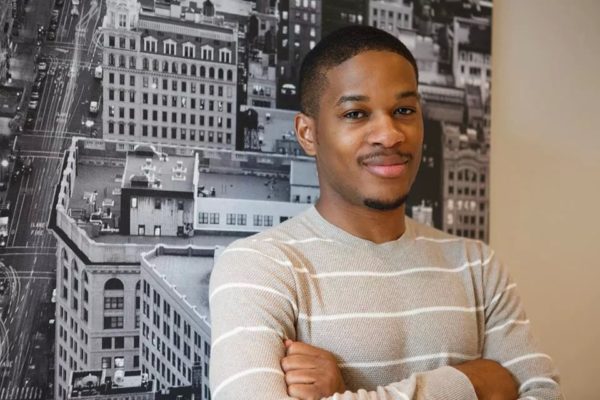 Move Back to Nigeria is a series on BellaNaija which aims to encourage young and not-so-young professionals in the diaspora who are trying to make the decision of whether to move back to Nigeria. In collaboration with the brilliant team at MoveBackToNigeria.com, we hope to bring you a weekly interview with individuals who have successfully made the leap, considering the leap, as well as those who have tried it and realized it is not for them. MoveBacktoNigeria.com's mission is to showcase stories of Nigerians abroad who have moved back home and are taking giant strides, often against all odds and to serve as inspiration to others.This, however, does not preclude us from sharing stories of the people who have moved back and are facing various challenges.
Canada has its fair share of Nigerians, and we were fortunate to catch up with a recent returnee from Toronto this week. Obiora moved back to Nigeria recently having studied and worked in Canada for almost a decade. An optimistic young man, he decided to move back to Nigeria without a firm job offer because he believes the move back decision should be made at the relatively early stage of one's career. Carry on reading to find out more about his experiences abroad and what he plans to do now that he is on the ground in Nigeria.
Thanks for speaking to us. Please start by introducing yourself.
My name is Obiora Francis Ngene and I recently moved back to Nigeria having spent 8 years in Canada. I grew up in Nigeria and attended Montessori International Primary School and Jephthah Comprehensive Secondary, both in Port Harcourt. As a child my dream was to become a petrochemical engineer, so I always took science classes, and then I moved to Canada in August 2006 where I did a pre-university programme at Columbia International College.
Why did you move to Canada?
I have also asked myself that question because when I was younger, I always wanted to go to England, as it is closer to home. But then my brother moved to Canada and so it was more convenient to have everybody in one place, so it wasn't exactly my choice. It was more a matter of convenience.
And your dream about becoming a petrochemical engineer… was this because of the perceived financial incentives?
(Laughs) I really liked chemistry, and in addition to that, my dad worked for an oil company, so the oil industry was basically all I knew up until the time I got to Canada. Watching him work inspired me to want to do the same. It also looked like a very stable career path, so that increased my interest in the profession. But then I changed to economics in my first year of university.
That was a bit of a switch. Why Economics?
Before I switched, I had never really done any arts courses, the majority of what I did at school was science and math related. In my first year of university, I took economics as an elective and then I enjoyed it, so I thought I would be better off doing this as a major because it offered me a wider range of career options for the future versus if I had solely focused on petrochemical engineering. Besides, my university did not offer 'petrochemical engineering' as a course, so I would have had to go into 'chemical engineering', which is not exactly the same thing. In the end I stuck with economics, with the intention of going into investment banking upon graduation.
For the record your University was called?
McMaster University, Ontario Canada and I was there from 2007 to 2011.
So what did you do after graduation?
A few months after graduation, I got a job with a French insurance firm in Hamilton, Ontario but I quit after three months, moving down to Toronto where I wanted to settle down. In Toronto, I got a direct marketing job, which was probably one of the hardest jobs ever; although I learnt a lot from it. The job involved going out to gas stations, malls, universities etc, trying to persuade people to apply for credit cards. I had to be very proactive and it took me out of my comfort zone as I had never done a job where it is just sales focused and 100% commissions based. In the end, I realised it wasn't for me, so I quit after three months.
What was your next step?
I sent out tons of applications and never got a response, probably due to my limited work experience; after all it had only been about a year since I'd graduated from University. However I ultimately landed myself a job at the Canadian Imperial Bank of Commerce (CIBC); I had two sets of interviews, one over the phone and the other, in person.
What was your role at the bank?
CIBC was launching a chat support programme, and given I am bilingual (I also speak French), I was made a 'chat support specialist' however that was not my first role at the bank. For the first six months, I was a telephone-banking representative and I learnt about all the products and services the bank offered, like mortgages, credits cards, loans etc. In this role, I was faced with sales targets too and my previous experience helped me a lot. After this, I was transferred to the chat specialist role where the bank was trying to win customers for 'home power lines of credit'.
How long were you with CIBC?
I was with them for about two and a half years, and looking back, it was a very worthwhile experience for me.
Why did you decide to leave after two and a half years?
Everything was going really well for me, but after I came back home to Nigeria in December 2013, I started thinking along the lines of long term plans. I never really planned on settling down in Canada; I knew that if I had stayed any longer, I might have gotten to the point where it would be difficult for me to one day get up and come back home, so I decided to do it sooner than later.
Did you eventually get into the investment-banking path?
Not at CIBC. However, I enrolled for the Chartered Financial Analyst Programme (CFA) and had just finished level 2 of the qualification and was about getting closer to investment banking opportunities, when I decided to leave CIBC.
You have one more level to go to complete the CFA programme. Level 3
Yes I plan on going back to Canada at some point within the next year to complete the final exam.
How have you found the experience of taking the exams?
The exams were very tough, but I have enjoyed the experience because it taught me how to manage my time better and most importantly, I have learnt a lot about the global investment industry. When I look back, I wonder how I have been able to accomplish passing 2 levels of the exam, simply due to the level of difficulty. But I am very glad about it as you can imagine. Since passing the first 2 exams, I have been a lot more positive about scaling the final hurdle and becoming a Chartered Financial Analyst.
Let's move on to your actual move back. What else influenced the timing of this
I decided to move back somewhere around November/December 2013. I started talking to a couple of friends who had moved back and most of them were of the opinion that if I had a good job over in Canada then it wasn't worth moving back. However, after coming back home for Christmas, I spoke to my parents to get their opinions too. The reason why I really pushed myself was because I felt I had gotten the work experience which I really needed, and I thought to myself, the earlier in my career the move back happened, the better. The time I chose to move back was ideal because there wasn't much to lose and I have a higher appetite for risk at this young stage of my life. I decided to come back to see what is out here, and if I make it, fine and if I don't, it simply means I need to work harder but at least I tried.
Before you moved back, did you do a lot of research or did you just pack your bags and get on the next flight?
Most of what I did was talk to people who had already moved back because there was a time when I was going back and forth on the decision. I also applied for jobs in Nigeria, which was primarily online via LinkedIn (and other sources), without much luck. In the end I realised I had a better chance of success by being on the ground to network with people to find a job. Things work a bit differently in Nigeria.
So now you are on the ground, what are your next steps?
The next step is NYSC, which is one thing I told myself I would never ever do. But now I don't really have a choice and I have become more open. Hopefully NYSC will actually let me 'see' Nigeria more and possibly speed up my re integration into the Nigerian system.
And how did you find the NYSC registration process?
(Laughs) Well I heard a lot about what to expect from friends. I was told to expect a disorganised process, so I already had that mindset. What I had to do was upload all my documents online and I thought I'd be in and out of the registration office within 20 minutes; however the process took around 3-4hours even though there weren't many registrants there.  The delays were caused by my having to go back and forth to print/scan various documents. Overall, the process wasn't as smooth but at least the job was done at the end of the day and the people there were helpful.
What have you been doing so far while waiting for NYSC to start?
Well most of my time has been spent studying for my CFA level 3 exam and from time to time I explore more of Nigeria to see how things work, such as visiting some banks to see how they are run and how people work here and speaking to staff to understand how the professional environment operates in Nigeria.
And your plans for after NYSC?
My goal is to work in the investment-banking department or in the treasury department of a bank here, especially because with the CFA there is a requirement to have hands on experience in certain roles in order to be fully certified. I also have graduate school on the cards, but I'm not entirely sure of when it'll be.
Have you faced any challenges since moving back?
In terms of moving back, my first week was the hardest – on day 5 it hit me hard when I started seeing mosquitoes, the heat, slow Internet. By the time I got into week two, I had slightly adjusted and then by the third week I went to the village where I experienced traffic at its peak. We were at a stand still for about four hours because of a broken down truck. I haven't really gone out properly yet but I tend to go out for dinner with my family and all. I have also found that since I moved back, I have gotten a lot of writing inspiration just by seeing people go about their daily lives compared to when I was in Canada.
Where do you see yourself in the next 5-10years?
That's a tough question. I'd love to start up a financial consulting firm based on my experiences and I would also like to get into the technology/retail sector in Nigeria because I have seen that it is booming a lot here.
Any advice for people wanting to move back?
If you want to move back, do it! Don't push the decision too far. People might have had bad experiences, but until you come back and see it by yourself you will never know. But just get on the plane and come back home.
Thank you so much for your time!