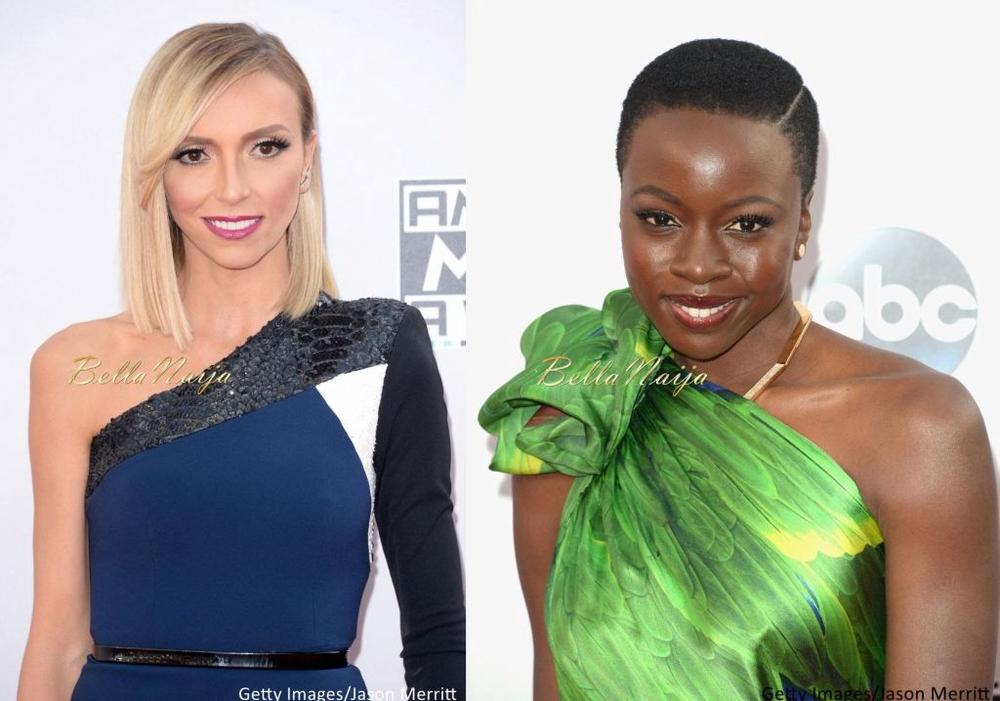 The 2014 American Music Awards held last night and it was a bevy of hot talent, music lovers and red carpet fabulosity. Speaking of the red carpet, BN Beauty is here with all our favourite looks from last night's event!
We noticed a lot of nudes going around the red carpet which left all the attention to the eyes. Stars like Rita Ora, Nicki Minaj and Kendall Jenner brought the drama with their false lashes and mascara while Guliana Rancic went for a pop of colour with her lips and eyes.
Check out our favourite beauty looks below; and see the Red Carpet photos here.
Rita Ora
Rita definitely stole our hearts with this one. The 'Black Widow' singer took some inspiration from the video for her Samurai-inspired top knot.
The hair and makeup matched in drama – her top knot sported a straight clean cut end; and Rita added a whimsical yellow to her lid which went great with her gorgeous dress.
Nicki Minaj
Nicki decided to show off her natural features on the red carpet which we love. She had uber long lashes and a killer feline look with her cat eye liner; coupled with rosy cheeks with a touch of soft blush and light pink lips.
We love seeing Nicki this way…soft, feminine and sexy.
Guliana Rancic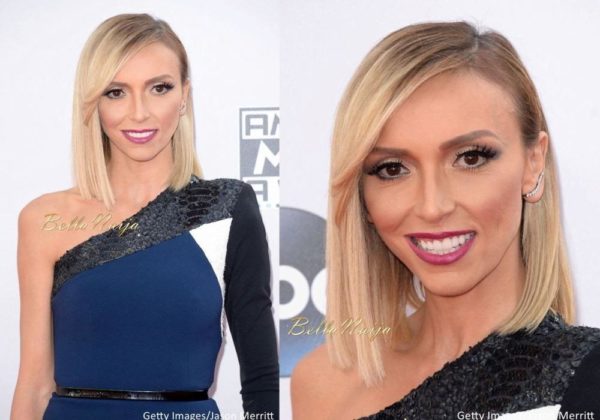 E! News Guliana Ranci was one star who definitely brought the pop of culture to the red carpet. With a lot of stars opting for nude lips and light pinks, we were relieved to see some dark pink lips on the Fashion Police panelist.
Her blonde 'Lob' (Long Bob) looked glam straight down and the cut went great with her asymmetrical Alex Perry dress.
Danai Gurira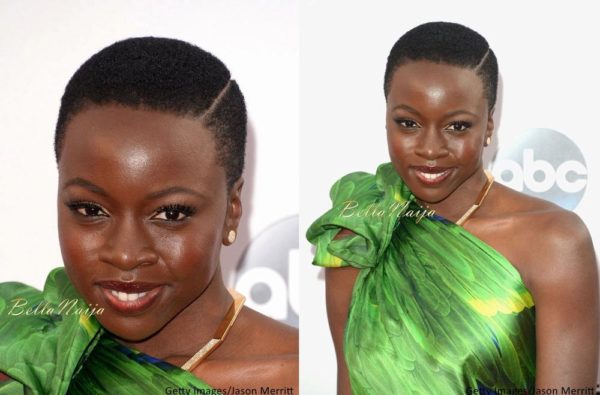 The 'The Walking Dead' star Danai Gurira showed up in a stunning green Naeem Khan dress that put her as one of our must see looks. Complimenting the dress with a cobalt blue waist belt, Danai left all the attention to her outfit, but that did not take our attention off her stunning face.
She bronzed up for the evening with her long falsies and dark brown lip.
Admittedly we would have loved to see her rock a different look with her hair, but that doesn't trump her position on our list.
Zendaya Coleman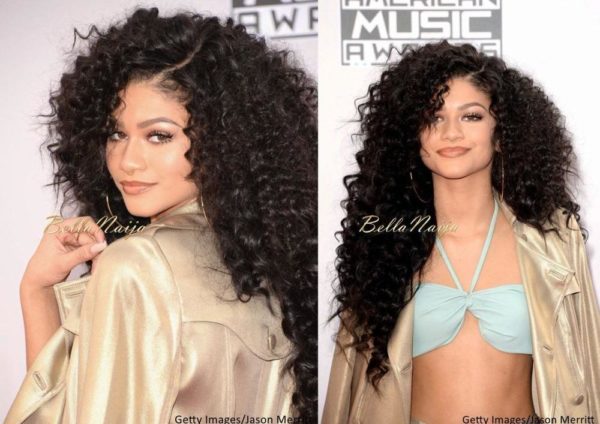 We are going to take your attention off Zendaya's slightly rumpled Georgine coat and pants to her fabulous Diana Ross-inspired hairstyle.
The actress showed up at the 2014 AMAs looking 70s fab with a curly & full side-part that was perfectly loud. We loved her look and how she keeps surprising us on the red carpet.
Jennifer Lopez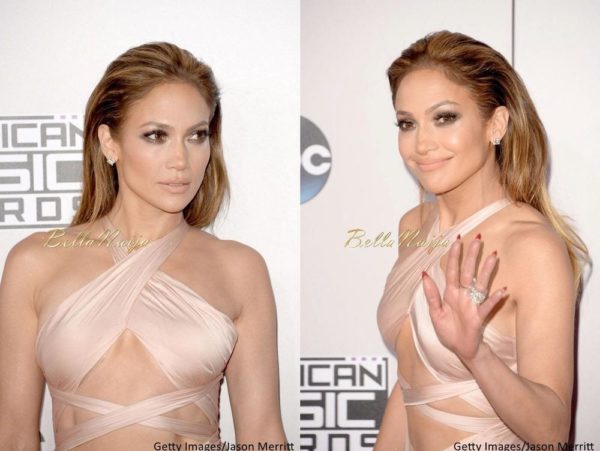 J Lo stepped on the red carpet a goddess yesterday. With her sleeked back hair and bronzed smokey eye we could't help but notice. The 'Booty' singer had her makeup look created by celebrity makeup artist Mary Phillips who gave her a natural glow with a contour to highlight her cheekbones and nude lips. But her killer finale? The bronze eyeshadow from L'Oreal Paris Infallible 24hr eyeshadow.
Her mani's were also on our radar, created by Tom Bachik. They featured ombre nails going from deep blush fading into a soft nude at the nail beds.
Kendall Jenner
Kendall Jenner was a vision of perfection at the 2014 AMA red carpet. With sleeked back jet black hair with a center part, Kendall went nude with a shimmery metallic shine to her eyes.
The young model and new Estee Lauder face came ready with a look created by Estee Lauder makeup artist Rob Scheppy. He contoured Kendall's eyeshadow using the Estee Lauder Pure Colour Envy Sculpting Eyeshadow and finished it off with thick black liner and loads of mascara.
For her skin, Kendall was literally glowing. Rob used the Invisible Fluid Makeup Foundation and a pure colour blush.
Jhene Aiko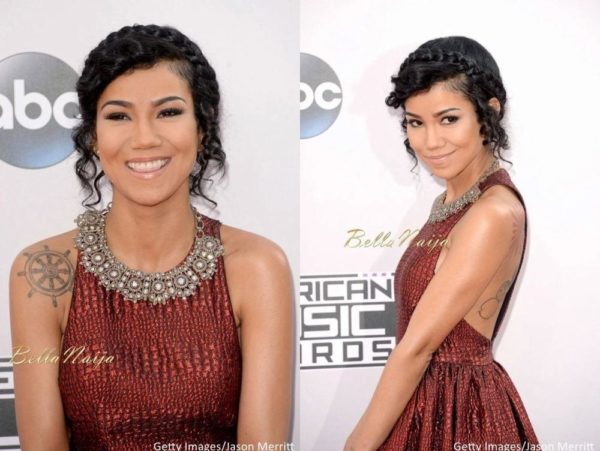 When in need of an indie inspiration, look to Jhene Aiko.
The singer took us once again into her world of beauty with her crown braid. Even though she kept it simple with her makeup – with a smokey eye and nude lips, in true Jhene fashion, her hair was all the rave.
Julianne Hough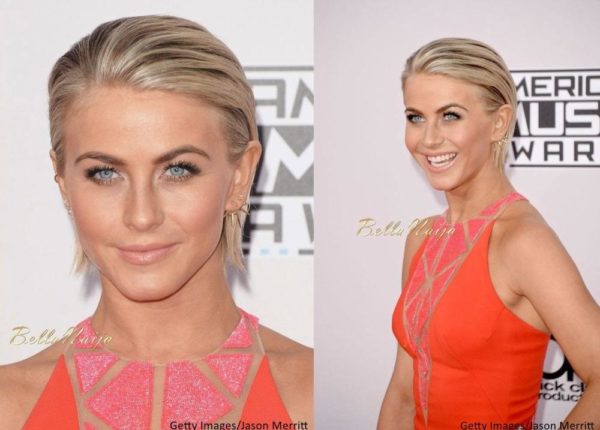 Sleeked hair, intense eyes and a pretty face were all we could see for Julianne Hough's hair & makeup look.
The dancer, singer-songwriter and actress showed a great way to take the attention to your eyes with her intense look. Her long falsies, peach cheeks and light pink lip gave her a dreamy beach-babe look that we love.
Taylor Shilling
Oh look, it's OINTB's Piper!
It was a relief to see Taylor out of orange, and in a crisp white. With her side-swept beach waves, Taylor went for winged cat eyes with a plane face that gave off a fresh look. We would have loved to see her in a different look that isn't so Piper-like but we are still die-hard OITNB fans.
These are our top 10! Whose hair & makeup were you loving?
Photo Credit: Getty Images/Jason Merritt