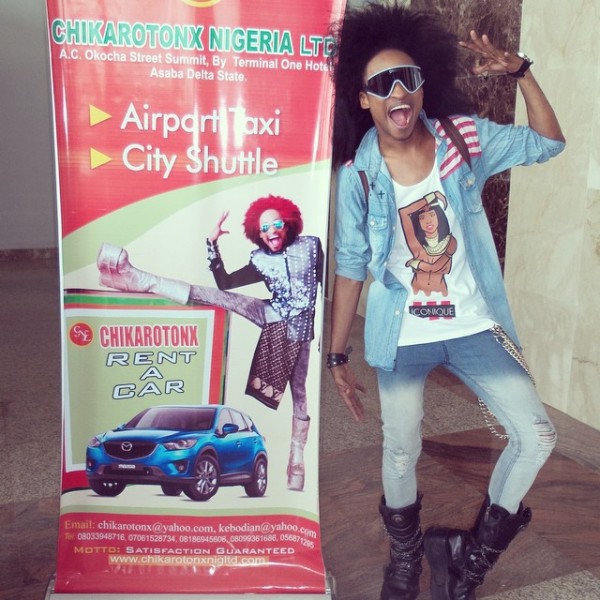 Sometime in September I was going through a blog and I saw something really "interesting". It was a picture of Denrele Edun on a roll up banner advertising airport taxis and city shuttles. He made a comment which made me pity him. He said and I quote:
"… Can't recall doing any promotional shoot for this campaign o! Naija sha! Anyways doing business without advertising is like winking at a girl in the dark. You know what you are doing but nobody else does!"
From the above statement, one thing is obvious. There is a common impression that "it is Naija, anything goes" or anything can happen. It is quite unfortunate that in this 21st century, people still fail to respect right to privacy of others. A bulk of the blame goes to the government for the failure to regulate the industry in this area. However, a fraction of the fault belongs to the players in the industry who have refused to push the bounds of law or even explore the current remedies provided by the law, regardless of its virgin state. These issues and problems of the country have been overstated so I won't bore you with stating the obvious.
Going straight to the reason for this article, I was more interested in some of the comments on the blog about the picture. I noticed the misconception that this was a copyright issue and that is what I hope to correct. When someone's name or likeness is commercially exploited without consent and, potentially compensation, this in most advanced countries is referred to as a breach of the right of publicity which is a common law doctrine derived from the tort of invasion of privacy. The 1999 Constitution, section 37 to be precise ensures the protection of the privacy of citizens, their homes, correspondence, telephone conversations and telegraphic communications is hereby guaranteed and protected. Unfortunately, I am yet to come across any case law interpreting this section to cover commercial exploitation of a citizen's likeness. However, in the absence of anything to the contrary and in line with how it is done in most advanced countries, that constitutional provision is sufficient.
To avoid violating someone's right of privacy in this regard, you must be careful about using their:
Image (photos, videos, film);
likeness (drawings, paintings, prints, etc.);
name (this includes nicknames and former names); or
voice;
Make sure you have permission before using a person's image or likeness, or their voice or signature, in connection with advertising for products or services; product packaging; or on any merchandise that you sell.
This picture also challenged some thoughts in my head. Is Denrele's likeness distinctive? If yes, can it be registered under the Trade Mark Act? Section 9 (1) (e) of the Trade Mark Act makes provisions for any other distinctive mark. What do you guys think?
The Act defines a "mark" to include a device, brand, heading, label, ticket, name, signature, word, letter, numeral, or any combination thereof. The definition section defines trademark as "a mark used or proposed to be used in relation to goods for the purpose of indicating, or so as to indicate, a connection in the course of trade between the goods and some person having the right either as proprietor or as registered user to use the mark…" You are probably thinking that this obviously can't apply to Denrele because his mark isn't in relation to goods. On April 19 2007, the Minister for Commerce extended goods to include services such as entertainment which is clearly what Mr. Denrele fall under. I would love to hear your opinion on the subject matter.
Mr Denrele:
In conclusion, apart from your constitutional right to protect your likeness, you can also register you likeness at the trademark registry as a service mark which wouldn't cost you much. If you are really bothered about a possible dilution of your brand when associated with other brands or if you seek to get compensation for commercial use of your brand, these are possible tips you should consider:
Ask your lawyer to send a "Stop and Desist" letter to the infringing company, threatening litigation unless they desist from such use of your image while also giving them an option for proper license.
I'm not asking you to go to court (not always necessary), I'm saying take control of your image!