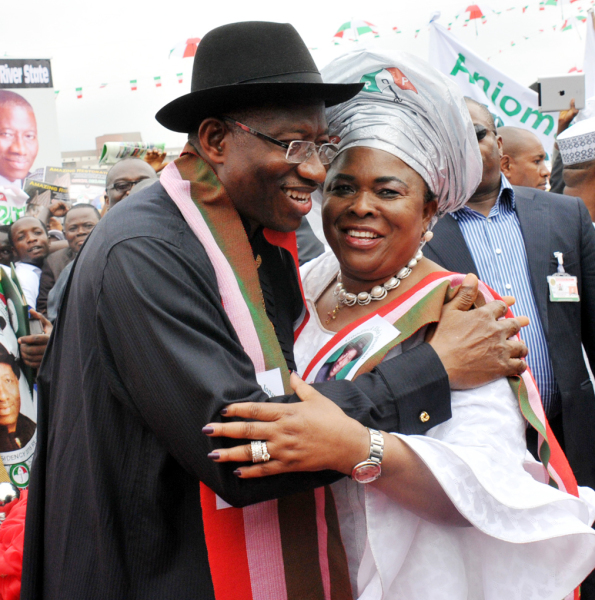 Awww how sweet! First Lady Dame Patience Jonathan recently shared the secret to her maintaining her 21-year marriage to her husband, President Goodluck Jonathan, and the qualities that first made her fall in love with him.
During an interview with City People, Dame Patience revealed that she first met the love of her life while she was a student at Rivers state College of Education where she was pursuing her Nigerian Certificate of Education (NCE) and B.Ed, and he was a lecturer at the college's Department of Biological Sciences.
Here are some excerpts:
On the qualities that first attracted her to Goodluck Jonathan
"My first impression of him was of a tall, dark, handsome young man. I also found that he came from a good Christian home just like I did. His humble and gentle disposition caught my attention and most importantly, his intelligence."

On the secret to sustaining her 21-year marriage
"Both of us are from Christian homes and our complete trust is in Jesus Christ. We pray together as a family every morning. What keeps us together is that we are each others best friends and soul-mate. We discuss everything that comes up and advice each other accordingly. We depend on each other. We do not let the sun set on our grievances."

The article also reveals how President Jonathan became attracted to his wife:

…Of his students, a young beautiful light-complexioned lady caught his (Goodluck) eyes. What further drew him to Patience then was that her native Okrika name Ebifaka, shortened as 'Faka' was same as that of his field assistant, Faka who usually brought him crab specimens from the riverine Okrika (in Rivers State) for his M.Sc. thesis. Patience's physical attributes weren't the only traits that endeared Jonathan to him. She was studious as a student and was conscientious in her academic work.
The couple has 4 children: A son
Arewera Adolphus
, Daughters
Aruabi
and
Abayola
and
Faith Sakwe-Edwards,
their foster daughter who had got married in April.
How romantic! 🙂