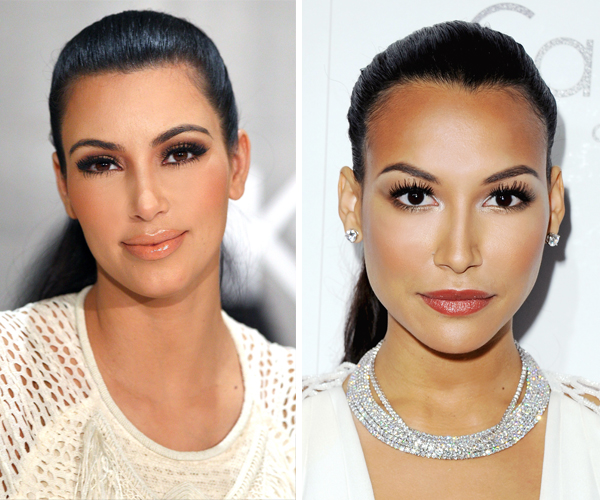 So much drama!
The whole Kim-Kardashian-Paper-Magazine deal is taking over the internet and it seems to be what is one everyone's lips right now (click here if you missed it).
But then again, she did promise to break the internet.
Kim Kardashian's best friend Jonathan Cheban has come to the defense of the 33-year-old reality TV star over the backlash that she received from actress Naya Rivera (click here if you missed it).
According to Jonathan Cheban's website, Naya Rivera's backlash is just a cry for attention from Kim Kardashian who she is reportedly obsessed with. He used his website to put Naya Rivera on blast tagging it '(We) Don't F-ck With You' – referencing lyrics from Naya's ex-fiance Big Sean's song.
Using pictures, Jonathan Cheban details how Naya Rivera is on a quest to not just look like Kim Kardashian but actually BE Kim Kardashian.
He writes, "Naya has always been a step BEHIND… And this time she has seriously fallen BEHIND like Daylight Savings Time! After a year-long tour of impersonating Kim, she decided to come out of her shell and make a real statement about Kim's Paper cover (which has to be one of the hottest, if not the hottest cover all year). As expected, she's getting some press and when all else fails, use Kim. I'm personally disgusted that after badgering Kim all year and trying to hang out and do business together, she goes and tries to make a statement like this. Yes, Kim is a mother, BUT WHO CARES… have you ever heard of a MILF?! The world wants to see her all day like 1010 Wins. Paper is one of the artsiest magazines and has a legendary reputation for being creative and edgy. Who the f*ck is Naya to throw in her meaningless comments?? We all know you want to be Kim, but you don't got it boo, and the only cover you will be gracing is the Single White Female 2 straight to DVD box set."
Read up the rest of his article here.
Do you think Naya Rivera is obsessed with Kim Kardashian?
Photo Credit: TheDishh | Jonathan Cheban