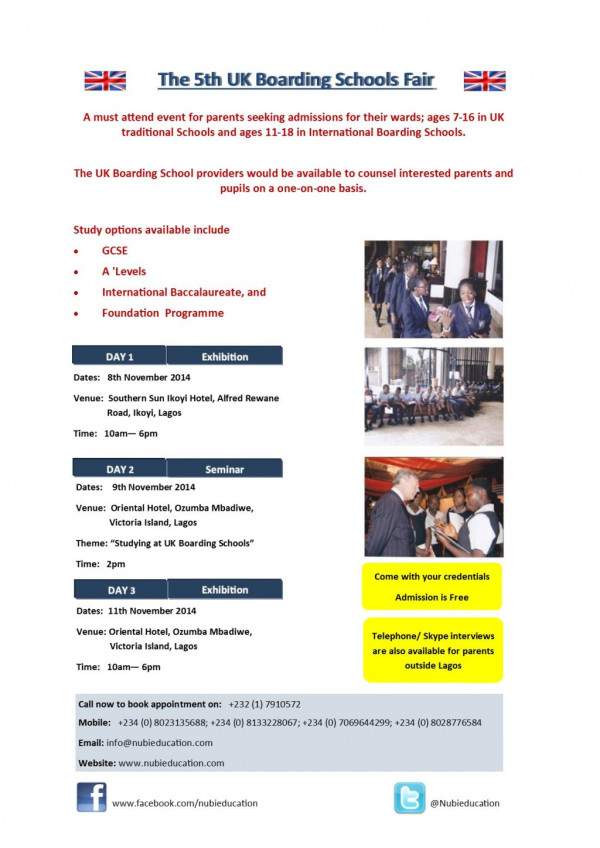 Nubi Educational Counselling Ltd (NUBI) one of the leading educational agencies in Nigeria, especially in boarding schools placement, is set to give parents, students and Nigerian education providers the opportunity to interface with UK Boarding Schools representatives at their upcoming fair this November.
The fair is borne out of the yearning of Nigerian parents and some UK Boarding schools to have a fair that would focus on the primary and secondary schools and create a forum for interaction and networking.
This year's fair is going to be great and comes with a seminar on " Studying at UK Boarding Schools".
See the schedule below;
Day 1 – Exhibition
Date: Saturday 8th November 2014
Time: 10AM – 6PM
Venue: Southern Sun Ikoyi Hotel, Alfred Rewane Road, Ikoyi, Lagos
Day 2 – Seminar | Theme: "Studying at UK Boarding Schools"
Date: Sunday 9th November 2014
Time: 2PM
Venue: Oriental Hotel, Ozumba Mbadiwe, Victoria Island, Lagos
Day 3 – Exhibition
Date: Tuesday 11th November 2014
Time: 2PM
Venue: Oriental Hotel, Ozumba Mbadiwe, Victoria Island, Lagos
Admission is free but attendants are required to book by Tuesday 4th 2014, especially for the seminar. Please call +234 (1) 7910572, +234 (0)
8023135688, +234 (0) 8133228067, +234 (0) 7069644299 or +234 (0)
8028776584 | Visit their website: www.nubieducation.com | Follow them on Twitter: @nubieducation | Find them on Facebook: www.facebook.com/nubieducationalcounselling | Send them an e-mail: [email protected]
________________________________________________________
Sponsored Content