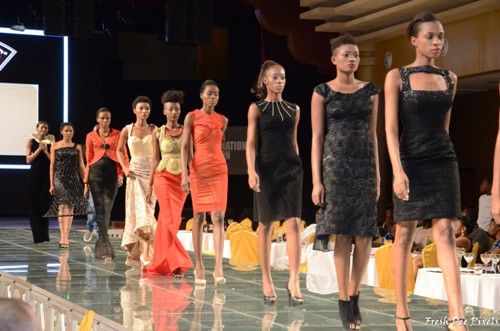 The African International Fashion Week recently held on Friday 6th December 2014 at the Oriental Hotel, Lagos. It showcased a lot of amazing designers from Nigeria and other African countries. Nigerian designer, LK Mon Ami showcased his unique collections which were inspired by Irish Cream liqueur, Baileys.
According to LKay Mon Ami, "we designed the Baileys Collections to inspire and celebrate the African woman." He expressed his delight in designing the Baileys Collection for the African International Fashion Week 2014.
Udjoh Ufuoma (Baileys Brand Manager), said that Baileys is proud to be associated with African International Fashion Week 2014. "Baileys is a brand that appeals specifically and uniquely to women and we are honored to play co-host to this global fashion event.The 'Baileys special collection' is a representation of the Baileys purpose which is to inspire every African lady to shine and feel fabulous. This is delivered in the designs and colours that are characteristic of the feminine style and sophistication of the Baileys brand".
The event also featured renowned designers like Totally Ethnic from Cote d'Ivoire, Salum Signature from Ghana, Gozel Green, Mani Lopush from Nigeria. Others are Ade Bakare, Carducci, JP Kingdom, Needle Point, Omak, Trish O Couture, Modella B and many more.
_____________________________________________________
Sponsored Content