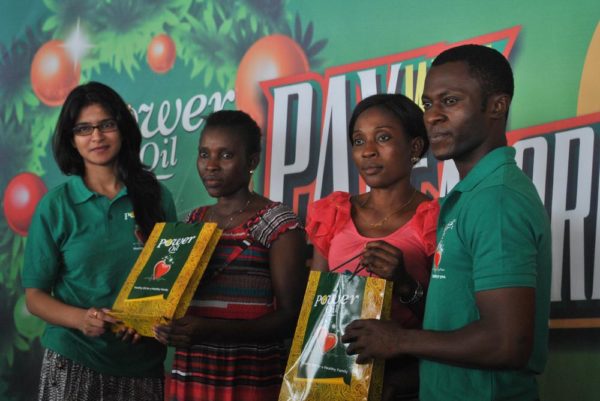 In a bid to care for the health of it various consumers, especially their heart during this Christmas season, Power Oil from the stables of Dufil Prima Foods Plc, has rewarded consumers with amazing prizes on the number of calories lost on the spot at the consumer engagement initiative "Power Oil Pay for Calories Campaign".
The campaign which started from the 22nd to 24th of December held at the Ikeja Shopping Mall, Alausa, Lagos.
The "Power Oil Pay for Calories Campaign", created an exciting way for the brand to cater for its customers' health in a fun, relaxing and rewarding manner.
Various gift items like: power banks, mugs, jerseys, candle stands, trays, house decoration pieces, photo frames, dumbbells, and skipping ropes were won by fans and customers of Power Oil.
The Public Relations Officer of Dufil Prima Foods Plc, Mr. Tope Ashiwaju, explained that the thought of how to stay fit and healthy, as people enjoy this season of good tidings, love and festivities with lots of wining and dining, bring forth the campaign by Dufil Prima Foods Plc to encourage consumers to take good care of their health.
"The thought of losing weight runs in everyone's mind and most people are not quite sure how to go about it, hence,  Dufil Prima Foods is here with various exercising equipment like the treadmill, cycler, etc, which will give people the opportunity to exercise and be rewarded for losing calories on the spot." He explained.
According to him, "Power Oil is designed to suit the purchasing power of varying consumers in the market and is an affordable heart-friendly vegetable oil which is non-fattening and cholesterol-free with numerous healthy benefits. He however said this consumer engagement will help Power Oil to connect with the public, as well as influence their understanding of the product".
Aside winning exciting gifts, consumers were also rewarded with lots of Dufil Prima Foods products such as Indomie noodles, hypo bleach, Power Oil, Minimie and Power Pasta.
While commending Dufil Prima for this bold initiative, Olumide Williams, one of the participants who burned 178 calories in 8 minutes said this is a bold initiative pushed by Dufil as it served as free shopping for nothing.
The mall activities educed commendations from the consumers on ground. They had comments like "Good initiative for marketing strategy", "Very good for the heart", "What a fun way to win prizes".
____________________________________________________
Advertorial – Sponsored Content