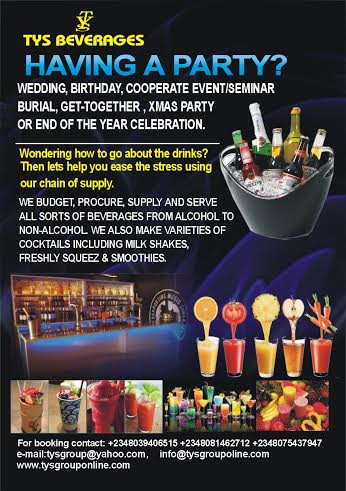 Guess what? Consulting firm in the field of hospitality, Tys Consult is offering you 50% off all their services.
With a main focus of solving the challenges facing hospitality investors and the staff of the hospitality workers, they have a focus of taking the youths and young graduates out of the street and equipping them with skills such as cocktail making, bar tending skills, waiting, customer service skills, etc. Empowering them to work in hospitality sectors as professionals or become entrepreneurs.
 You can use their beverage supply chain with a variety of drinks from mocktails to cocktails; with a whopping 50% off, and get the most for you and your guests.
To take advantage of this great offer, you can book via: Calling +2348039406515, +2348075437947 or +2348081462712 | Visit them at Tys Consult, Oko-Awo, Victoria Island, Lagos | Send an e-mail to: [email protected] or [email protected] | Visit their website: www.tysgrouponline.com
___________________________________________________
Sponsored Content