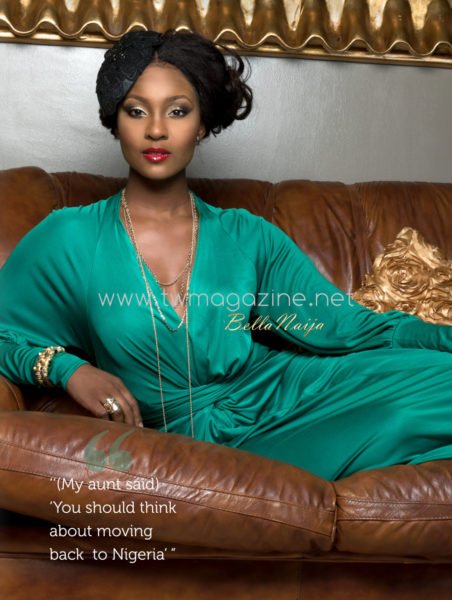 If you've not got the newest issue of TW magazine then you need to pick it up.
Osas Ighodaro looks gorgeous on the cover of the magazine's December 2014 issue (click here if you missed it) and inside she opens up candidly about her beauty – she didn't always see it – being Miss Black USA, her relationship with Tinsel co-star Gbenro Ajibade and more.
Read excerpts from her interview below:
On being bullied in school: As I got older, I suffered low self-esteem. I was picked on when I was in school by a black girl. Her name is Monique, can't ever forget her name. She would always pick on me, 'You African, you are ugly.' Ashe would always make fun of the way my mum plaited my hair. I didn't feel pretty as I got older, I wasn't proud of who I was.
On how she started modeling: My dad sent me to modeling school and I did that for a year. After I graduated, I got a postcard in my mail to take part in a pageant and my dad encouraged me to enter. I said to myself, you can make money for this [participating in pageants]? I did pageant after pageant and saved everything I made. I also had a receptionist job every Saturday morning up till I finished high school.
On how she and Gbenro Ajibade connected: Tinsel had me in a hotel and I didn't have a car. Gbenro took me to different places. He was just nice. He is very nice, kind, loyal and overprotective of his friends. When my contract [with Tinsel] ended, I asked myself 'Are you sure you want to go back?' Another deal breaker was that I got into a relationship with Gbenro. My parents were happy because all I dated in the States were African-American men. But I didn't come to Nigeria for that, I came here for six months to work. My relationship was an unexpected bonus.
You can read up her full interview in TW magazine.
Photo Credit: TW Magazine