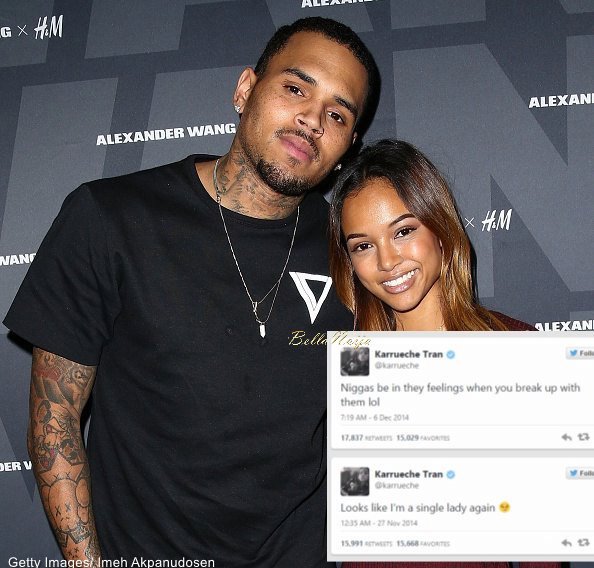 It's amazing how much the world gets to see through the eyes of social media – things that are supposed to be private become public knowledge and once that happens, it all goes downhill from there.
Last week it was Elikem and Pokello who used social media to air their relationship secrets (click here if you missed it) and this week it is Chris Brown and Karrueche Tran who can't stop talking about their relationship and the reason for their breakup.
How did it all start?
Well, it started with Chris Brown, while performing on stage, calling out Karrueche and practically breaking up with her via a performance.
"How many single ladies we got in here tonight?" Chris Brown asked his crowd and then said "Well, I'm single too. Fuck that b*!"
Then he performed 'These hoes ain't loyal'.

Karrueche in turn used her Twitter account to make her voice heard as well.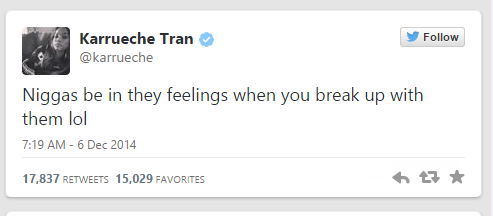 …and this morning, Chris Brown used his Instagram account to share a very long message that revealed quite a lot about their relationship – including the fact that Karrueche visited him only once when he was locked up, had a fling with Drake and much more.
Karrueche replied…again!
Well it looks like both of them might have broken up for real this time.
What are your thoughts on people airing their laundry on social media?
Photo Credit: Twitter
Additional Photo Credit: Getty Images/Imeh Akpanudosen