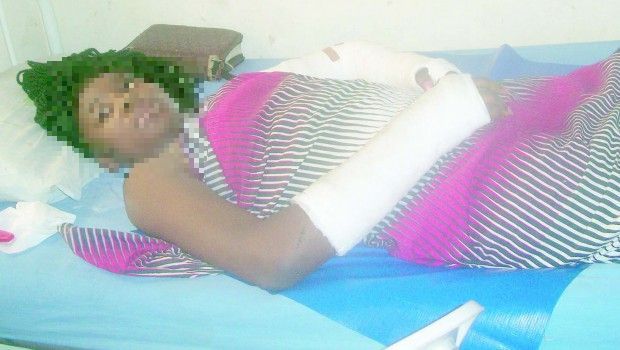 A 17-year-old Lagos-based girl says she fell from an abandoned 18-storey building while trying to avoid being raped and used for rituals by a man who pretended to be one of her Facebook friends.
The victim is currently undergoing treatment for multiple fractures and other injuries, National Mirror reports.
According to her account, she received a phone call from a man, who claimed to be one of her Facebook friends named Michael. Because she hadn't met or spoken with Michael before, she assumed the man talking on the phone was him, and so she agreed to meet him at a public place.
She was unsure how he had gotten her phone number, as she had not listed it on her profile.
"I did not see any harm because he said we should meet at the Ile -Nla Bus Stop which is a busy place. When I got to the bus stop, I noticed he was looking at my picture on his phone. He looked up to see my face. He was standing opposite the road," she said.
However, she became alarmed when she saw the man's face, as it did not resemble the Michael she knew on Facebook. She then told the man that she could not meet him, as she didn't know who he was.
The stranger, who appeared to be in his mid 20s, then persuaded her to cross the road, which she did.
"He touched me and immediately, I lost my senses. I started following him," she said.
He then led her to a room on the 4th floor of an abandoned 18-storey building in the Abule-Ajanloco area of Lagos.
"When we continued climbing up the stairs, I told him that I was tired but he pleaded with me. At the walls, I saw some strange diagrams, cultists diagrams painted on the wall. I saw a human head by the wall. The head is not fresh but the head has long weave on(attachment) on it . I was scared when I saw the head. I wanted to go back but he brought out a knife," she said.
Once they were inside the room, he commanded her to undress, but she pleaded with him. He then told her that she should do as commanded, otherwise; he would call his friends, which would make the situation worse. He then proceeded to make phone calls to his friends.
Desperate to escape, she ran to the window and attempted to climb down via a pole attached to the walls outside. In the process, she fell.
"My being alive is a miracle and I am grateful to God. With what I saw in that room, that man can be a cultist, he can be a ritual killer," she said.

She also stated that she hoped her story would urge others to be cautious with Facebook friends.
Photo Credit: National Mirror