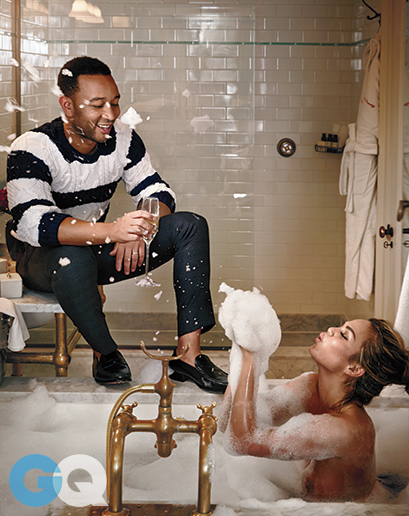 There's so much style and so much PDA in this feature that we couldn't ignore it.
Singer John Legend and his model wife Chrissy Teigen are featured in a stylish spread for GQ magazine's February 2015 issue with the magazine profiling them as 'Mayoralty of the City of New York'.
According to GQ, 'The couple—outspoken, high-achieving, à deux eaters of Chipotle in bed—are New Yorkers foremost. Grammy winner Legend is a fifteen-year resident of Lower Manhattan; he wooed model Teigen here when he still lived on the Bowery. And while a lot of famous people (say they) live there, these two are actual residents. They are tiny-restaurant regulars, they are side-street wanderers, they are local-bodega shoppers.'
For their spread, photographed by Anders Overgaard, John & Chrissy look so good together rocking complementary styles and luxury brands.
Check on it!
You can check out their full spread here.
Photo Credit: GQ