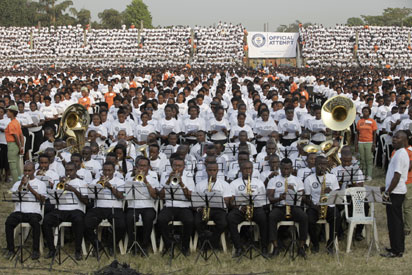 The Akwa Ibom State choir has broken the Guinness world record for the largest number of Christmas carol singers in the world.
According to Vanguard, the record was previously held by a group called CENTI in Bogota, Columbia, which 15,674 carol singers in December 2013. However, Akwa Ibom's Godswill Akpabio Unity Choir broke the record with its 25,272 member-choral group on Saturday, December 13, 2014.
The group convened at Uyo Township Stadium, where they performed carol favourites, including: The First Noel, Joy to the World, O Christmas Tree, Hark the Herald the Angels Sing, Once in Royal David's City and O Come All Ye Faithful.
After their performance, which was said to be outstanding, Guinness World Records adjudicator, Liz Smith, made the announcement, congratulating the group for breaking the record, and describing them as "officially amazing."
Commenting on the milestone, Governor Godswill Akpabio said "…we broke the Guinness Book of World Records, for the largest number of carol singers ever in the world. This momentous feat was achieved when Akwa Ibom people drawn from all the nooks and crannies of the state came together in the spirit of love and brotherhood. I believe that if we imbibe the virtue of love and stand together in brotherhood in the New Year, we would keep setting records and the walls of division, which have been erected by some selfish politicians, would tumble down."
Congrats to the Godswill Akpabio Unity Choir! 🙂