Human rights advocacy group, Amnesty International, has released satellite images of what they have described as "indisputable and shocking evidence" of Boko Haram's attack of Baga and Doron Baga towns in Borno State.
You will recall that initial reports stated that 2,000 people died, however; the military later claimed that the incident claimed 150 lives.
Describing the Baga attack as the most horrific Boko Haram invasion, Daniel Eyre, Nigeria researcher for Amnesty International stated that the satellite images below show:
"…before and after images of two neighbouring towns, Baga (160 kilometres from Maiduguri) and Doron Baga (also known as Doro Gowon, 2.5 km from Baga), taken on 2 and 7 January. It shows the devastating effect of the attacks which left over 3,700 structures damaged or completely destroyed. Other nearby towns and villages were also attacked over this period."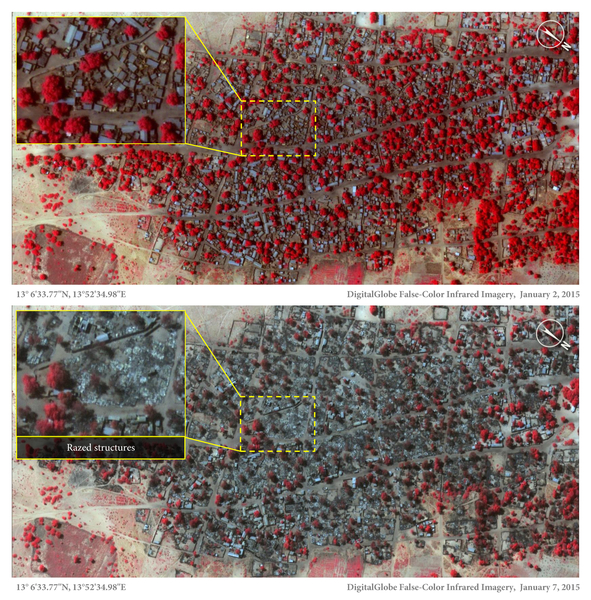 Here are additional excerpts from the report:
Thousands of people have fled the violence across the border to Chad and to other parts of Nigeria including Maiduguri, the capital of Borno State. These people are adding to the hundreds of thousands of internally displaced people and refugees, who have already stretched the capacity of host communities and government authorities.

A man in his fifties told Amnesty International what happened in Baga during the attack: "They killed so many people. I saw maybe around 100 killed at that time in Baga. I ran to the bush. As we were running, they were shooting and killing." He hid in the bush and was later discovered by Boko Haram fighters, who detained him in Doron Baga for four days.

Those who fled describe seeing many more corpses in the bush. "I don't know how many but there were bodies everywhere we looked," one woman told Amnesty International.

Another witness described how Boko Haram were shooting indiscriminately killing even small children and a woman who was in labour. "[H]alf of the baby boy is out and she died like this," he said.
To read the full report, visit: http://www.amnesty.org
Photo Credit: www.amnesty.org