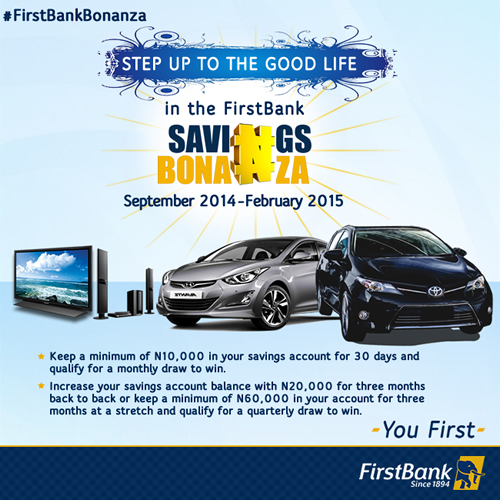 If you are a FirstBank account holder, then we have got a treat for you!
The FirstBank Savings Bonanza which started in September 2014, is here and loads of customers have already won great prizes like brand new cars, home theatre systems, Samsung LCD TVs, Android phones, cash prizes and more. And you can be one of the lucky winners.
The bonanza is aimed at rewarding FirstBank's savings account holders as well as encouraging an improved savings culture and will be on throughout the early part of 2015 through its monthly and quarterly draws.
Winners will be selected nationwide, and for this month's savings promo, they are heading to Osogbo, Osun state.
Wondering how you can win? Here's how;
1. Simply maintain a minimum of N10,000 in your First Bank Savings Account for 30 days to increase your chances of winning one of the great prizes like a Home Theatre System, Samsung Plasma LCD TVs, Android Phones and cash prizes.
2. To win a brand new car, simply make a deposit of N20,000 monthly for 3 months or maintain a minimum balance of N60,000 for 3 months.
The more you save, the more your chances of walking away with FirstBank gift prizes increase all through the Bonanza season. If you don't own a FirstBank savings account, you can quickly open one in time for the next monthly draws.
To be part of this exciting promo and win some more amazing prizes, follow the FirstBank digital community on Facebook: www.facebook.com/firstbankofnigeria | Follow them on Twitter: @FirstBankNgr | Follow them on Instagram: @firstbanknigeria | Find them 0nGoogle+: FirstBankNigeria
See www.firstbanknigeria.com/savings-bonanza for more details on how you can participate.
_____________________________________________
Sponsored Content