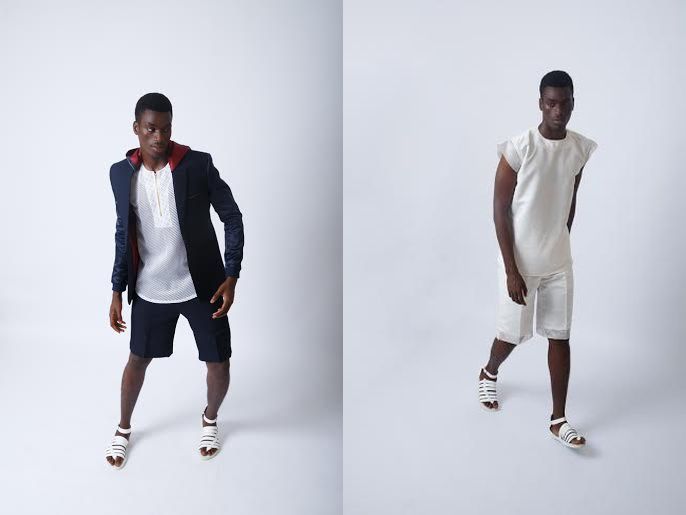 Rising menswear fashion brand T.I Nathan by Temitayo Ilesanmi Nathan presents its Spring/Summer 2015 collection – "Perspective".
According to Temitayo;
"My collections are a processed reflection of my philosophies as a human person, birthed from my personal experiences. PERSPECTIVE was born out of the Illusion of what we call knowledge. How our state of mind helps in shaping the ideas of what we claim to know. I found myself asking why the mind is so vulnerable to taking in everything and anything without questioning its authenticity, how justifiable are the things we attach the concept of TRUTH to. I mirrored my thoughts from my designs to my choice of fabrics, down to the color palette."
The mesh fabrics are a symbol of the human mind. Temitayo also says that the world's perspective of white would be synonymous to purity and light; but from his perspective it's another empty form of mystery; the navy colour in the collection represents confidence and red represents unadulterated lust. That's his perspective and he believes it doesn't have to conform with the overrated norm of the world.
Photo Credit
Photography: Tope Adenola (HorploadWorks)
Creative Direction: Temitayo Nathan
Stylist: Mag Payne
Assistant Photographer: Jerrie Rotimi
Makeup Artist: Thelma Uwadiale ( Bella Mere)
Content Director: Tosin Ogundadegbe ( TheStyleInfidel )
Models: Toyin Oyeneye, Gift Mudi, Seun Balogun
To get in touch with T.I Nathan, send an e-mail to [email protected] | Follow on Instagram – @officialtinathan | Visit their website: www.tinathan.com | Call +2348164691226