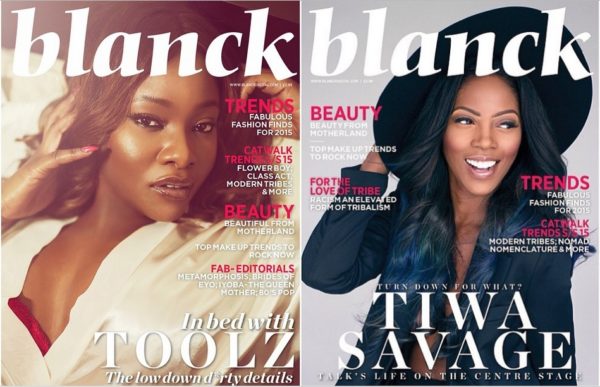 For Blanck Digital UK magazine's 4th and anniversary issue, the magazine has tapped four amazing people to be their cover stars – Banky W, Tiwa Savage, Zainab Balogun and Toolz.
The magazine's full issue will be available for purchase from the 10th of January.
In the 'Homeland' issue, Blanck magazine profiles a number of inspiring individuals who have returned home and are having a whirlwind romance with Africa. Their stories are juxtaposition of joy and chaos smoothly blended which would definitely give readers a bittersweet taste of the continent's reality.
Tiwa Savage, Banky W, Toolz, Zainab Balogun, Chin Okeke and more are the inspiring individuals and in this edition and they candidly share personal tales of fear, culture shock, tears, disappointment and eventual joy of moving back.
Blanck has also announced that it will be launching this issue with its first digital App available for download on iOS, Android, Kindle and Windows. Get your copies and view the full issue for only £2.99 from the 10th of January 2015.
Photo Credit: Instagram/Blanck