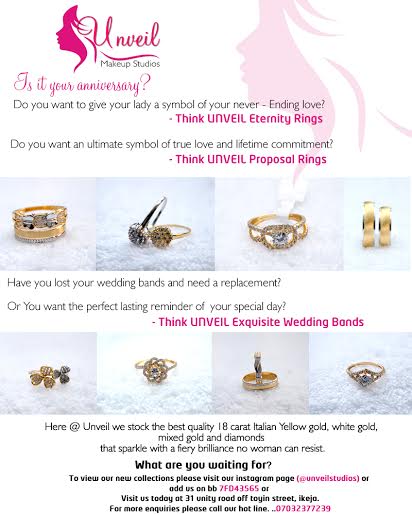 Is it your anniversary or are you looking for the perfect ring to pop the question?
Get blown away with great collections of 18 carat Italian engagements rings, wedding bands, eternity and 2-in-1 rings from Unveil Africa.
From simple to stunning designs that are sure to win your lady or man's heart there is a great range to pick from. And to help you get great prices on these pieces, Unveil Africa is giving away one of their rings!
All you have to do is answer these 5 questions correctly and you could win the ring;
1. How old do you think unveil is – State the date, month and year.
2. When was the face of Unveil? When was Unveil professional brushes launched, and when was Unveil MUP launched?
3. What are the three "P's" of love?( Explain each P)
4. What are the 10 fundamental rules of settling down
5. Share a deep inspirational story
The competition started yesterday, Thursday 22nd January 2015 and the winner will be announced today by 5PM. So start thinking and sending in your answers!
Please send all your answers to [email protected].
To get more information on Unveil Africa, visit their website: www.unveilafricaonline-ng.com | Visit Unveil Africa at 31 Unity Road Off Toyin Street, Ikeja, Lagos | Follow them on Instagram: @unveilstudios | Call 07032377229 or 08020393333.
___________________________________
Sponsored Content