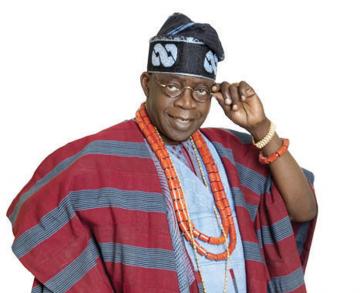 Former Lagos State governor and current National Leader of the All Progressives Congress (APC) Bola Tinubu is speaking out regarding the unsolicited military presence at his Bourdillon, Ikoyi Lagos residence.
According to Vanguard,his home had been under military surveillance for three days, "by battle-ready and helmet-wearing soldiers." Reacting to the situation, Tinubu stated that he refuses to be intimidated by the intimidation and harassment arising from the unsolicited military presence at his home.
Media officer to Tinubu, Sunday Fadare, released the following statement on the matter:
For three straight days, the private residence of the national leader of the APC, Bola Tinubu, has been under surveillance by battle-ready and helmet-wearing soldiers. Numbering close to thirty and riding in three patrol vans and an army trucks stationed close to the entrance of the gate to Tinubu's house along Bourdillon Road in Ikoyi, they have become a permanent feature.
Their obvious target, Tinubu himself, and perhaps the hordes of politicians and visitors that visit his Bourdillon residence.

The soldiers were first noticed on Sunday a few minutes to 11pm in an Army truck. They were stationed about 500 meters away from Tinubu's gate. Later they moved close to his gate as if making efforts to enter. The stern looking soldiers were around for hours on Sunday and returned on Monday to continue their surveillance.

On Monday night at about 10:45 pm, they returned to the residence in two army vans and were there throughout the night. Some of the soldiers were discharged from the van and walked back and forth in front of the house and around the house in what is clearly some casing effort.

On Tuesday, two vans from the army were stationed on both sides of the house along Bourdillon road, their missions shrouded in secrecy.
Tinubu Reacts
In reaction to the incident, Tinubu said:
"I will not be intimidated by this show of strength, intimidation and possible harassment. I remain resolute in my advocacy and support for the rule of law.
Jonathan's government has through the service chiefs staged a coup against Nigerians and the Constitution and now wants to silence his critics. I will not be muzzled through the barrel of the gun. The guns and bullets they should use to defeat Boko Haram are now being turned against the opposition and innocent Nigerians."
Lagos State Governor, Babatunde Fashola Reacts
Governor Fashola has also expressed his thoughts on the matter:
"They are removing security from INEC in the state and in the last three days, they have deployed soldiers to the home of Asiwaju Bola Tinubu. Every night now, they send a truck load of soldiers to his home.

But I have news for them, we will not be intimidated by their actions. Our votes will speak for us. Let me remind the People's Democratic Party, PDP-led Federal Government that if late President Umar Musa Yar Adua was alive, who was the owner of this mandate, he will be preparing to leave the office now. This year will mark his eight years in office.

When President Jonathan was seeking for our vote in 2011, he didn't deploy soldiers to our homes rather he was begging us. He said that he had no shoes and after he assumed office, he has since inflicted pains on us.

After giving him 1.2 million votes, we have no minister. And that shows that he doesn't care about Lagos, but we need to let him know that Lagos is unique."
However, Premium Times reporter, Ben Ezeamalu took to Twitter to discredit the allegations, stating that there was never any military presence at Tinubu's residence: