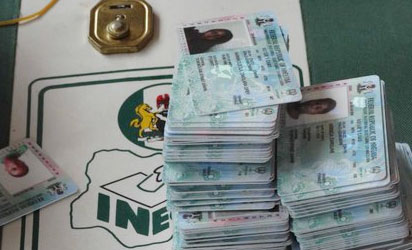 With barely 10 days left to the elections, INEC chairman, Attahiru Jega, has disclosed that 500,000 copies of Permanent Voters' Cards (PVCs) are yet to be printed.
Jega revealed the news on Wednesday at a dialogue session he had with the Nigeria Civil Society Situation Room in Abuja, Vanguard reports.
He explained that an Abuja firm entrusted with printing and delivering the voters' cards still have an outstanding 500,000 cards to produce because they had run out of "blank cards" for the production.
Describing the development as "regrettable," he assured Nigerians that all PVCs to be used for the forthcoming elections would be ready for distribution before Sunday.
"I want to further assure Nigerians that anybody who has registered and has the PVC will be allowed to vote. We have done our best to look at every aspect and angle. We have tried to see what improvements that can be brought about so that the 2015 election will be free, fair and credible. Though our deadline would have expired by Sunday, we have concluded plans for targeted distribution of the remaining PVCs. All the new cards that are taken in this last phase are to be distributed at the polling unit level," he said.