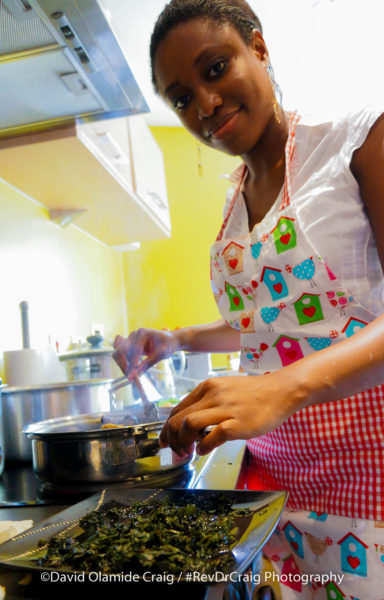 Twice, I asked myself whether I should do this or not, and the answer came in three times. DO IT!
Hi my name is Dunni Obata and I am a Kitchen Gadget addict. Okay, it is out there, but thanks to Arese of Smart Money with Arese, I can take solace in my personal money mantra which is "spend money on items that create". I can imagine the shop attendants at Lakeland rubbing their hands with glee. They already know me at that shop. I always come in to buy one thing and leave the store with bags and bags. The need to buy a Spiraliser came from wanting to acquire a kitchen gadget. I didn't have an exact purpose for it, I just wanted it. While shopping for a Christmas gift for a friend Ade last year, I asked if she wanted one as I was stumped on what to buy for her. She said, "Dunni, what am I going to do with it, there's no space in my kitchen". Knowing where my thoughts were heading, she then said "oh, and that doesn't give you a reason to buy one for yourself". I said okay, why don't I buy the smaller device – the Vegetti, It is about the size of a pepper shaker, and in her best Jack Bauer voice impression, she said "walk AWAY from Lakeland, oya, put one foot in front of each other, and keep walking". I still bought another kitchen gadget on Dec 31st, a Flavour Chef which she sarcastically calls "an expensive frying pan", but hey it created something – The Moin Moinlette.
On trips to Lakeland since that time, I would pass it on the shelves and remember Ade, that was until I was researching a plantain idea I had and a link for Plantain "rice and beans", came up on my Google Search. I was intrigued, and on clicking the link, my jaw dropped. I remember staring intently at the screen and screaming nooooooo waaaaaaay, in my head. Even with seeing step by step pictures, I thought what the heck, REALLY!!!!! I drove to Lakeland, giddy with excitement, which was short lived, as they had run out. Oh sorry, these are quite popular, we will order it in for you.
There must be something filtering through that store, because as soon as I whipped my card out, I bought two more gadgets. This is how the journey to #Spiraligerian started from. I had done my research, spiralised plantain was all over the place, and so was yam, but the orange western kind of yam. I wasn't deterred, and on a beautiful Saturday morning, I tried both. I put the pictures up on Instagram and Facebook and The Dooney's Kitchen Tribe went gaga. So, BellaNaijarians, I would like to introduce to you a new concept as part of what I call The New Nigerian Cookery – spiralising Nigerian food. Spiralising is basically the process of  making "noodles" out of non flour based ingredients. This is the new trend in the food community, and it is high time Nigerians get on the train. Careers and businesses have launched from this trend. People like Ali Mafucci and The Hemsley sisters, owe their success to this nifty little gadget that puts the fun back to cooking, and it is healthy too.
I found that when I eat Yoodles (Yam Noodles), I consume less in terms of quantity than eating Yam the traditional way (boiling, grilling or pounded yam), same for Ploodles (plantain noodles too). You can also enjoy crunchy fried noodles and ploodles with a teaspoon of oil. Other ingredients you can spiralise or create "oodles" out of are  Potatoodoles, Sweet Potatoodles, Cassadooles, Tarodooles, carrots, onions, peppers, fruit, as long as it is dense, and cylindrical-ish, it can be spiralised. My recommendations, get a Spiraliser. If you want to save on costs, i.e. if you are not sure if it is something that will take in your household, take baby steps and start with a Julienne Peeler, you can then graduate to a Vegetti, and maybe later on a Spiraliser. Or, skip all that, and just buy a Spiraliser. There are quick pictures below about the process, and a brief snapshot of the #NigSpiralised dishes I have created, and hints about a few more to come.
Yoodles Egusi – the inspiration from this came from a Palm Oil and Iru Pasta dish which I made for Valentines, called Farfalle a la Nigeria. I wanted that Pasta, Iru and a Native soup effect again, and what goes better with Egusi soup than Yam.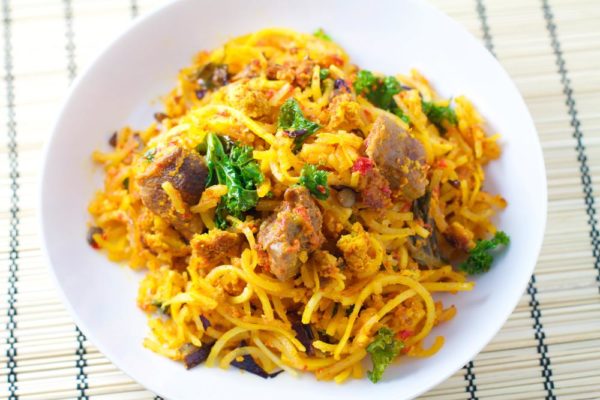 Jollof Yoodle "rice" and Beans – the dish that brought a spiraliser into my life. I decided to use Yam instead of Plantain, after all, Yam and Beans is a natural pairing in Nigerian cuisine. The picture below almost doesn't look real right? I assure you, that is all Yam.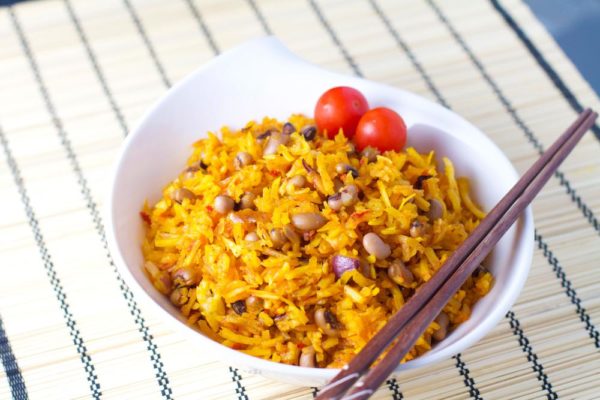 Yoodle and Dododoole chips – inspired by the traditional Yam and Plantain chips, this is the spiralised version, and it is safe to say, the better version, because this is crunchy to the power of 100, and fried with just a few squirts of cooking spray to boot. Someone say Fitfam Hallelujah!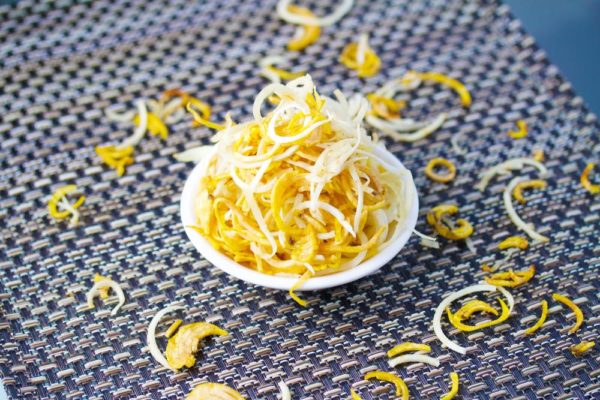 Spiralised Nigerian Salad – the next frontier to explore was vegetables, after all the spiraliser was originally designed for vegetables, before it was adapted to root vegetables and even fruit. Using all the ingredients commonly found in a Nigerian Salad, I made the spiralised version.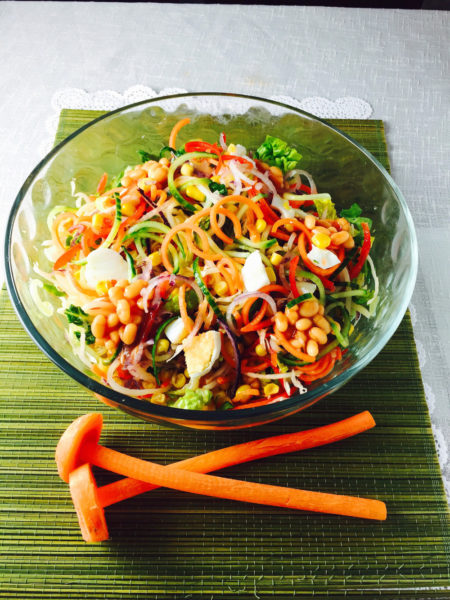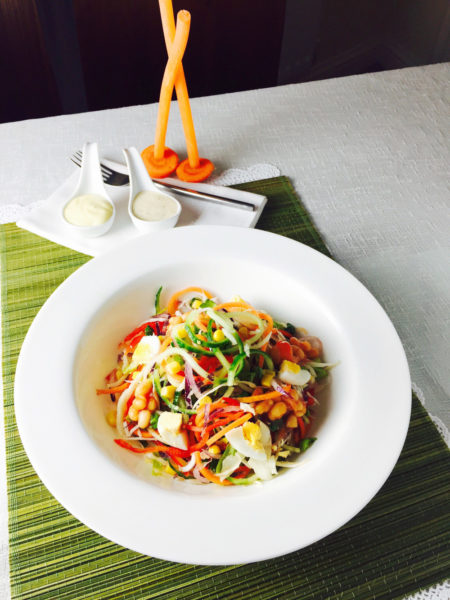 For Yoodle and Ploodle Ukodo (urhobo pepper soup) You will need the following
Yam
Plantain
Goat Meat – you can also use assorted meat
Dry Pepper
Peppersoup Spices
Native Salt – if you can't source this, use table salt
How To
The concept of spiralising is centered around quick cooking. You don't want to overcook your "noodles".
Prepare your pepper soup first, and while it is cooking, proceed to making your Yoodles and Ploodles
Because of the circumference of the spiraliser head, cut the skinniest portion of your yam tuber, not a cylinder. Peel the skin, attach to the spiral head, and make your Yoodles. The device makes really long "noodles", so it is best to trim off, about the length of your hand.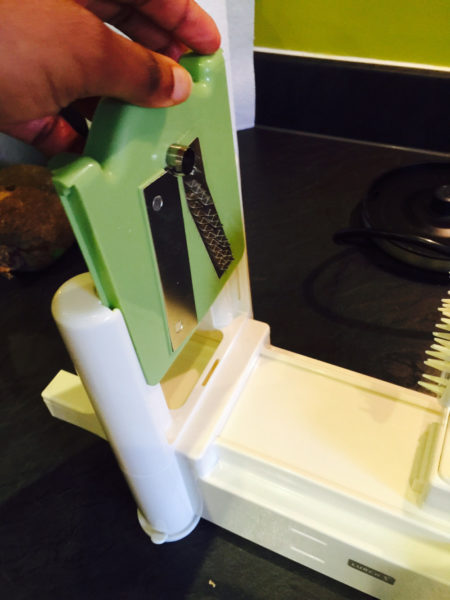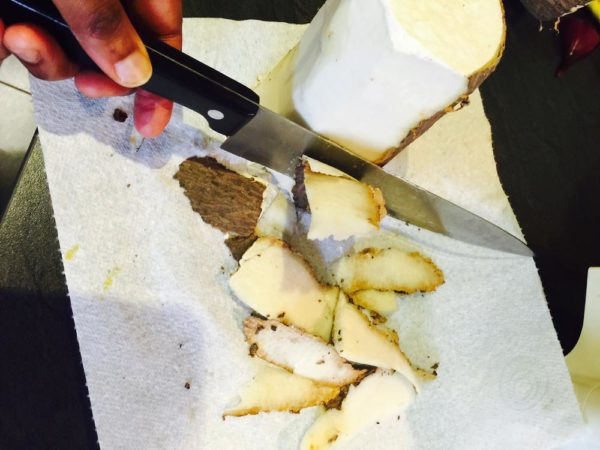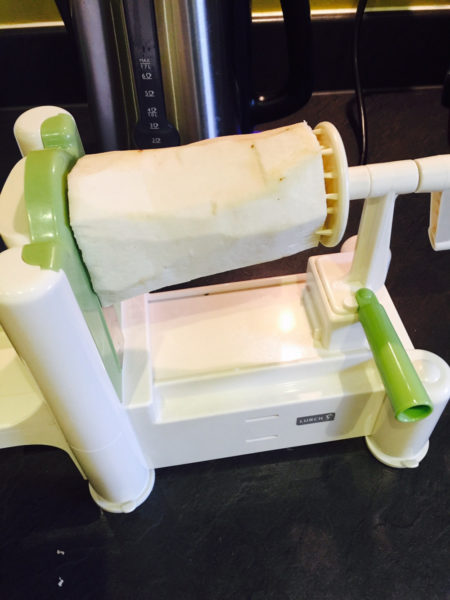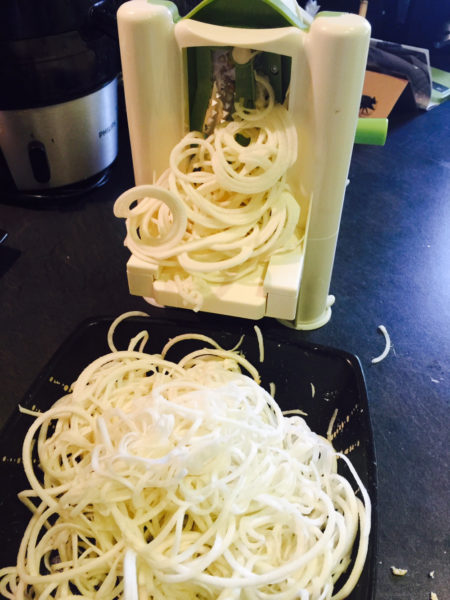 Do the same for the Plantain, to create Ploodles P.S – I tried boiling it, but it turned into a gloopy mess.
While the pepper soup is still cooking, lightly oil a frying pan and heat it up. In separate batches, sprinkle on some salt and stir fry the noodles, and only move the noodles around when you need to. Spiraliser experts, advice that you cover the pan to let it steam. I found that this worked great for Yoodles, but weren't necessary for Ploodles, because plantains look faster than yam.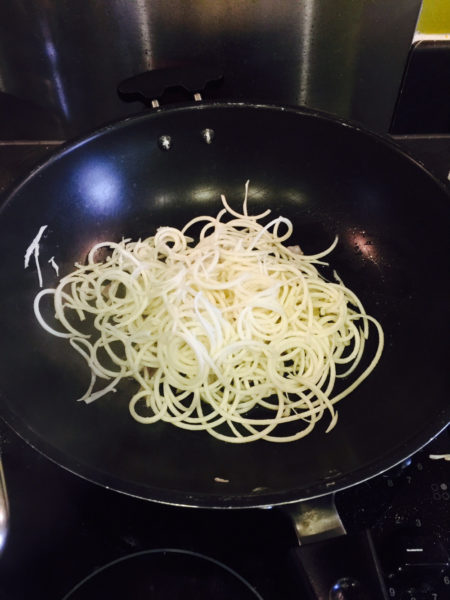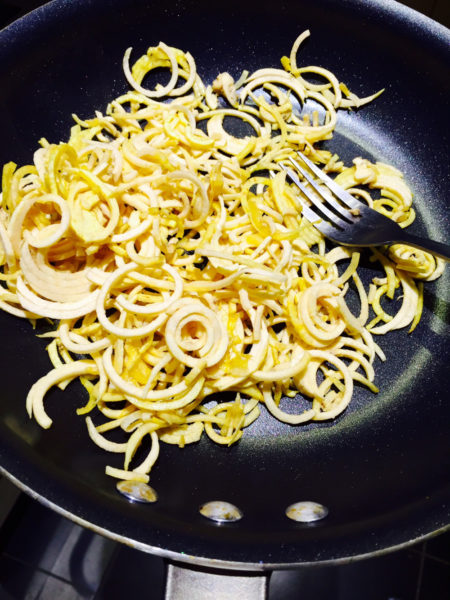 With your pepper soup ready now, take it off the heat, you can either do this in the pot or in a bowl, I chose a bowl. You want to put the Yoodles and Ploodles in early to absorb the flavour of the pepper soup. So, serve half the soup in a bowl, add the noodles, and cover with more pepper soup. Try to serve within a 3 – 5 minute time frame,  for the best visual effect.
Voila!
This is why this is a redefined version of Ukodo. If you cook the noodles and plantains from scratch, you will find them in tiny strands. Hey, you have been eating the same old Yam and Plantain Peppersoup for ages, why don't you try something fun and different but similar, this time? Don't worry, the gods of "Ukodo" won't have your head. I promise.
Other Spiralised dishes you can make include:
Inspired by the Granogi Parfait – spiralise your fruit (apple, pear, papaya), and layer with Ogi and granola.
Inspired by the Indomielette, you can make the Yoodlette in a frying pan using Yoodles instead of Indomie, that way you will be Redefining the classic Yam and Eggs, or Yoodle Egg cups in a muffin tin.
Lead the way, people, be a Spiraligerian. Who is with me? I hope I have inspired you to try this, and when you do, please tag me on Instagram @dooneyskitchen or the Tribe @dooneyskitchen with the hashtag #Spiraligerian and showcase your spiralising exploits.
March is a special time for Dooney's Kitchen, as it is the blog's anniversary. Last year I gave out a Kenwood Food Processor to a Bella Naija reader; Ekwitosi and two other readers in Nigeria. This year, in the spirit of #Spiraligerian, and to get us all jazzed up about creating amazing dishes, I will be giving away Julienne Peelers, Vegetti's and Spiralisers to Bella Naijarians who enter to win. For your continuous support, for the referrals to the blog that I have read in the comments sections. Thank you very much. You don't have to Like or Follow any social media page, just sign up to the online food community Dooney's Kitchen Tribe (click HERE). In the spirit of election period, The Tribe site provides transparency, and it makes it free and fair for all. See you on the Tribe  site. Happy Spiralising.