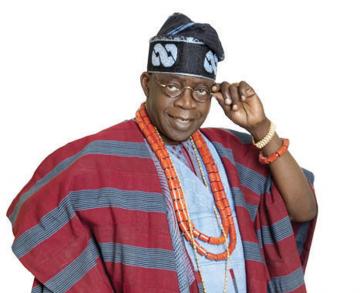 National leader of APC, Bola Tinubu, is alleging that he rejected an offer from President Goodluck Jonathan to serve as the Vice President in an Interim National Government.
Tinubu made the allegation via a statement by his media office on Thursday, Punch reports. He further stated that because he refused the offer, Jonathan has been seeking ways to "take him out" either by killing him or getting him arrested based on "trumped up charges."
Here is an excerpt from the statement:
"From what can be gathered through informed sources, the PDP and Jonathan Presidency had recently tried to fracture the APC by offering Tinubu the position of vice President in an interim government if he would agree to part company with the popular Buhari. Once Tinubu rebuffed the offer to participate in the interim scheme, the presidency decided to change tactics. It would no longer try to entice Tinubu with sugar but would now move to silence and if necessary neutralise him.
The APC National leader has caused President Jonathan's team countless headaches this campaign season, his declining the interim government offer is just the latest."
However, Director of Media and Publicity of the Peoples Democratic Party Presidential Campaign Organisation, Femi Fani-Kayode, has refuted the allegations.
"These allegations are baseless and false. These people have become prisoners of their own delusions and they have become victims of their horrific and terrifying hallucinations," he said.