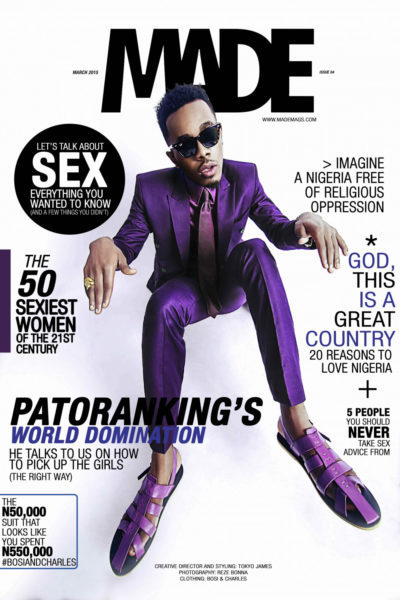 The man of the moment, Patoranking, is the cover star of Made magazine's March 2015 issue as he is styled by Tokyo James and photographed by Reze Bonna in a rich purple coloured suit by Bosi & Charles.
Talking about the issue, editor Tokyo James says 'In this months issue, MADE addresses not just the election that is around the cover but also focuses on PATORANKING on his world domination. Pato talks more on his debut album and how to pick the girls the right way. After a very long list, we finally came down to the true 50 sexiest women of the 21st century which goes along with the 5 people you should never take sex advice from. Also in this issue is an exclusive release of men's wear designer, MAXIVIVE'S wet 2015 campaign which is just right about the approaching raining season.'
Read excerpts from Patoranking's interview below:
On his greatest achievement: My greatest achievement so far? Hmmm. Moving my family out of the ghetto. I used to dream of the day that I would be able to get a place for my family and put them in a better environment.
On what he's still looking for: Winning my first Grammy. By God's grace, I will reach and bless that stage too. For Nigeria, for Africa, for reggae music.
On picking up a girl: Be yourself, Try to make her smile, Make sure your breath is fresh, Be honest with her, Ask for guidance from above.
You can check out the full feature here.
Photo Credit: Made Magazine