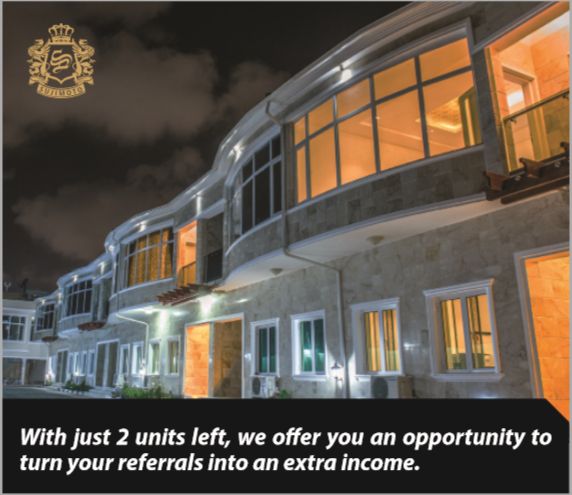 Medici is one of the finest collections of terrace apartments in upper end Ikoyi, inspired by the all-time architectural revolution – the iconic Medici. Their all-marbled town houses are a quintessence of contemporary architecture, embodied in seven beautiful luxury terraces, superior in quality, lifestyle & unique to other properties of its kind.
Why Buy Medici?
Old Ikoyi is widely perceived as 'sought-after' and 'high end'. Giving that Milverton Road is a prime location in the heart of Ikoyi, it is almost impossible that one can find these values in any other area in Ikoyi, Lagos.
It has an Equity Value of 12% to 20% annually.
It has the Minimum Capital Appreciation of 30% annually.
It has Rental Returns of 8% to 12% annually.
Looking at this from the investment perspective, if you invest $1.2 Million, you can get between $75,000 – $100,000 as rental income and $150,000 annually in property appreciation.
Sujimoto is optimistic that there will be a rise in the property market in Ikoyi to 18% or 20% in the near future.
According to Sujimoto – "We have set a precedent and the future calls us to action. We command the skylines".
Special Features
Four bedroom plus one BQ room in seven units.
Bespoke duravit bathroom wares.
24 hours armed security with CCTV & video gate intercom access control.
Recreational building with a state of the art gymnasium.
Prices 22% lower than competitors.
Medici is brought to you by the Sujimoto Group. Their mission is to redefine luxury. They do not only strive to satisfy their clients, they go the extra mile to enchant them with high quality and glamorous edifices.
Watch the Medici Advertorial 

Visit the Sujimoto office and showroom at 14B, Milverton Road, Ikoyi, Lagos | Call: +234 (1) 4564634 | Visit the Sujimoto Website: www.sujimotoconstruction.com | Send an E-mail: info@sujimotoconstruction.com | Find Sujimoto on Facebook: www.facebook.com/motoconstructionng | Follow Sujimoto on Twitter: @sujimotong | Watch Sujimoto on Youtube: https://www.youtube.com/ channel/UC1Q3PEh495SxXY-npjegTkg
_____________________________________________________________________________________________
Advertorial – Sponsored Content