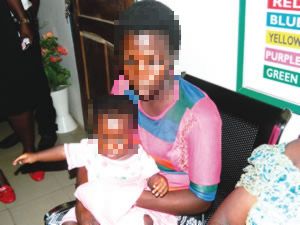 An 18-year-old mother in Akwa Ibom State sold her 3-day old baby for N300,000 because he was her third child and she couldn't afford to take care of him.
The woman, Esther Johnny, sold her baby, David Johnny to a woman in Abuja through the help of a doctor, Punch reports.
Assistant Commissioner of Police in the state, Mike Okoli confirmed the incident.
"The police in Akwa Ibom State have rescued a baby boy, David Johnny, who was stolen when he was three-day-old and handed over to a doctor in Port Harcourt. The baby was subsequently taken to Abuja. When we found the doctor, he refused to cooperate as he tried to frustrate the efforts of the police in investigating the case of the stolen boy.
My officers in the trafficking department moved from Uyo to Port Harcourt, Umuahia, and Aba in search of the stolen child.
It was not until Wednesday, April 22, when the pressure became so much, that the woman who had bought the child, took the child back to the clinic in Port Harcourt, where she bought him, and abandoned him there," Okoli said.
Esther and the doctor split the proceeds of the transaction 50/50, so each got N150,000.
The doctor has been arrested. It is unclear whether Esther is also in police custody.
Photo Credit: Punch