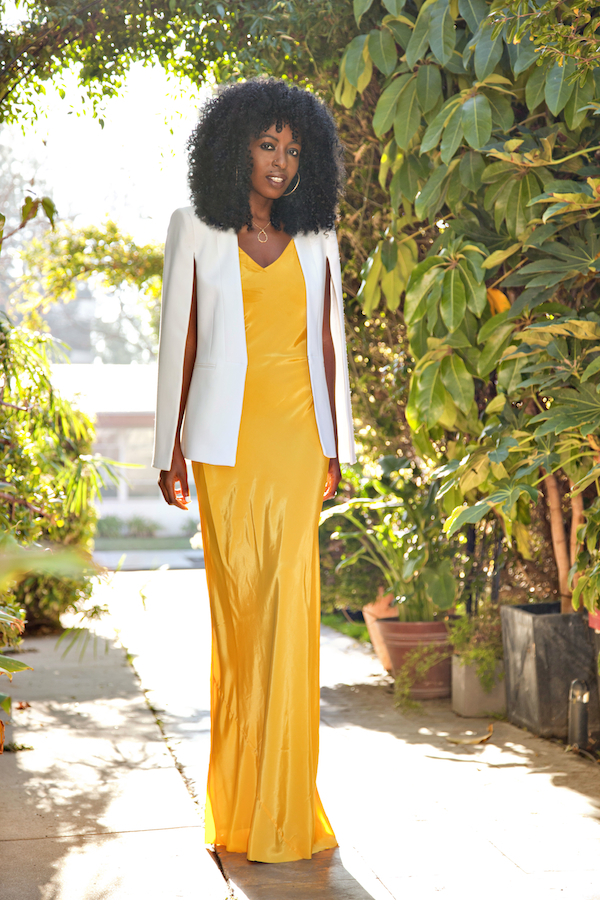 Hello fashion lovers! It's time for another edition of BN Style: How to Wear, and we are taking a look at a fashion piece that has proven to be a fashion blogger and celeb favourite! We are talking about the Cape Coat/Jacket.
This hot fashion item is one that we are absolutely loving and just know you're going to love rocking too.
The cape jacket is a version of the cape, which is usually attached to an item like a dress, or just draped over the shoulders. Today, there are many variations of the cape trend from sweaters to trench coats; and usually features slit sleeves or arm slits.
Now, because of its nature, the cape jacket may look hard to style, but that's why we're here. We're going to show you the ways to rock the trend at the office, on the go and even at night citing examples from some of our favourite fashion bloggers around.
Check it out!
***
For the office
The stylish cape jacket isn't just for looking chic on the streets, you can also rock it to work. It has a way of adding class to your look which works great for Monday mornings or even to close up shop on Fridays.

This fashion piece can be a stylish substitute for your regular jacket or coat making you the envy of colleagues. You can rock a hot white combination like Edwina of VersiCloset or pair it with a wide-rimmed pants like stylista Folake Huntoon of StylePantry.
On the weekends
A great thing about the cape jacket is its ability to a little something extra to your look. You can wear a sweater, or even a simple top under your shirt and add some class to your look for the weekend with a simple cape jacket in a solid colour or fun texture.

Take a stylish cue from Kela of KelasKloset.com in her black floral print cape coat and lifestyle vlogger Patricia Bright of MomentsofStyle with her official spin with a short-sleeved shirt and leather pants.
When it's Cold Outside
When Harmatan comes to play, December can prove to be a trying month for your fashion favourites; so why not brave the cold winds with a chic cape coat.
You can achieve this by stylishly layering like Toun AJ of Tounaj.blogspot with her wide-rimmed midi denims or drape it over a sweater like Danielle of TheStyleAndBeautyDoctor.
For a Night on the Town
The cape coat's ability to add class to your outfits shouldn't just end in the daytime, take it out for a spin at night too. Pair it with some skinny jeans for a laid back look, drape it over a hot dress and even try a short skirt for some sultry appeal.

Check Out Toun AJ rocking a hot white cape coat over a lace bralet and a black & white skirt; and Miss Enocha of Locks&Trinkets in her black cape coat and white wool dress.
***
So will you be rocking the trend? We know we will!
Photo Credits: MomentsofStyle | thestyleandbeautydoctor | StylePantry.com | @VersiCloset | KelasKloset.com | Locks&Trinkets.com | Tounaj.blogspot.com