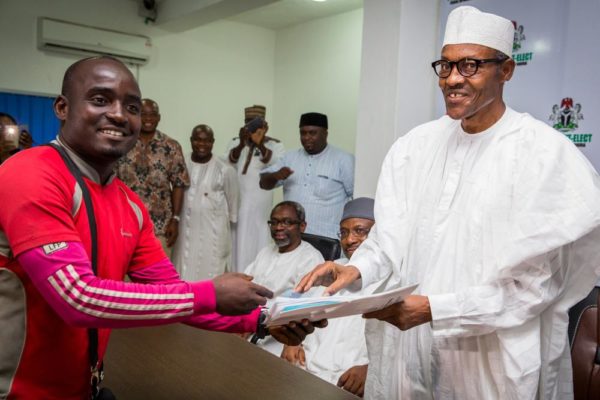 Everyone is still talking about 33-year-old Suleiman Hashimu vowed to walk from Lagos to Abuja if Muhammadu Buhari won the presidential elections.
Hashimu's dream of meeting Buhari finally came true, as he arrived in Abuja and was received by the president-elect himself.
Punch reports that Buhari was delighted to meet him.
Speaking to Hashimu, Buhari said "I heard so many stories that you wore out about half a dozen pair of shoes. But I also understand that there were people who were quite generous to help you to pay for more pairs of shoes. Thank you very much indeed."
The elated Hashimu presented a gift to Buhari, and answered questions posed by newsmen afterwards.
Speaking on how his journey went, he said:
"I passed through Kwara State, Niger State to Abuja. I trek from 6am to 6pm. I start by six anywhere I find myself by 6pm, I pass the night there. I spent 18 days. I found myself in the bush once and had to trek till 9pm to a nearby village. I am based in Ibadan. I started my journey from Berger in Lagos.
… I made this promise between God and myself. I don't want people to believe me. Believe me or not, that is why I did not leave any evidence on the ground. I made a promise between me and my God and I think right from Ilorin in Kwara State, I did not walk five kilometers alone; I always trek with people.
Photo Credit: Twitter