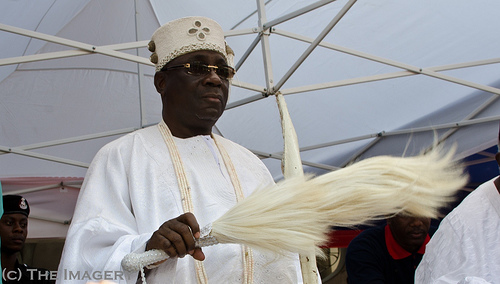 According to ThisDay, the Oba of Lagos, Rilwan Akiolu, stated on Sunday that Igbo leaders in the state would die if they failed to to vote for APC governorship candidate, Akinwumi Ambode in the governorship elections scheduled to hold on Saturday, April 11th.
Akiolu reportedly made the threat while speaking at a meeting with Igbo leaders.
Here is what he allegedly said:
On Saturday, if anyone of you goes against Ambode who I picked, that is your end. If it doesn't happen within seven days, just know that I am a bastard and it is not my father who gave birth to me.

Jonathan is my son and I speak to him everyday. By the grace of God, I am the owner of Lagos for the time being. This is an undivided chair. The palace belongs to the dead and those coming in the future.

On Saturday, if anyone of you, I swear in the name of God, goes against my wish that Ambode will be the next governor of Lagos State, the person is going to die inside this water.

I'm not ready to beg you. Nobody knew how I picked Ambode. Jimi (Agbaje) is my blood relation and I told him that he cannot be governor in Lagos for now. The future belongs to God. I am not begging anybody, but what you people cannot do in Onitsha, Aba or anywhere, don't do it here.

If you do what I want, Lagos will continue to be prosperous for you. If you go against my wish, you will perish in the water.

I am for the progress, growth and development of Lagos. Ambode is highly cerebral, he's a symbol and he is going to deliver the message which I, the Oba of Lagos, have said. And he will govern the state for another eight years.

He is going on a mission and God will give him the wisdom and knowledge to fulfill that mission. Almost a year ago, I declared that Ambode will be the next governor of Lagos and it will not change.

From time immemorial, the previous occupiers of this house will say what they wanted after consultations with other people. And this hasn't changed and it will not change at this time.
According to reports, Igbo residents in Lagos largely voted for PDP candidates during the presidential and National Assembly elections held on Saturday, March 28th. Reportedly making reference to this, Akiolu is said to have stated:
The mistake of last Saturday was caused by everybody, not only the Igbos. It is not only the Igbos that were responsible for the votes. But we have learnt our lesson. Saturday's election is going to be a different thing and Ambode is going to win.

Everybody knows that when you fail the first time, you cannot afford to fail again. We are going to tell our people that Ezes from the 20 local governments and 37 local council development areas are here and that we have sworn with the Oba that we are going to make sure that Ambode wins next Saturday's election.
However, many are questioning the veracity of the reports. Here is what some are saying:
I just read those words. I can't believe that statement would be made by an Ayo Fayose let alone Oba Akiolu.

— J|#BringBackOurGirls (@omojuwa) April 6, 2015
@omojuwa I listened to d Eze Ndigbo in Lasgidi afta their meeting wit Oba Akiolu yesterday & he never react 2 such stmt…i don't blieve dis

— SaintPeter Faeji (@temisaintpeter) April 6, 2015
Defaming the oba of Lagos. PDP has gone this far. This is madness. @omojuwa

— muiz adeyeye (@officalAdeyeye) April 6, 2015
On good authority, Oba Rilwan Akiolu never made such inciting statements. I would have been disappointed if he did. I repeat, he DIDN'T!

— Adamaka Chikwelu (@Damawelu) April 6, 2015
Update:
An audio recording purported to be of Oba Akiolu making the aforementioned statements has hit the Internet: