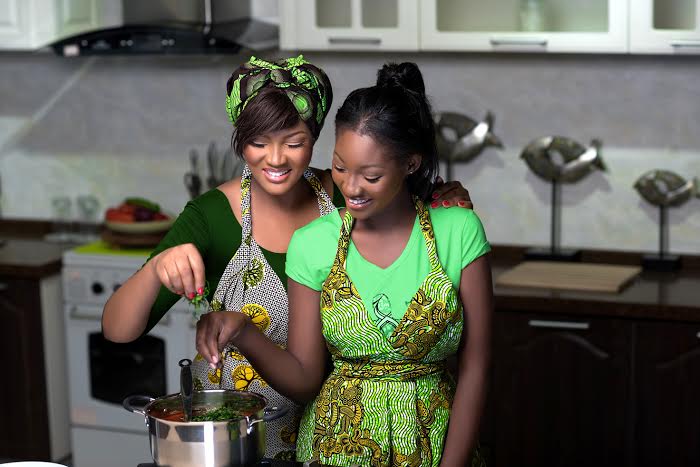 Hello everyone! I recently had the great opportuntiy of styling the one and only Omotola Jalade-Ekeinde and her pretty daughter Meraiah as the new ambassadors for Knorr's stock cube brand; and I just had to share all the fun from the shoot. And hopefully this can help you if you are a rising stylist.
Check it out!
***
Styling a shoot is usually aimed at producing photos for a particular purpose. This should be of foremost concern to the Stylist as they prepare for the photoshoot at hand.
Having beautiful clothes is one thing, but what use is it if it tilts in a totally different direction from the client's brief? The brief should serve as your guide as you create a mood board for your shoot.
I absolutely love styling Omotola. She has a really awesome figure, is a beauty, and it is always exciting to put her in really "out there" pieces. Plus Meraiah is totally adorable – I can't believe she's 15 already!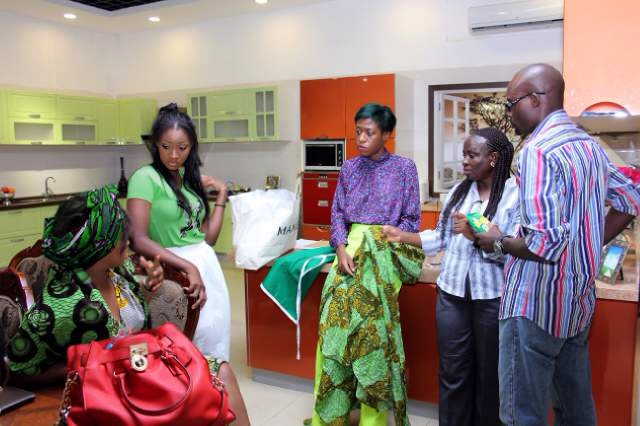 The client gave a very clear brief;
1. A shoot in the kitchen
2. Mother and daughter bonding
3. Omotola in head gear
4. Green should be the primary colour to represent the brand
5. Traditional attire
My first move was to do some research. Omotola has quite a sexy personality and brand, and the challenge was to ensure that I keep her true essence while adhering to the brief at hand. I researched and viewed loads of images of photoshoots of women cooking from various eras and finally got the inspiration for the shoot.
I pulled and put together looks I felt would work – The idea was to project Omotola as a beautiful mom, grounded in her traditional roots yet totally global. We also decided her daughter, Meraiah (her "mini-me"), would portray a younger version of her, learning the ropes from Omotola with a  strong & close mother-daughter bond/ambiance.
It was quite easy to pull this off to be honest as this is basically what Omotola stands for and oozes naturally. I loved it!
Photo Credit
Photography: Kelechi Amadi-Obi (Instagram: @KelechiAmadiObi)
Styling: Ezinne Chinkata (Instagram: @Zinkata1)
Makeup: Bimpe Onakoya (Instagram: @BimpeOnakoya)