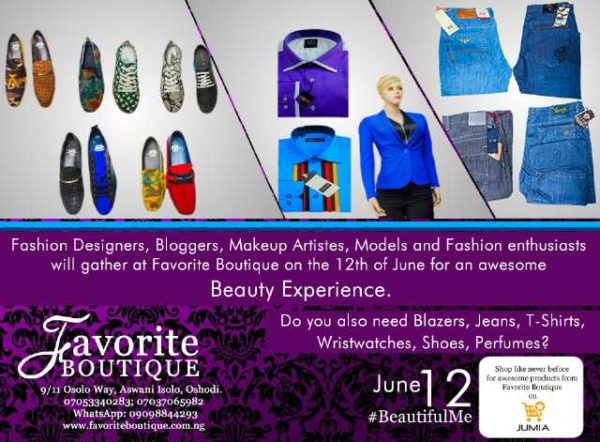 Hurray….hurry, exciting times are here. June 12th has just moved from being a day surrounded with Political clout to a day reserved for all things fashion!
Fast rising fashion outlet, Favorite Boutique, which just inked a juicy deal with one of Africa's largest online stores, Jumia, is ready to do it big, as an unveiling ceremony of new fashion arrivals would be held at the Boutique in Lagos.
The event, tagged #BeautifulMe promises to be an awesome one. The unveiling will bring together top Fashion Designers, Bloggers, MakeUp Artistes, Models and fashion enthusiasts in general.
The Alozie-led Favorite Boutique is poised to be the talk of the town. There will be concentrated social media buzz as well as offline publicity strategies to make the event a success. So, the game is on, come down and have fun, enjoy live music, finger foods and have the best kind of shopping experience ever.
Favorite Boutique collects and curate elegant designs from well-known designers such as suits from Wathel, Ottima (Turkey), Mario Santana (Italy), Shirts from Parmigiani, Ben Rich (Turkey), T-Shirts from Paul Smith, D&G, Gucci, Lacoste, AJ Armani, etc.
In stock also are shoes from Genio (Italy), sneakers from UK and loafers from Turkey, designer Jeans by Giorgio Armani, Polo, Hugo Boss, Jeep, Lee, Burberry etc.
The boutique tops it off with awesomeness and suave as it stocks the very best of perfumes!
Now, this is one beautiful store for upwardly mobile men and women who know what looking good really means. Curated with a sense of class, each item in our store is handpicked every season from designer collections that are shown in Milan, Paris and London to provide the fashion literate with a dedicated service.
Date: Friday, June 12th 2015
Venue: 9/11 Osolo Way, Aswani-Isolo, Oshodi, Lagos
For more info, please call 07053340283, 07037065982
Don't miss it!
__________________________________________________________________________________
Sponsored Content