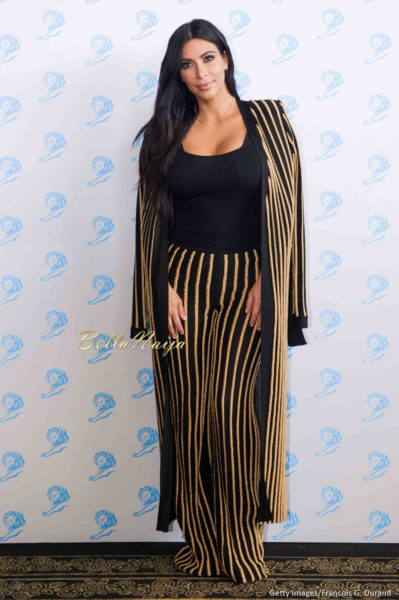 Pregnant Kim Kardashian looked gorgeous at Day 4 of the Cannes Lions where she popped in for a seminar.
During the seminar, the 34-year-old reality TV star talked about managing her business as well as some of the business decisions she has had to make in establishing herself into a multi-million dollar brand.
For her outing, she looked fab in a Balmain striped trouser suit which had glittery gold pinstripes running throughout. The looks were from the French fashion house's Fall '15 line. She wore her hair down and kept her beauty look simple with a smoky eye and a pale pink lip.
Her speech at the Cannes Lions was pretty impressive. See excerpts below.
On her Instagram: Maybe I post too many bikini selfies for some people. But my Instagram is exactly what I want. I know some of the brands I work with might get frustrated. I will only post a picture of a brand I like if I really love it. And I also say that my Instagram is off limits in my business contracts. I've actually unfollowed people who post too many brand-related Instagram pictures because I don't believe in it. I can smell it a mile off.
On how she selects brands she is associated with: I used to take on way too much and sometimes I got involved with brands that didn't make sense for me, because I was excited by everything and wanted to be here, there and everything. But it was overkill and so I took time off and figured out what I should be doing. Not everything I took on was the right fit for me and that can kill a brand.
On her Kim Kardashian Game App: Kanye really talked me into doing this partnership. He always wanted to do music for video games, so he thought it was the coolest thing in the world to have a video game with a character of myself. And as long as I had some control over the look of the character, what the character would be wearing and saying and doing, it would be so much fun, and it proved to be so right. I thank Kanye every day for making me do this deal.
On joining a male dominated world: I feel excited that we brought a female fan base to the gaming world and to the tech world. It's been a new venture for me and scary for me to step into such a male dominated world.
On how she runs her day: I have my daughter now so I get up at 6am and answer emails before she gets up. Luckily I have a partner who gets up just as early, so that works. Then I work out my style, do some family stuff and then we film throughout the day. I send emails through the night so a lot of people hear from me at crazy hours.
Photo Credit: Getty Images/Francois G. Durand