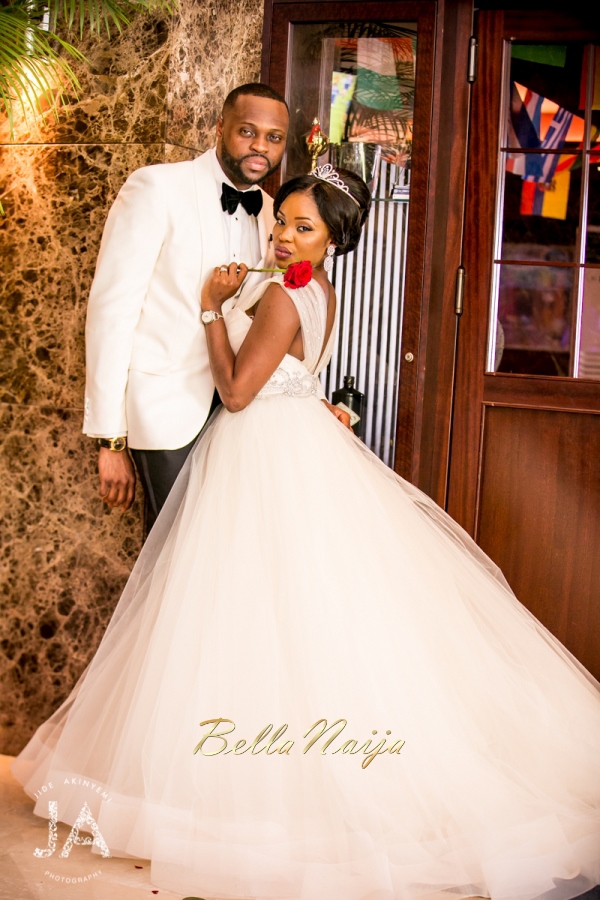 Alaoye & Tunde have a fairytale love story, but also a bubbly love that's totally infectious!
The couple grew up with their mothers as close friends, as the wives of naval officers, they always called AY and Tunde husband and wife … who knew it would come to pass?
A chance phone call led to a long-distance relationship, a funny proposal that sent the bride under the bar at a restaurant, a stunning wedding where the bride wore 6 outfits, and now a marriage and love that will last a lifetime.
BellaNaija Weddings wishes Alaoye & Tunde a beautiful and blessed life as One.
***
How We Met
from The Bride, Aloaye AKA AY
Tunde and I have known each other since we were kids and were always at each other's throats! Ugh! I couldn't stand him one bit cos I thought he was spoiled and was sooo mean!!! Mean because he was continually teased by his mom and my mom. They would always call him my husband, which I didn't mind cos I knew they were just kidding but obviously someone couldn't handle the jokes *rolls eyes* so he would get upset, cry so much and snap at me. We never saw eye to eye.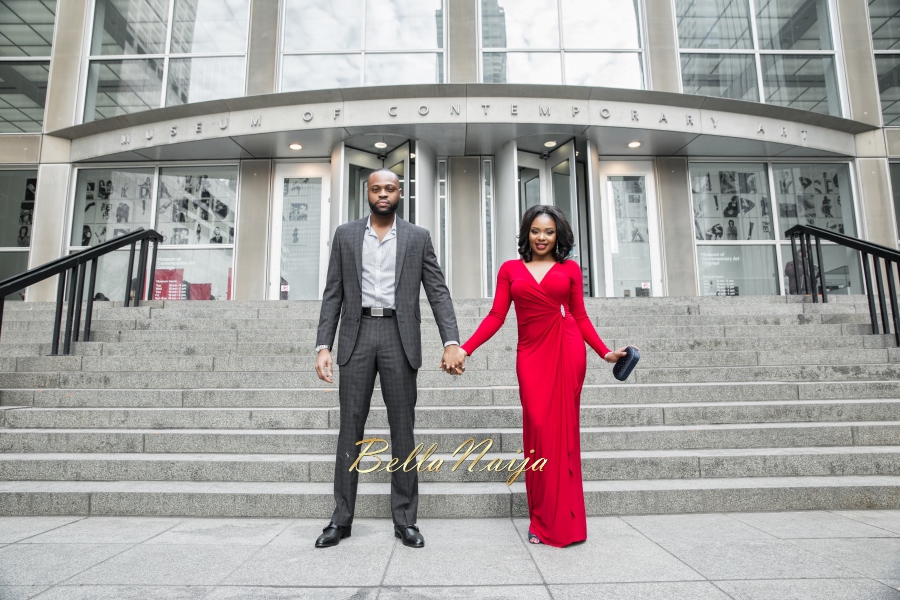 After a while, he relocated to the States with his family and I guess life happened, we lost contact. A few years back his mom celebrated her 50th birthday and my mom attended. I was at work on this particular day when my mom called me, and for the first time in years, I spoke to Tunde, his mom and sister. It felt good to reconnect with them because it had been so long!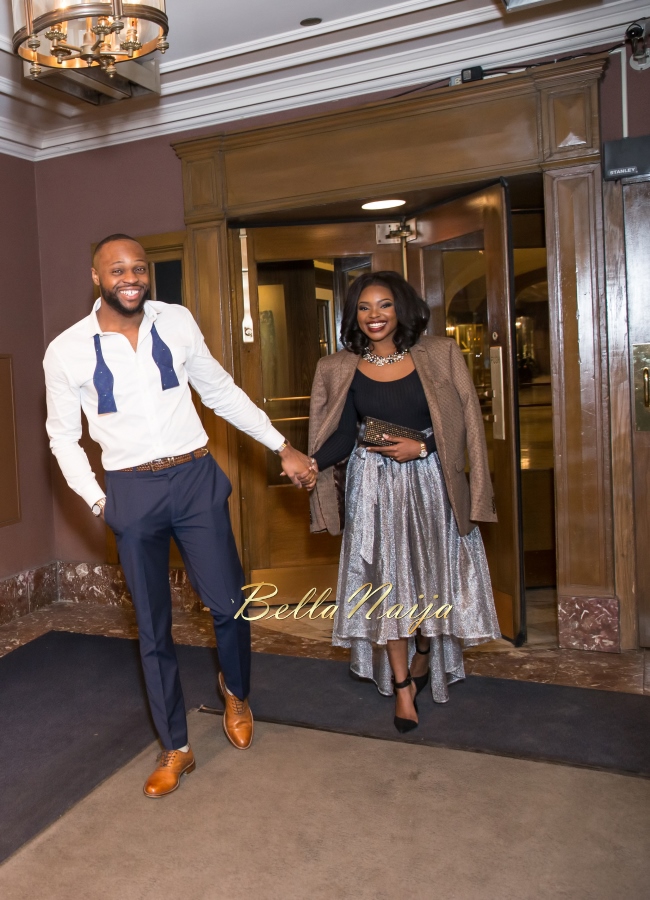 Tunde got my number after we spoke and we kept in touch. He would call me so often – in my mind I'd be like, "but why does this uncle call me all the time?" Every time we spoke I tried to keep the conversation as platonic as possible. I was not even ready for any Yankee boy wash. He would ask me about songs I was into, I guess to kind of know where I was at, music wise. I remember when he asked me to listen to Stevie Wonder's "Ma Cherie Amour". So I downloaded it and as the song began to play, I realised it was a slow love song. Really?? Love song? I stopped it immediately and thought to myself "One chance".
Later that year Tunde came to Nigeria, we had a very deep connection, he ticked all the right boxes and like they say the rest is history.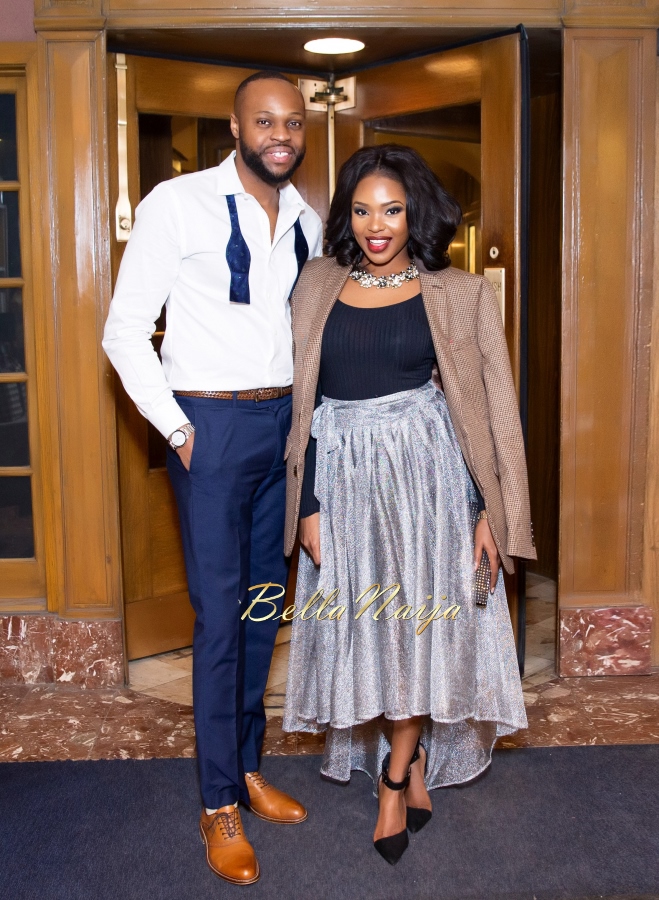 From the Groom, Tunde
Our fairytale story began many years ago when we were just kids. Our mothers were very close friends. They practically did everything together while our fathers were both naval officers. As kids, our mothers would often tease us of becoming future husband and wife, ironically, back then I was quite opposed to it, in fact, I would get upset any time they made such mention. Eventually my family and I relocated to the U.S. in the mid 90's. Aloaye and I had completely lost contact.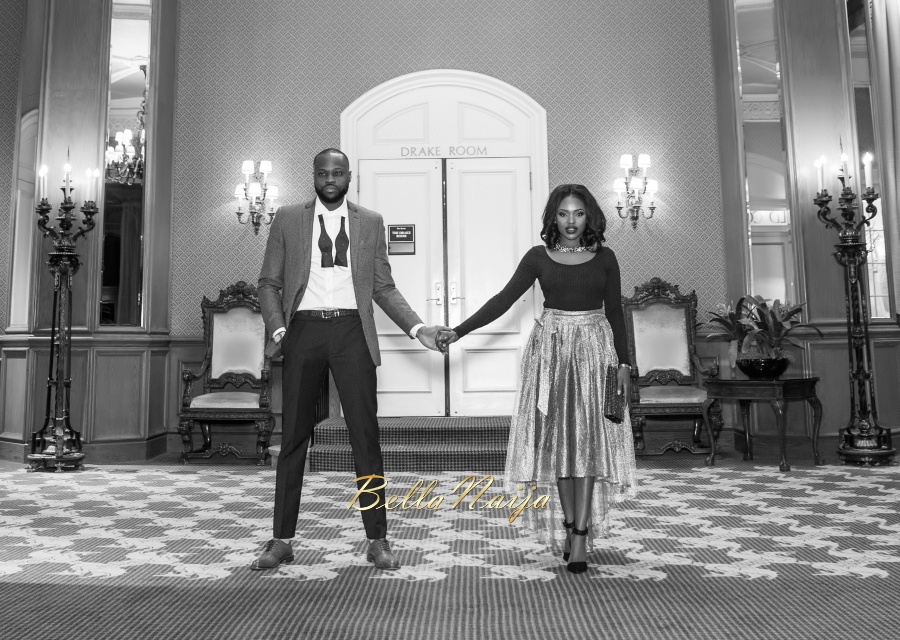 Years later, my mother celebrated her 50th birthday and Aloaye's mom flew into town to attend. It was then that Aloaye and I spoke on the phone for the first time in decades. We exchanged numbers and kept in touch as long time friends.
In December that year, I visited Nigeria on Christmas vacation and it was then that we linked up in person on an outing and … Bam! A New love was born. The kind of love I had never experienced before. It was special. It was heavenly. Following my trip, I returned to the US and ever since we have remained inseparable. We kept in close contact and the chemistry just grew organically. She is the first person I speak with at dawn and the last voice I hear before bedtime. We are love sprung.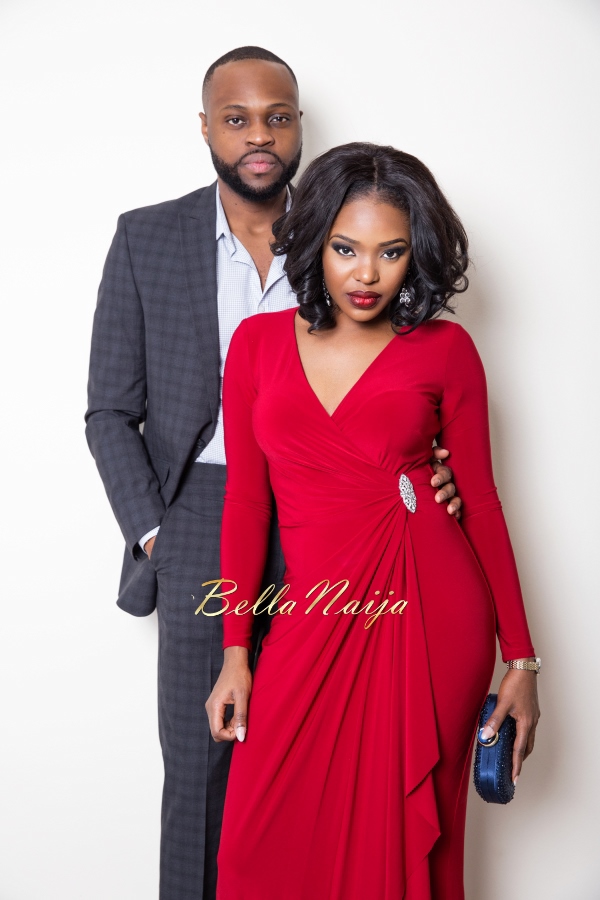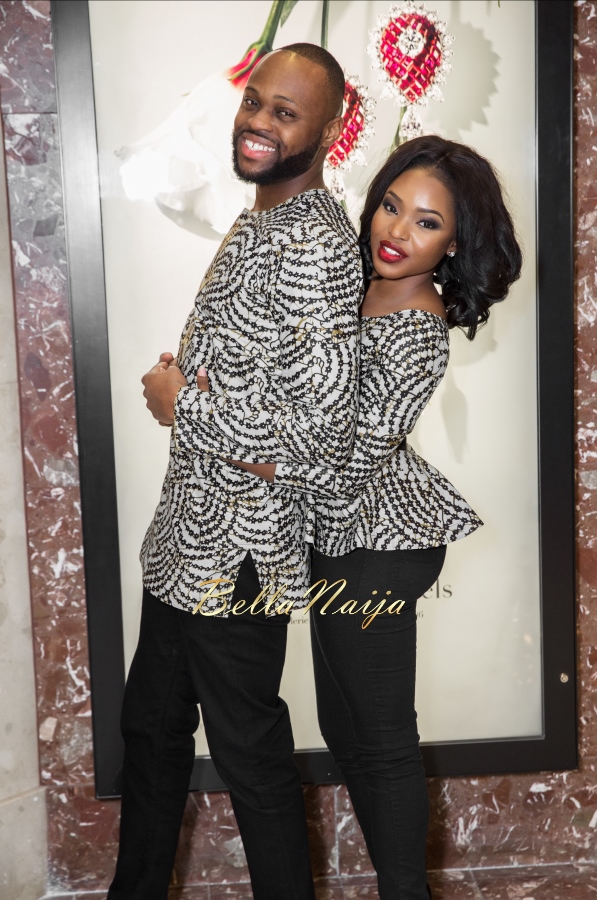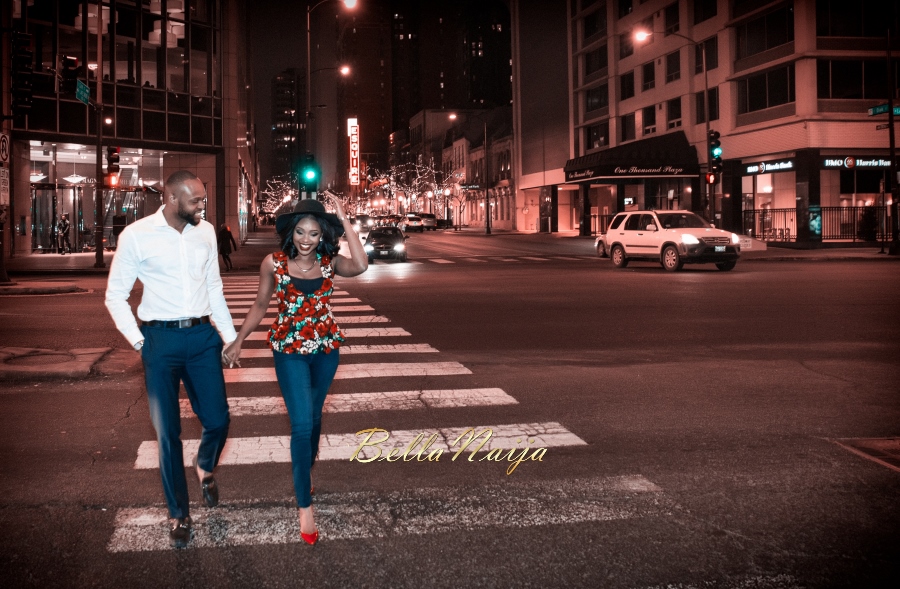 The Proposal
by the groom, Tunde
Aloaye and I had already talked about getting married so it was a matter of me popping the question at the least expected moment… So I got in touch with one of her friends, Aisha, and told her my plans on proposing during my trip to Nigeria in December 2014. I previously told Aloaye I would be arriving in Nigeria a week after my actual arrival date, so she had no idea I was even in the country at all. Only Aisha and a few other friends knew. So anyways … I had Aisha invite Aloaye to a made up birthday dinner along with other friends to a restaurant in Lekki.
I left a trail of rose petals on the floor leading to the middle of the restaurant, with more petals in a heart shape. She was facing the opposite direction while I sneaked up to her from behind and shocked the daylights out of her. Little did I know that "Miss Drama Queen" would put on such an epic show. She totally freaked out, ran all around the restaurant, and even hid under the bar (don't ask why). It took us a while to calm her down. After she settled down I made my move, went on my knees to propose. Well she obviously said "YES". It was definitely a historical evening we will both forever remember and to God be all the glory.
From the Bride, AY
My proposal was a very funny one as I ended up under the bar! I have never felt so many mixed feelings all at once! I was shocked, scared and confused at the same time. On the day it happened, I went to a wedding with two of my friends and afterwards we had a friend's dinner party to attend, or so I thought.
~ Proposal Video by Soji Oni

When we were done at the wedding, off we went to the dinner party and my friend was already outside to welcome us (hmmm… strange) and didn't forget to comment on how late we were, we apologised and laughed it off. As we got into the restaurant, I noticed there were rose petals on the floor and I said to my friend Aisha, "ah ah na wa for this dinner o! Rose petals for what biko?" and she laughed. At this point I had no clue about what was going to happen next. So I walked into the restaurant with my head down, looking at the petals, fascinated and curious as to why Aisha would lavish the restaurant floor with rose petals at her "boyfriend's" dinner party, it was funny but cute at the same time. It wasn't until I raised my head up still laughing and teasing my friend that I saw Tunde in the middle of the restaurant smiling.
I was so scared and confused that I ran off, I couldn't believe he was there! When did he get in from the States? I was so afraid that I ran under the bar. Apparently everyone was in on the proposal except me! They were all waiting at the restaurant as I walked in with my girls and I had no clue my friends were cooking up something! Tunde got me from where I was hiding to the middle of the restaurant, where petals were in a heart shape on the floor. He handed me some roses, got down on both knees, then said a whole bunch of things that I didn't hear. All I heard was "Will you marry me?" LOL! Y'all know what my response was otherwise I wouldn't be here writing this…
Wedding Advice from the Bride!

My advice is a simple one that worked for me and it would be to put God first, be ready to compromise and always keep the line of communication open.
~ Watch the fun Wedding Video by WHPH Media – including the joyful father/daughter dance and more!

Traditional Wedding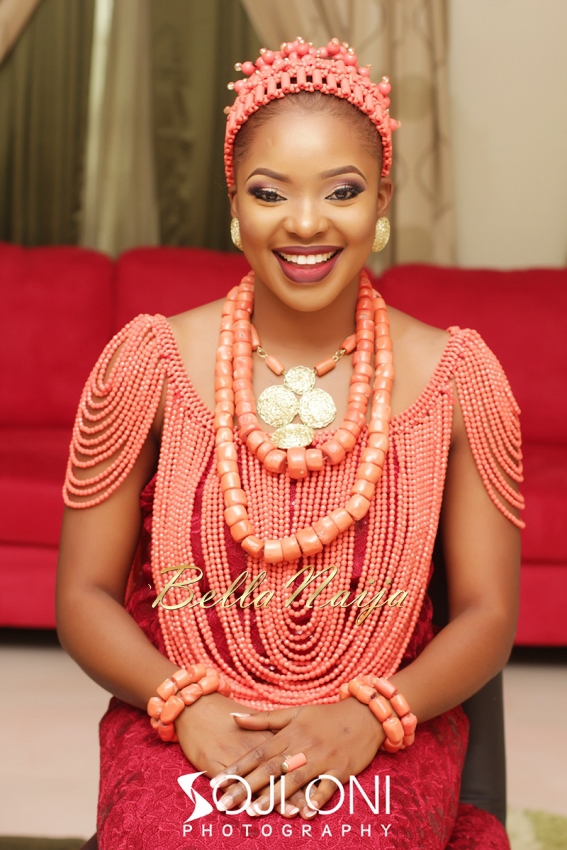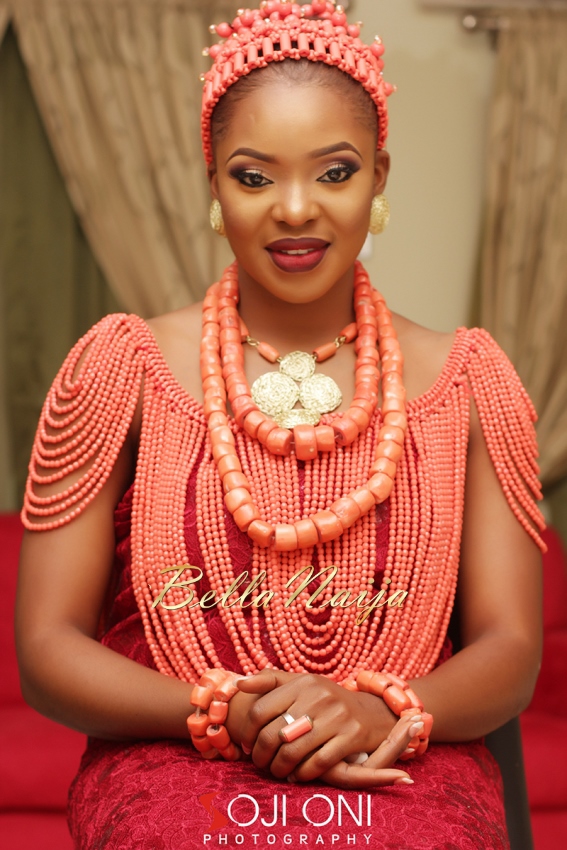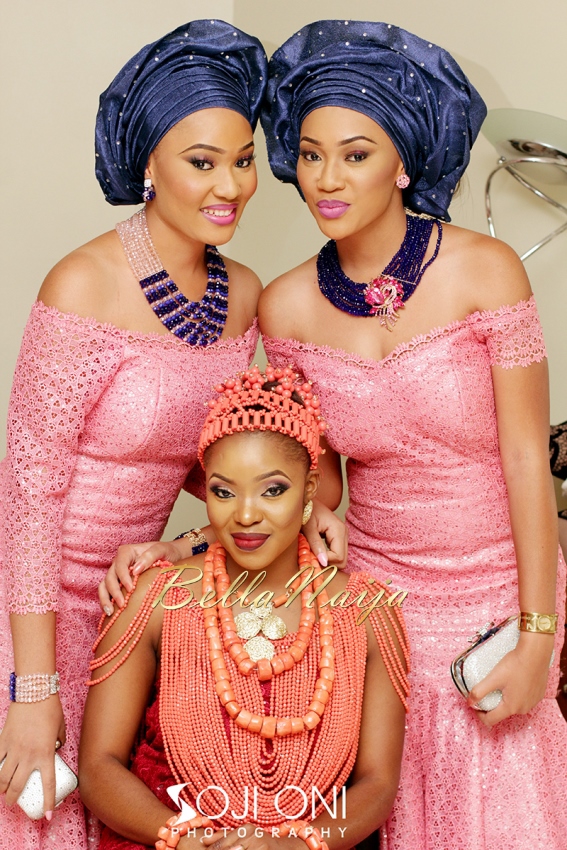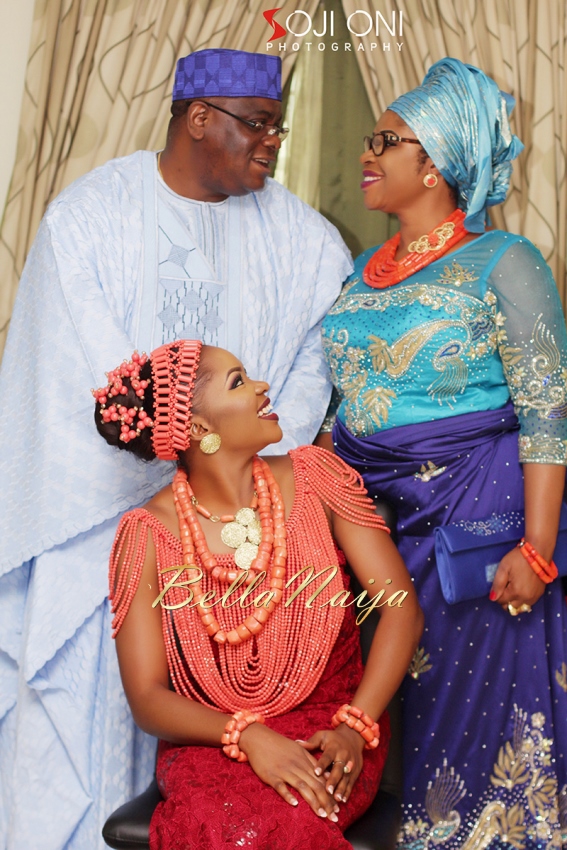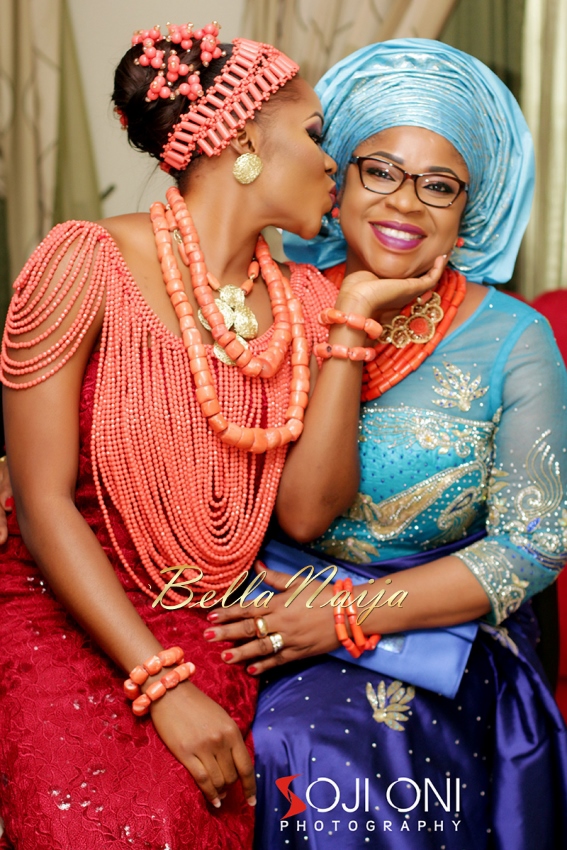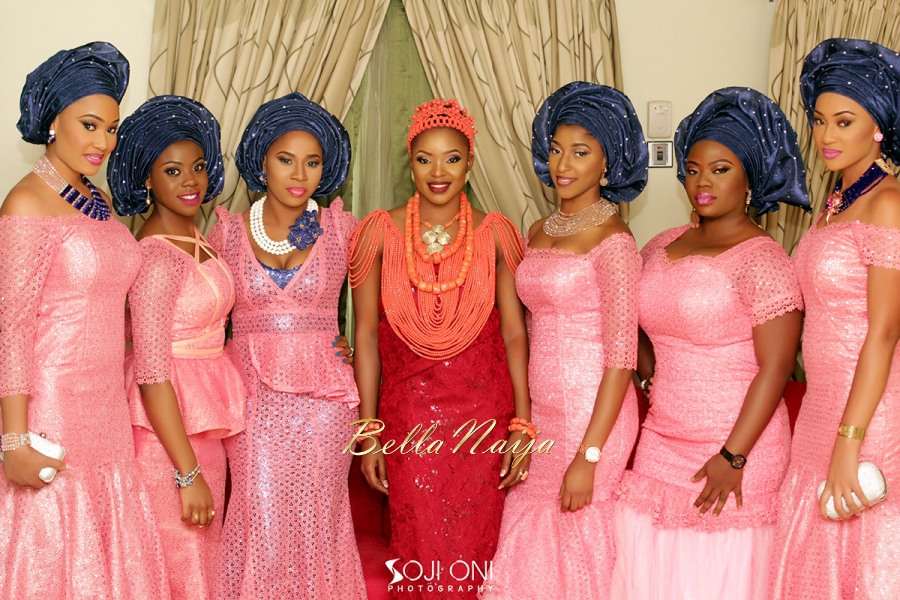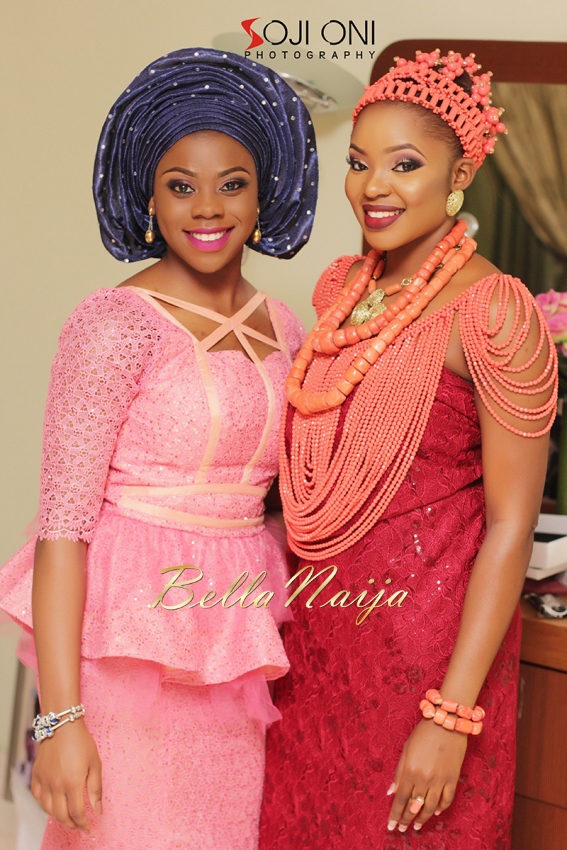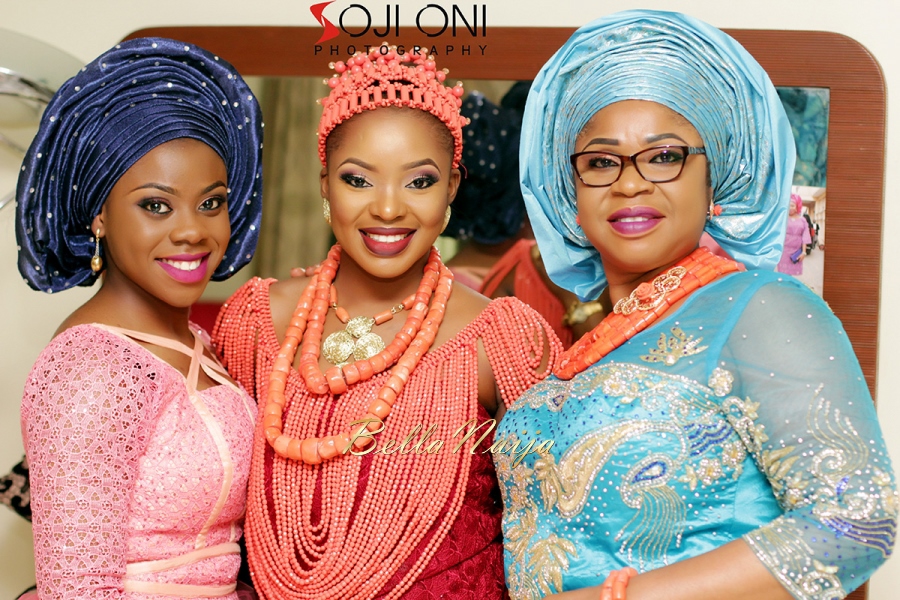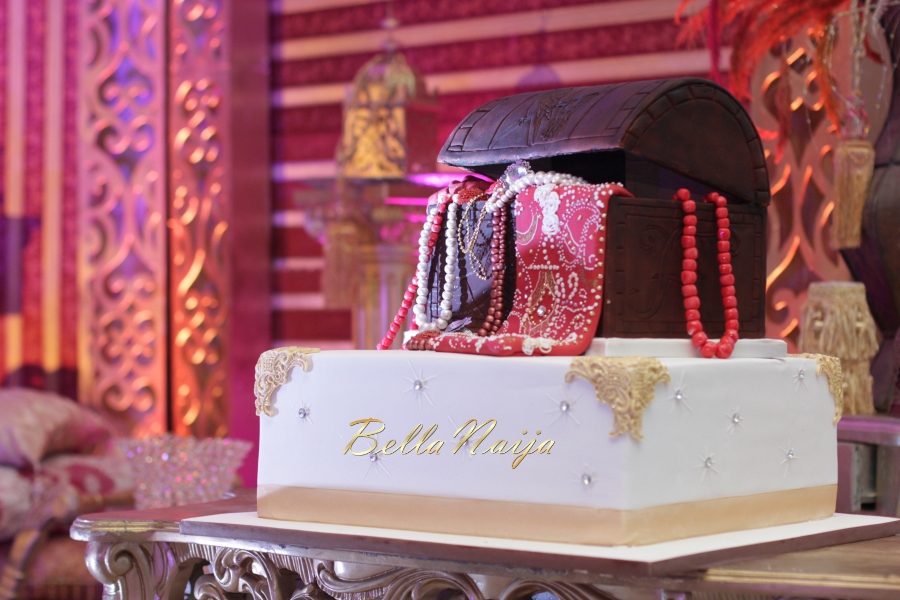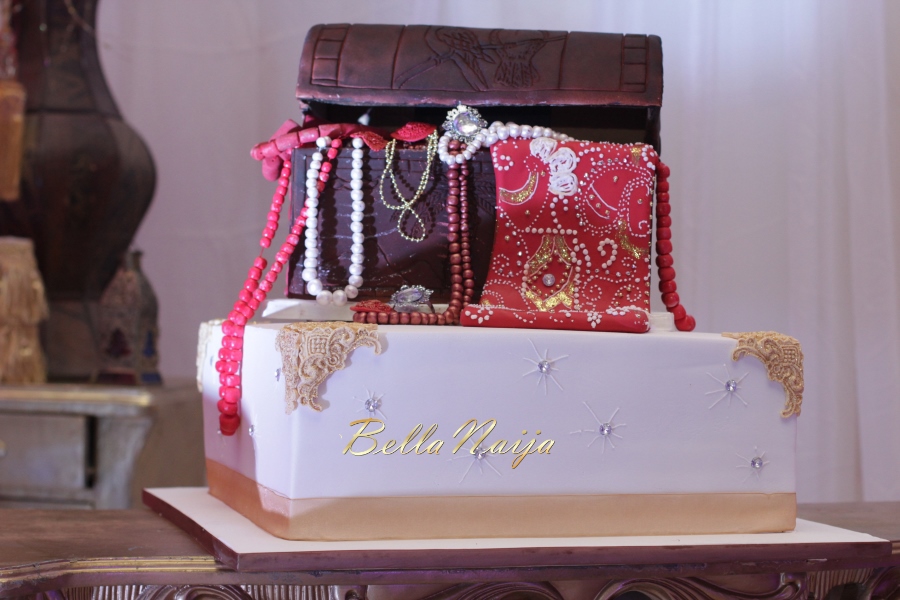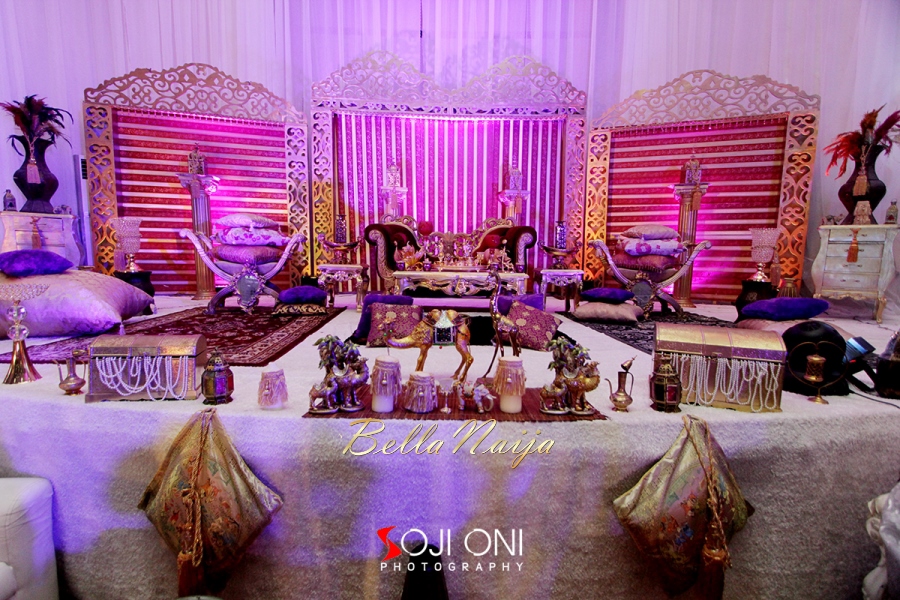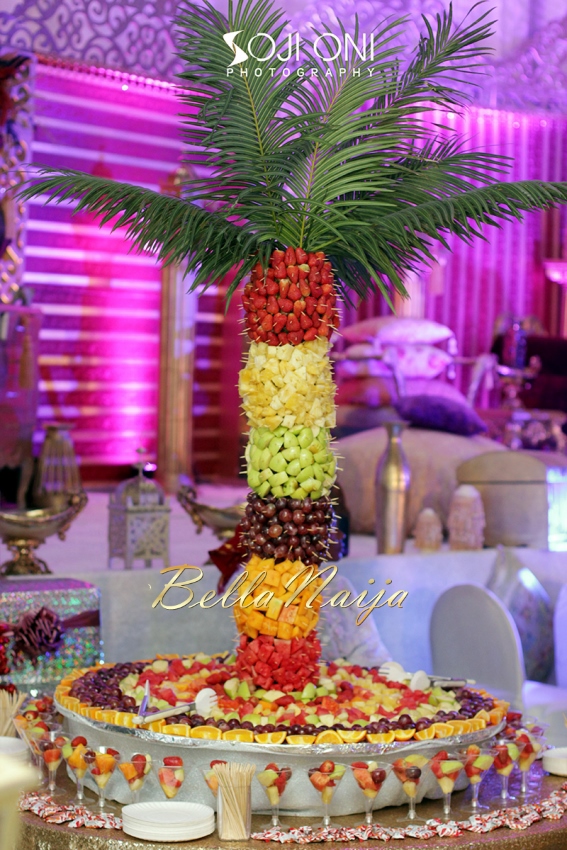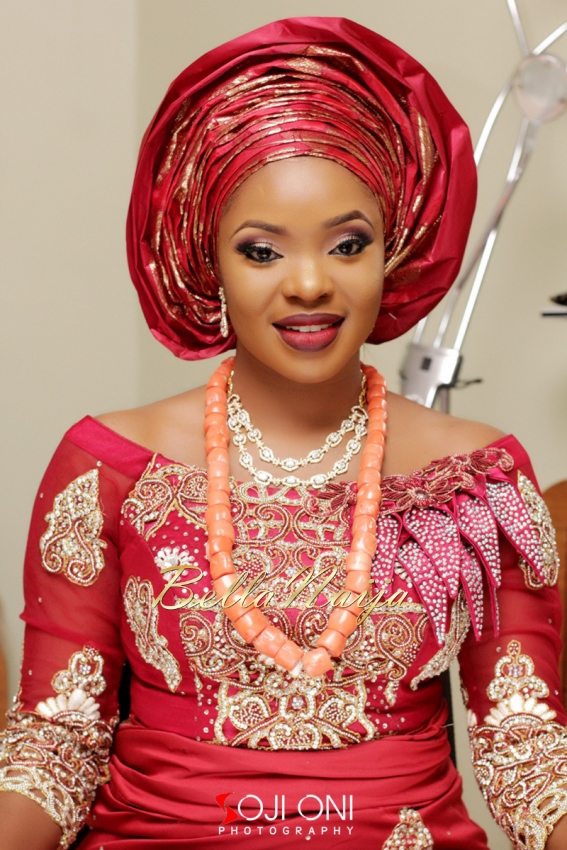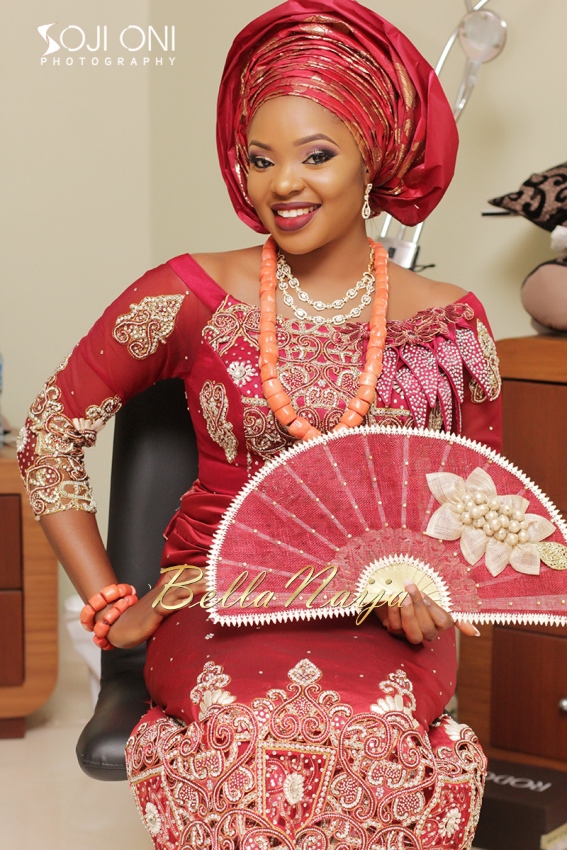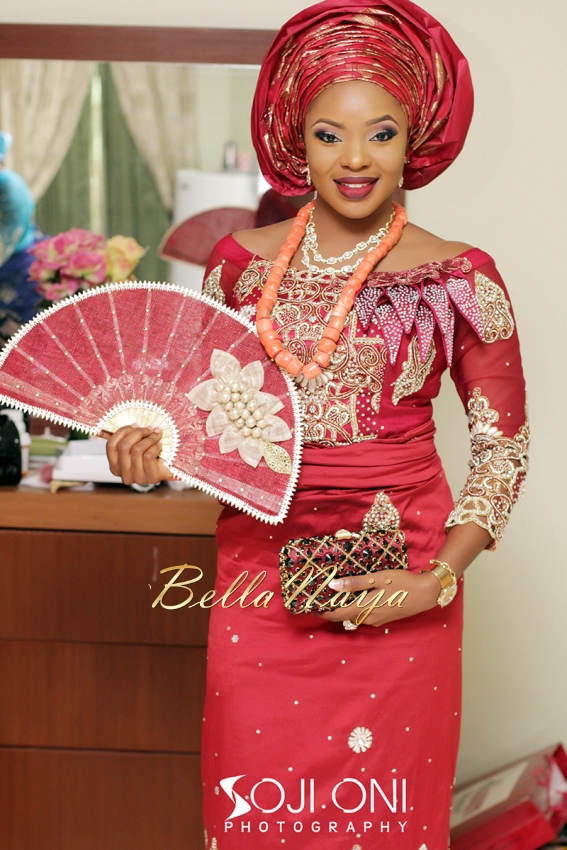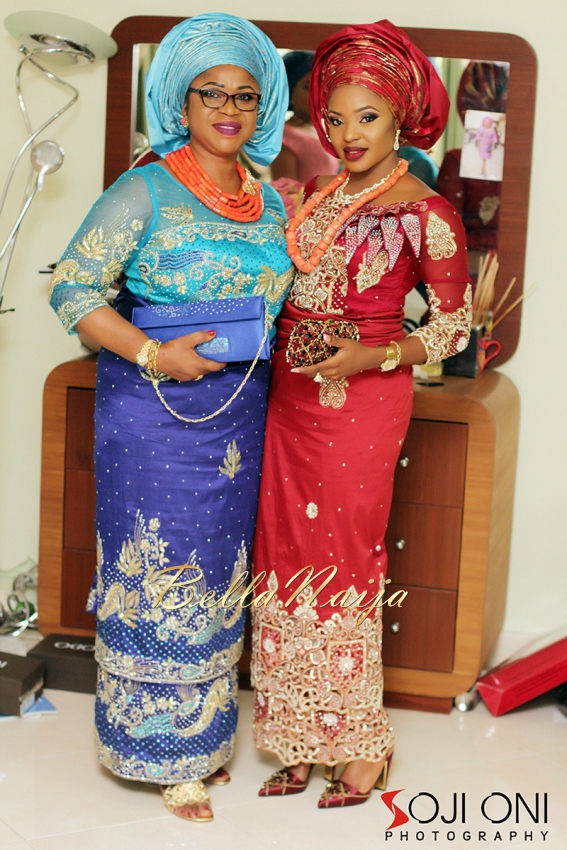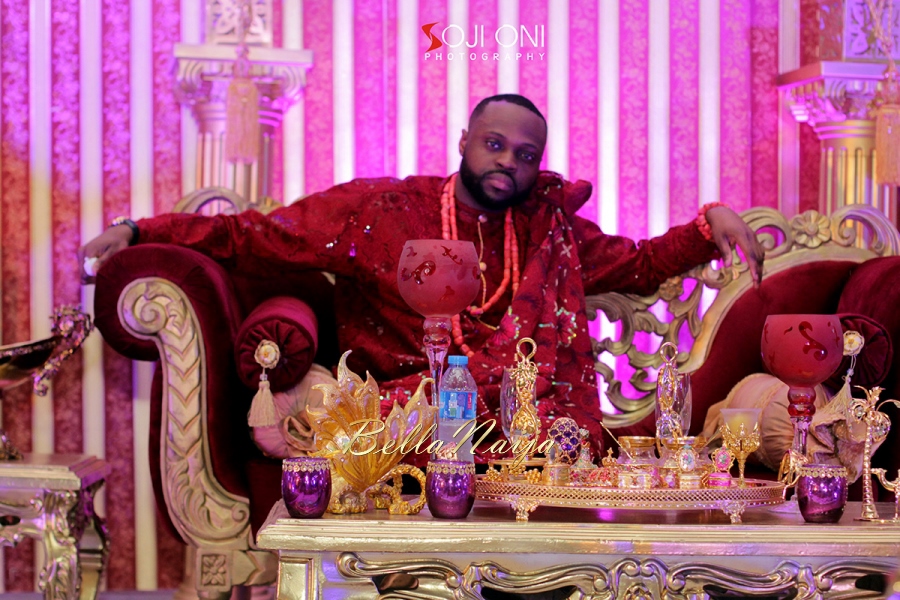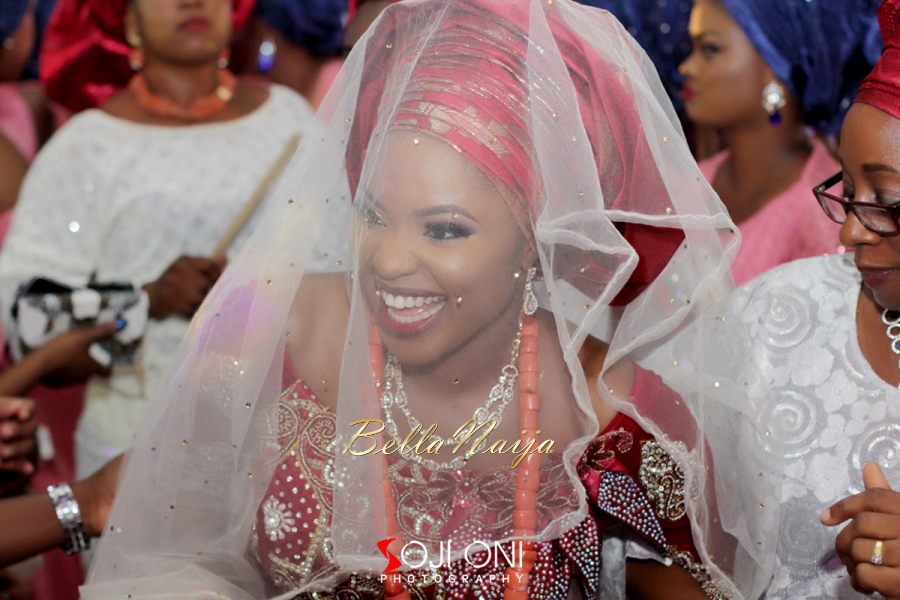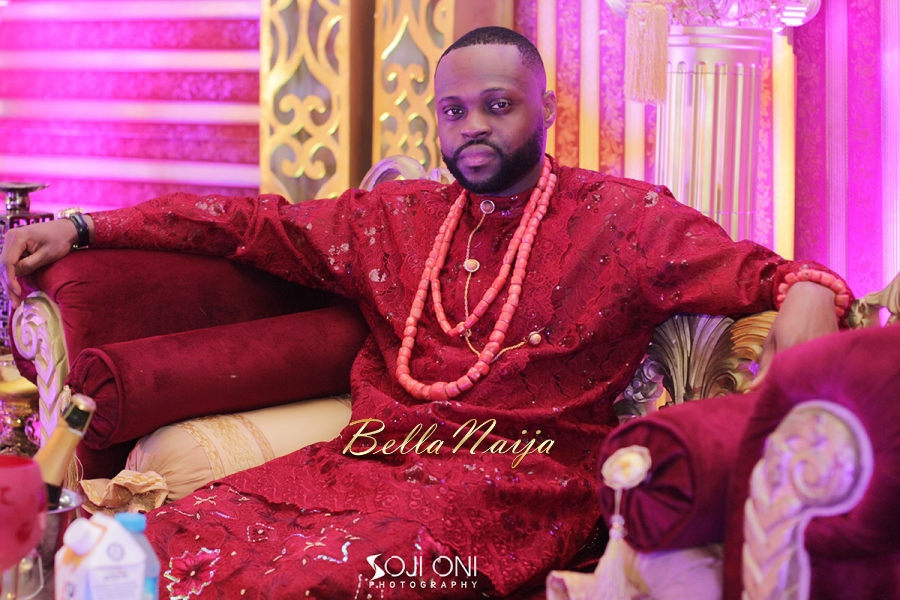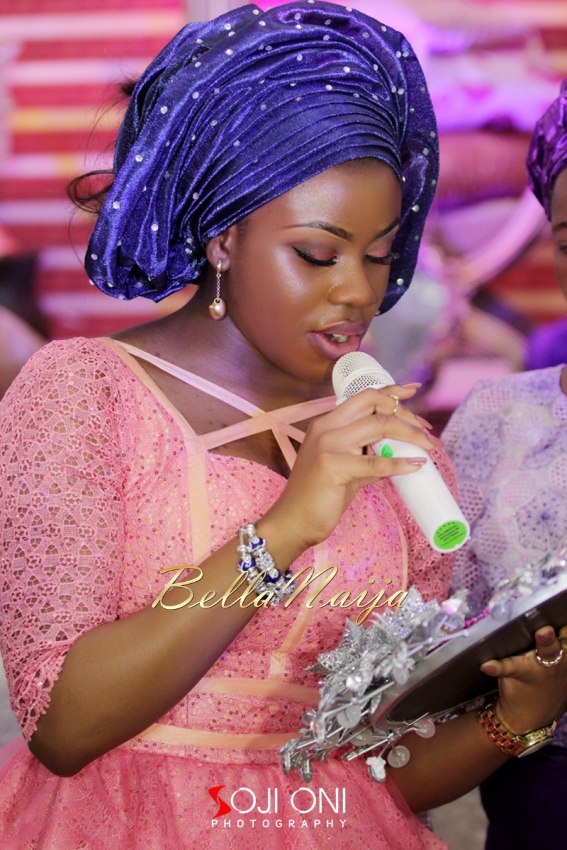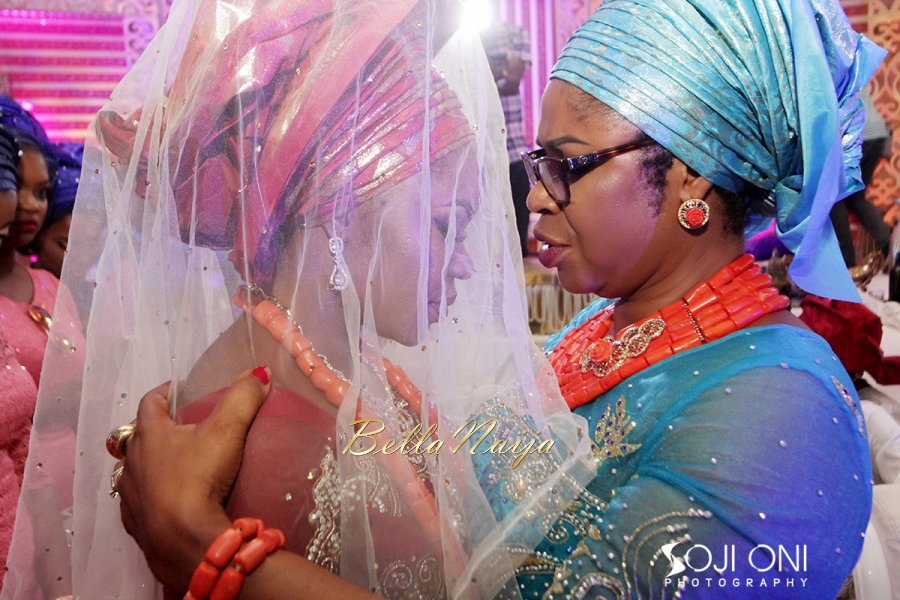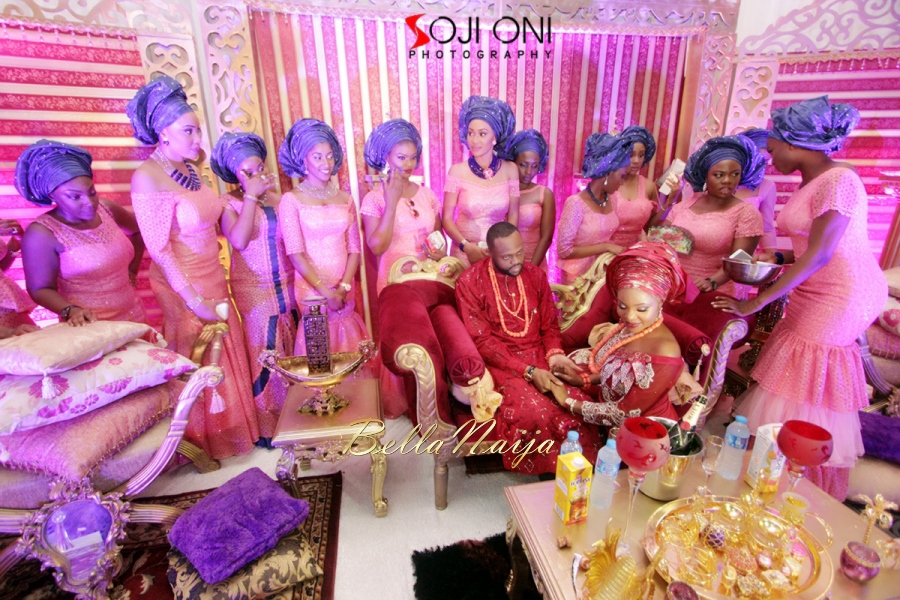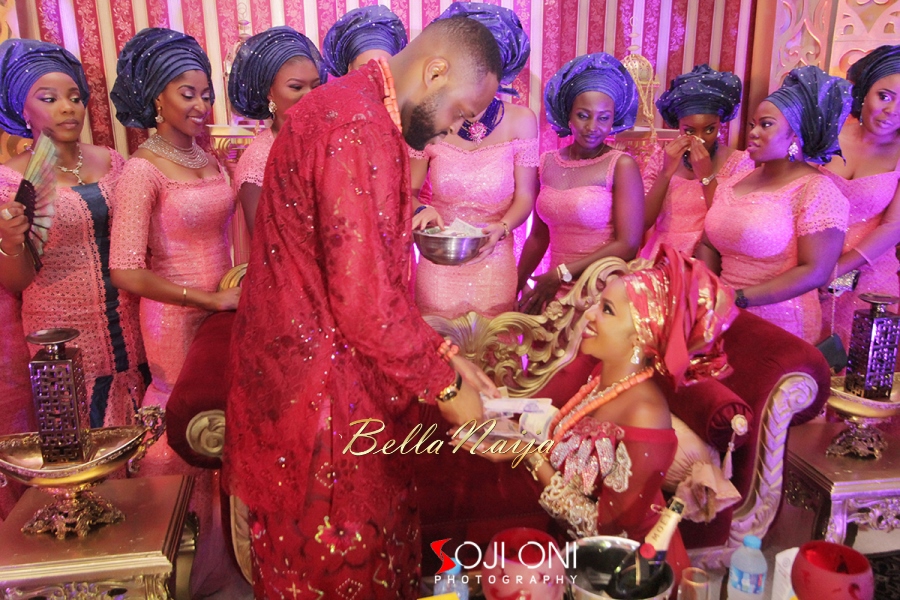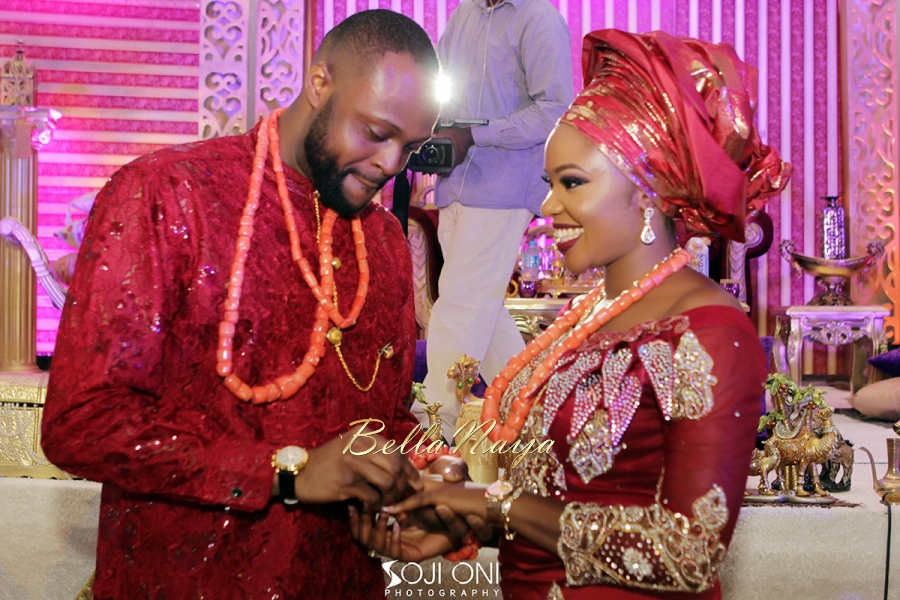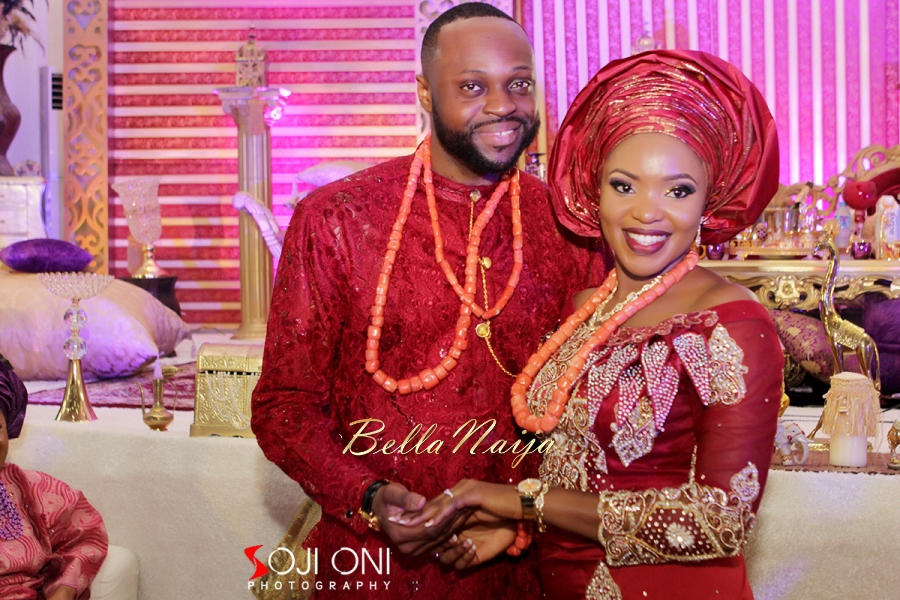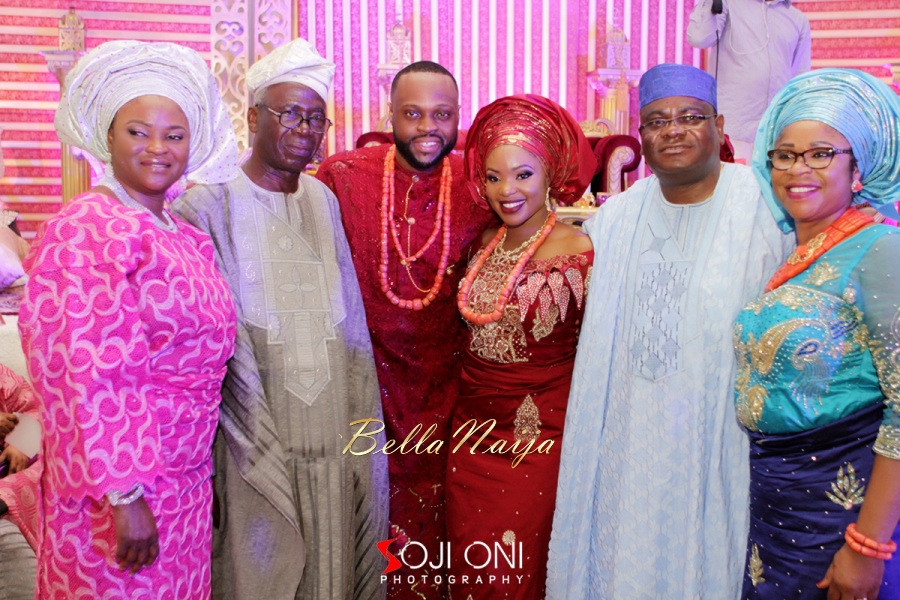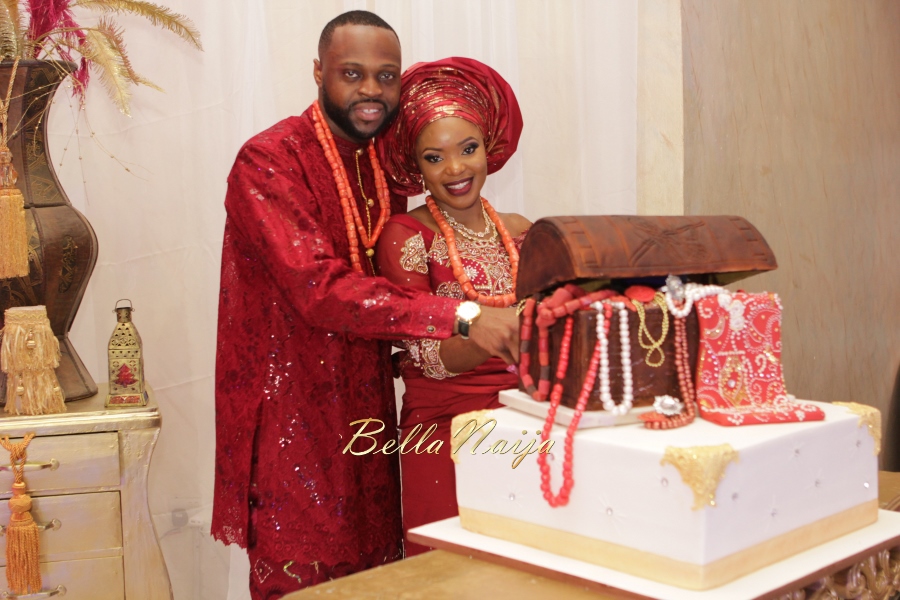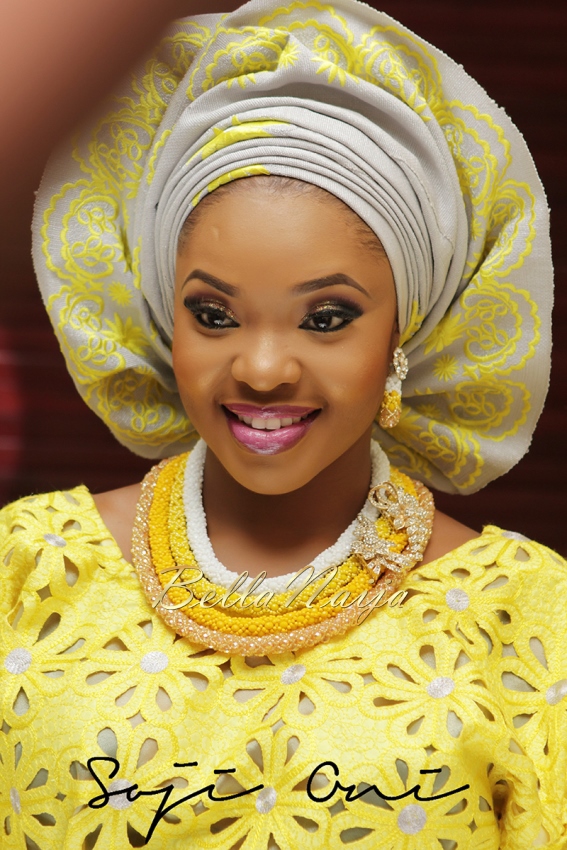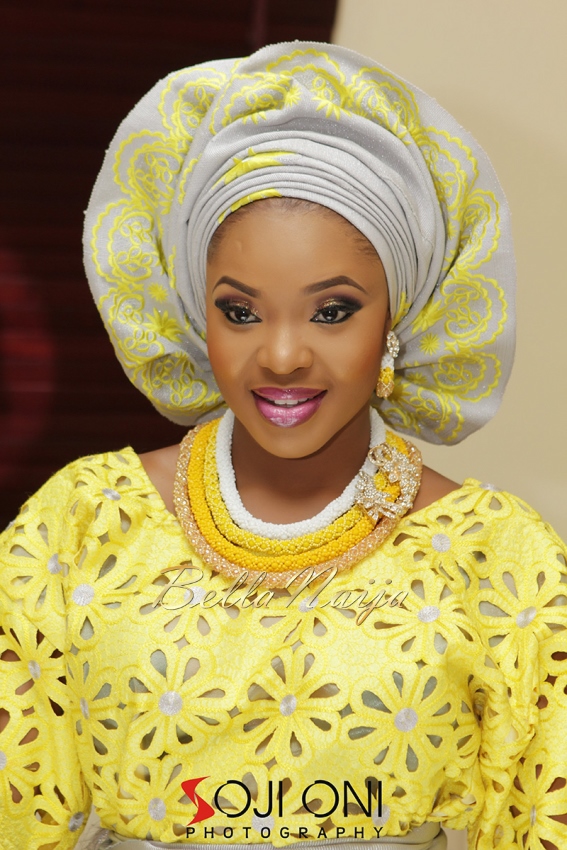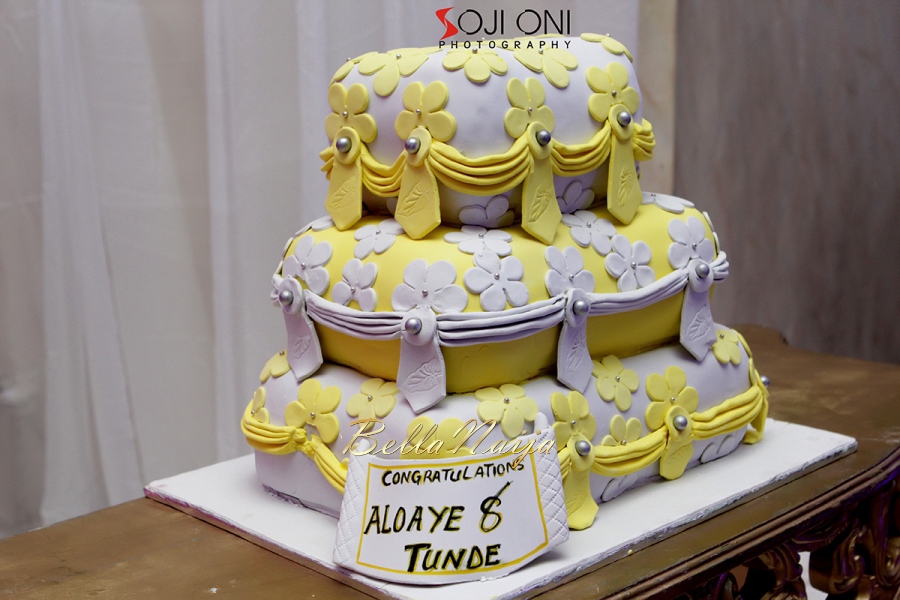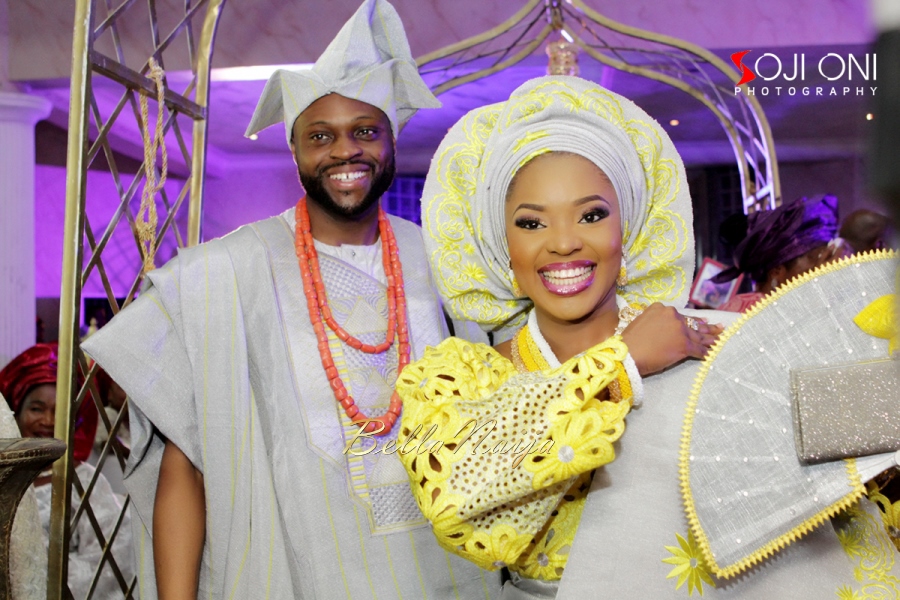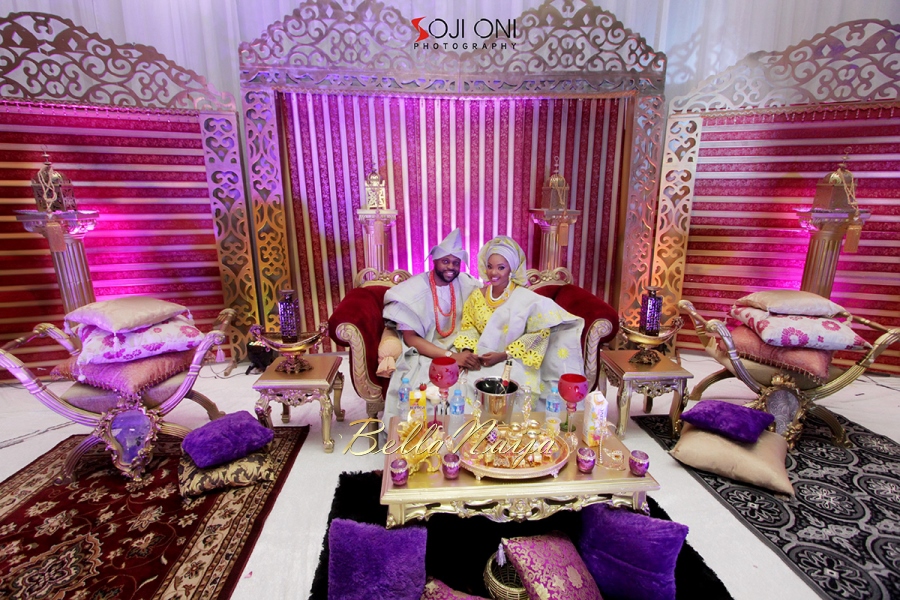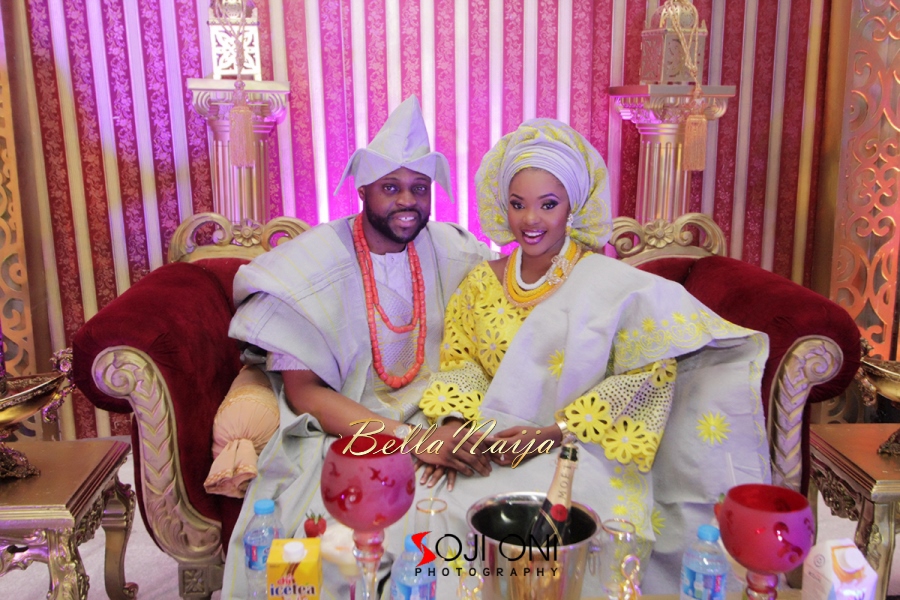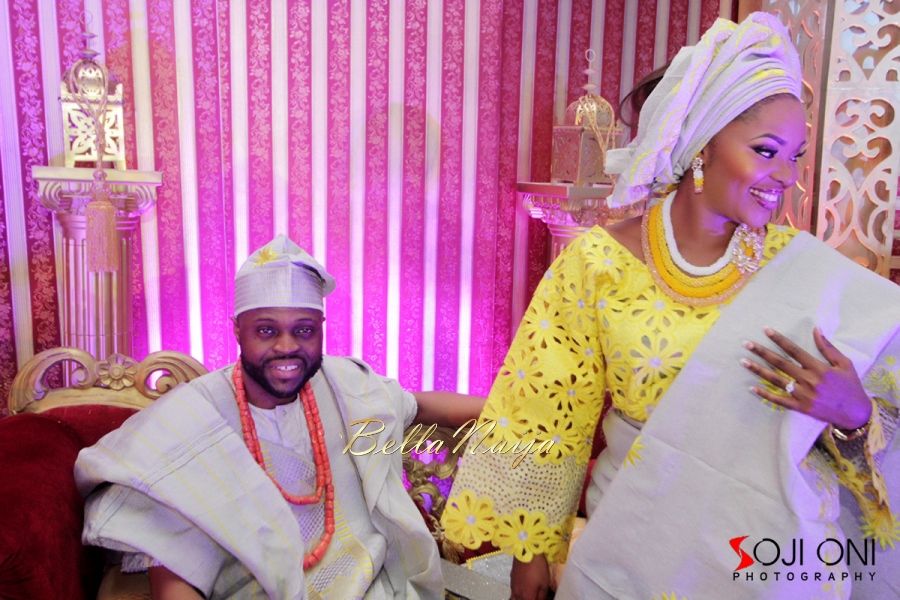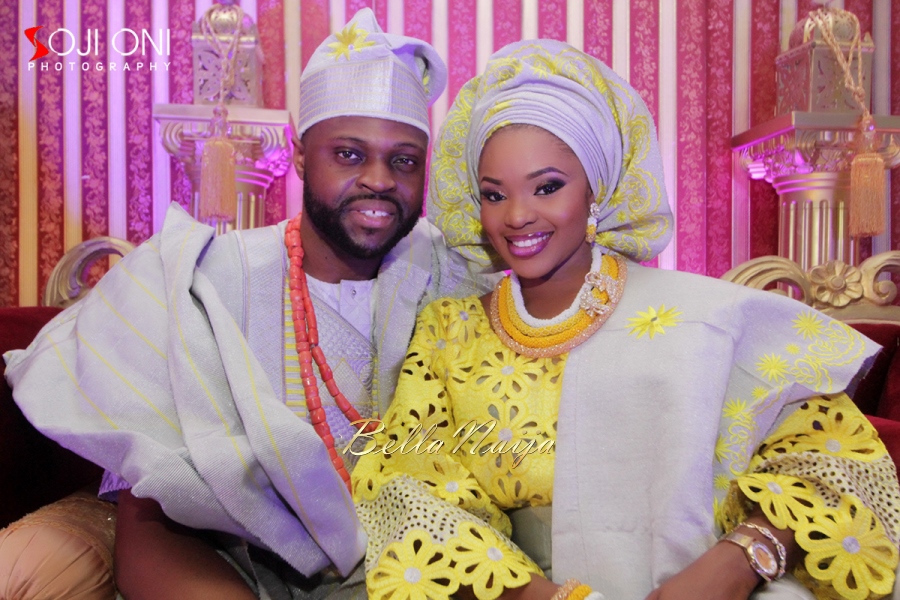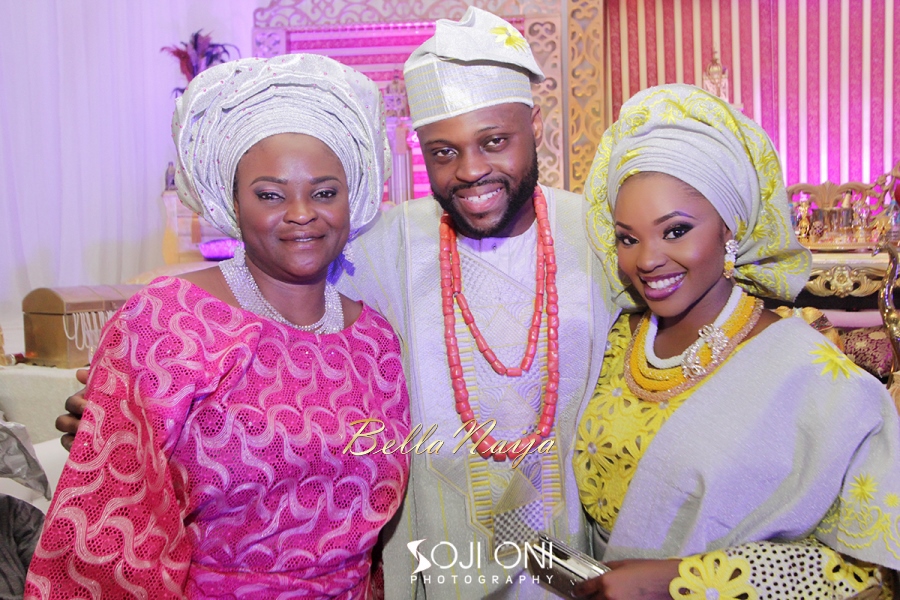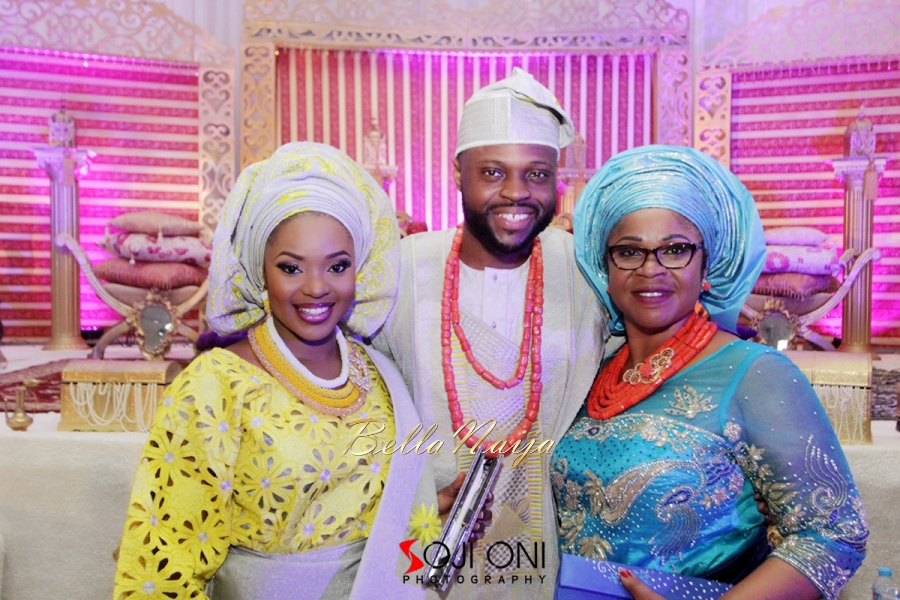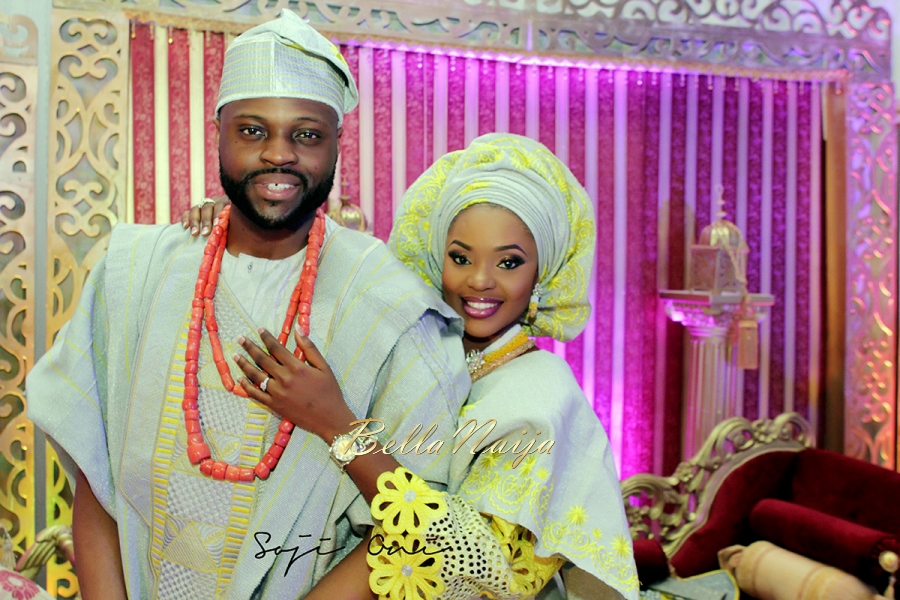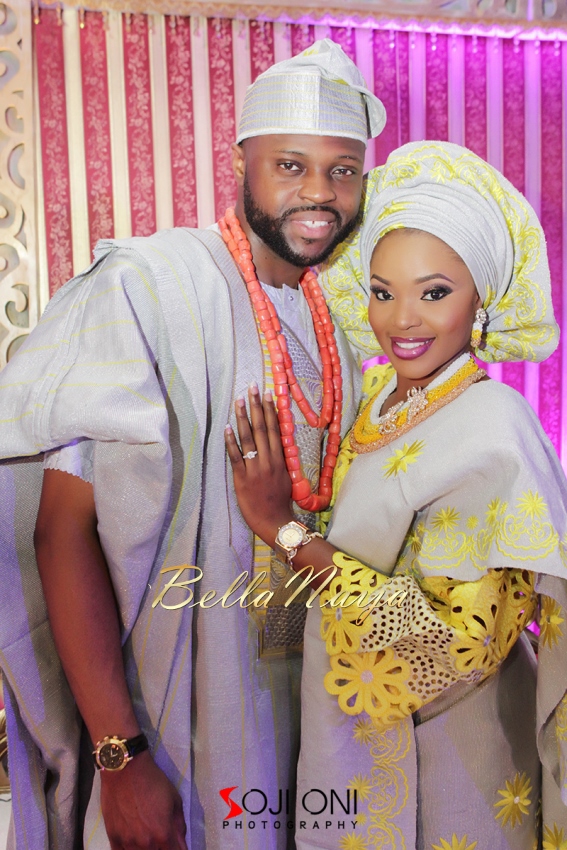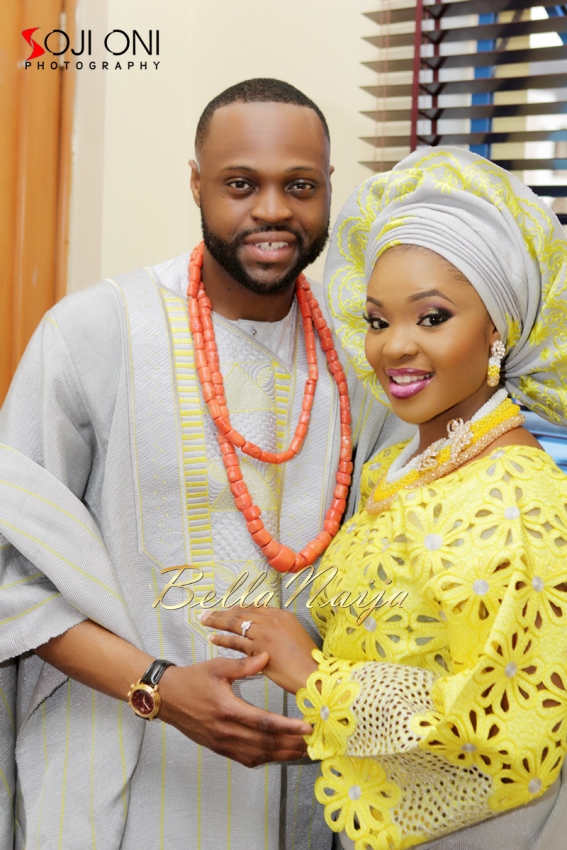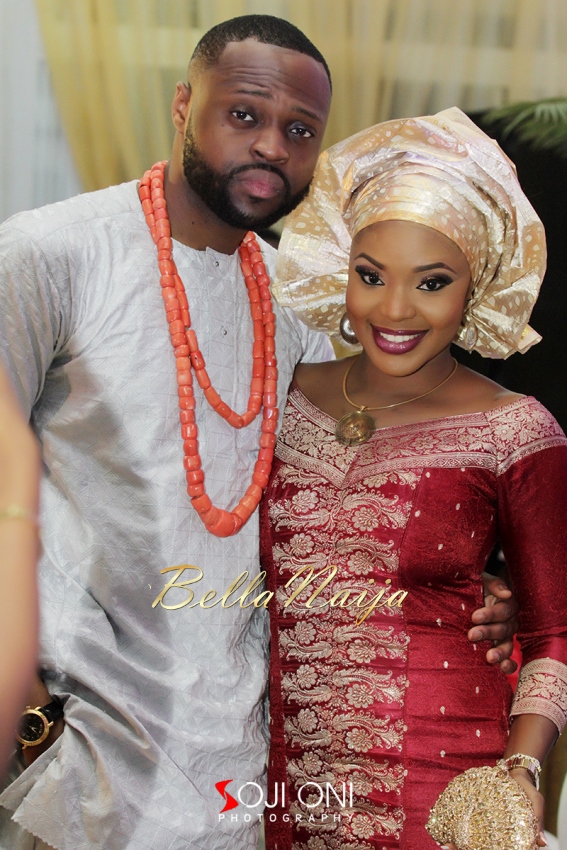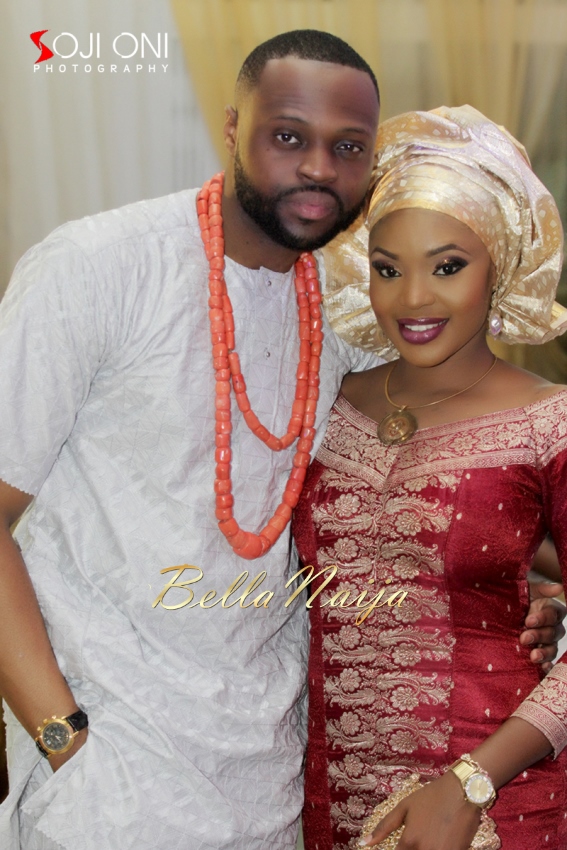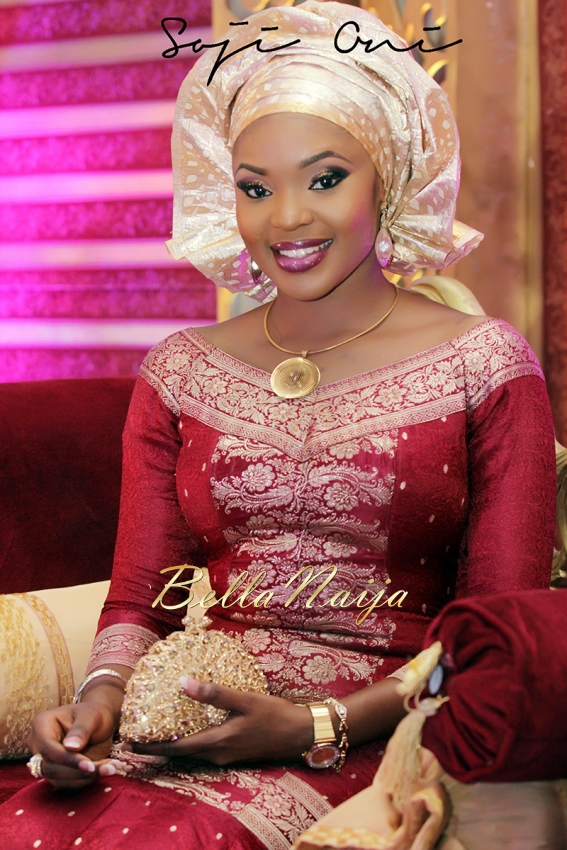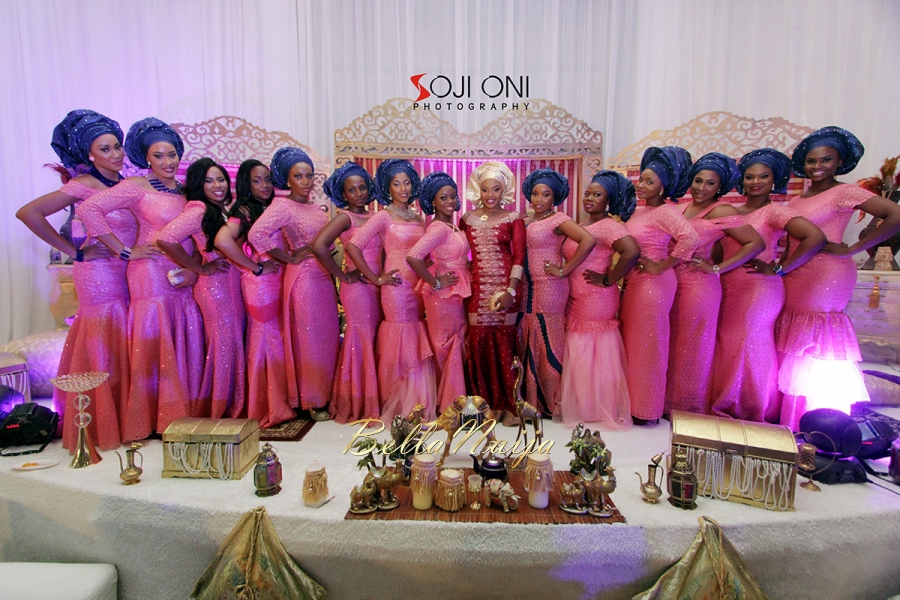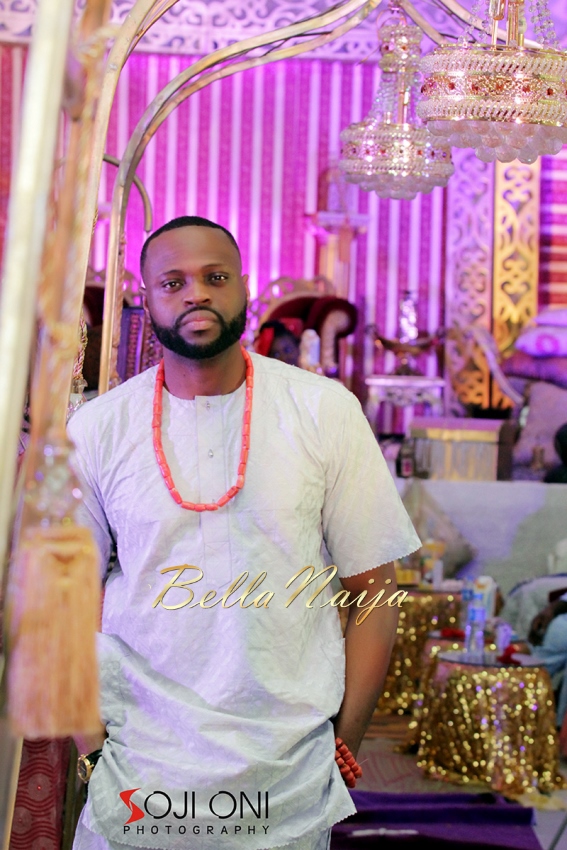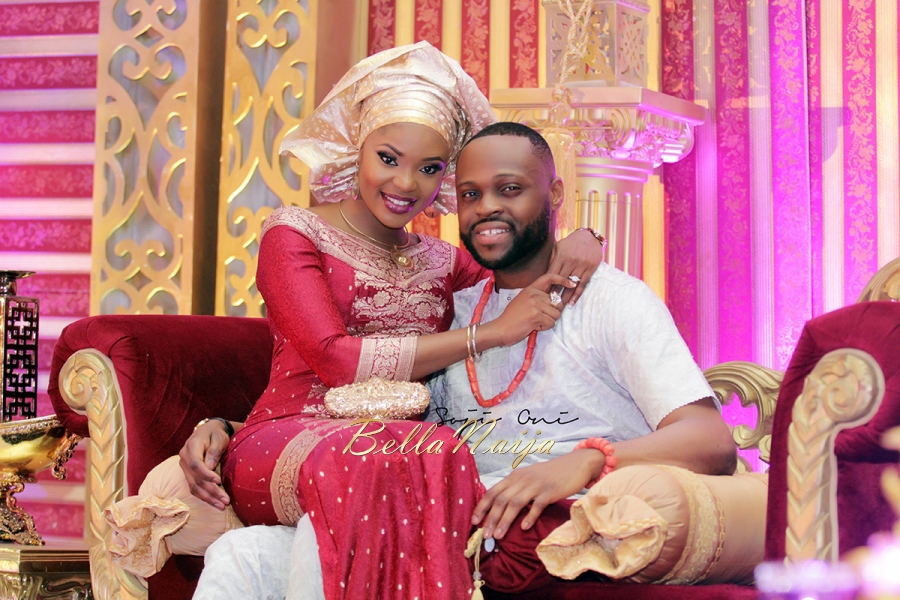 ***
Photography
Traditional Wedding: Soji Oni | instagram.com/sojioni
White Wedding: Jide Akinyemi | instagram.com/jideakinyemi
Wedding Planner: Traditional and White wedding | 2706 Events – 08105342290, 07068047170, email: info (at) 2706events.com | website: www.2706events.com | Instagram: @2706events
Wedding Info – Dates, Venues, Colours
Traditional Wedding: Thursday, April 16, 2015 | Bride's side: Silver and burgundy & Groom's side: Purple and Lilac
Church Wedding: Saturday, April 18, 2015 | Royal Blue and Yellow
Traditional Wedding:The Bespoke Center, 4th Roundabout, Beside Germaine Autos, Lekki Expressway, Lekki, Lagos
Church Wedding: CITY OF DAVID, COD Church Road, Off Ligali Ayorinde Street, Dideolu Estate, Victoria Island, Lagos
Reception: The Ark Event Center, Block 2 plot 3, Okunde Blue Water Zone, Off Remi Olowude Street, Lekki, Lagos
Wedding Attire
Wedding Dress: Lazaro Bridal from Bella Bianca Bridal Couture, Chicago
Red Rose Bridal Bouquet: Rume Florals
Traditional Makeup
1st & 2nd outfit: Eeswat Makeovers
3rd outfit: Zainab Azeez
White Wedding Makeup: Banke Meshida Lawal of BM|Pro
Bride's Traditional 1st outfit: Lace – SAS Textiles | Coral Beads – Iyawo 08077375228
2nd Outfit: George Gold Jewellery | Coral beads – Iyawo 08077375228
3rd Outfit: Aso Oke – Bisbod | Beads – Beads by Oma
Vendors
Traditional
1st cake (Treasure chest box): Cakes by Tosan
2nd cake: Helado Delicia – 07033234763
White Cake: Opindos – 08033013171
Cocktails: Mandies Cocktails – 08178798361
Desserts: Sweet Cravings – 08033360261
Food 1: Friendly Foods – 08033041129
Food 2: Spoliers – 07035819241
Drinks: La Veeta Ventures – 08022225565
Small Chops 1: 12 baskets
Small Chops 2: 7 baskets