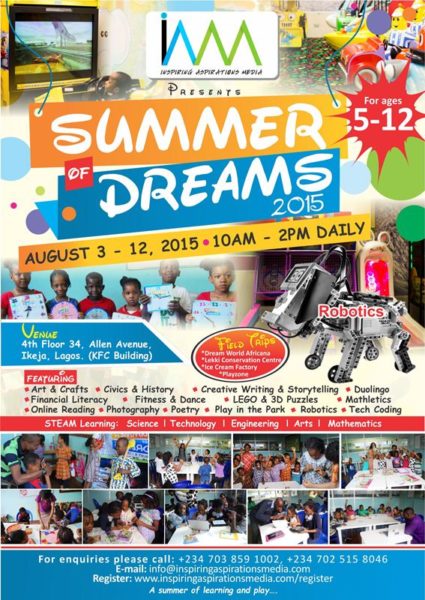 Looking for a 21st Century Summer Camp where your kids are introduced to the skills of the future outside the four walls of the classroom in Lagos? Summer of Dreams Kids Camp is where to look! Subjects and activities include Robotics, Coding for Kids, Financial Literacy, Mathletics, Duolingo, Online Reading, Arts and Crafts, Civics & History, Creative Writing/Storytelling/Poetry, LEGO, 3D Puzzles, Play at the Park with Photography, Fitness & Dance Musicology; Fun Days at Dream World Africana, Playzone, Lekki Conservation Centre, Fish Factory (where they will be handed Mini Aquariums to tend all Summer long) and Ice Cream Factory (where they get to see how Ice creams are made with scoops to take away). Treat your Kids to a memorable Summer Holiday without breaking the bank!
Summer of Dreams is designed to nurture a new generation of creative thinkers and doers as well as address gaps in the school curriculum. We inspire creativity, critical thinking, digital literacy, skills development and global citizenship in Kids. We take kids on a self-directed learning adventure outside the four walls of the classroom. The kids are exposed to various learning materials and experiences which help them think, learn and do better in school and life. We are spurring a love for learning, imagination, innovation and play.
To register your child, visit http://inspiringaspirationsmedia.com/register/
Discount available for siblings!
For more information please call: 07038591002, 07025158046 | Email: [email protected] | Twitter: @I_A_Media | Facebook: facebook.com/InspiringAspirationsMedia | Website: www.inspiringaspirationsmedia.com
__________________________________________________________________________________________________
Sponsored Content