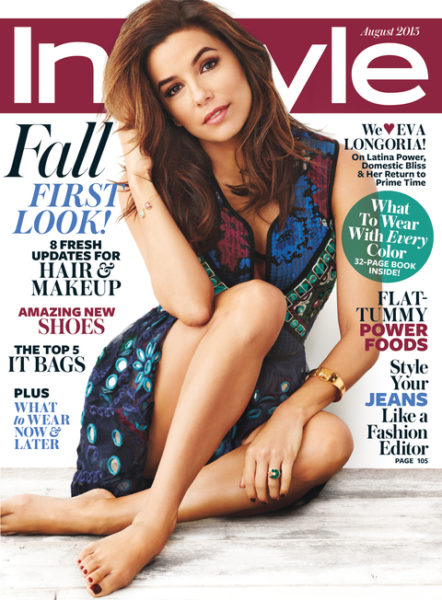 She's got the legs!
Eva Longoria is the cover star for the August 2015 issue of InStyle magazine, photographed by Giampaolo Sgura and dressed in a chic print Burberry dress.
In the magazine she shows off her serious side, talking politics, charity, and the challenges (and thrills) of producing.
For the editorial shoot she is gorgeous in looks by Michael Kors, Proenza Schouler, and Burberry.
Here's what the 40-year-old actress had to share with the mag:
On her career: "I want to be the female George Clooney: He directs, produces and stars. I want to be in charge of the final product."
On her boyfriend José Antonio Bastón: "I'm in a happy place right now, so it's easy to be open and in love."
On her biggest beauty tip: "I've been using individual false eyelashes since my pageant days. Squeeze the glue out and let it dry for a minute before applying lashes. If you put them in the glue right away, they slide like crazy."
On her advocacy for Latino causes: "We're the fastest-growing demographic in the United States, but I don't want us to just be a large group. We have to be influential. We have to stand for something."
To read more about her feature go here.
Credit: InStyle Magazine