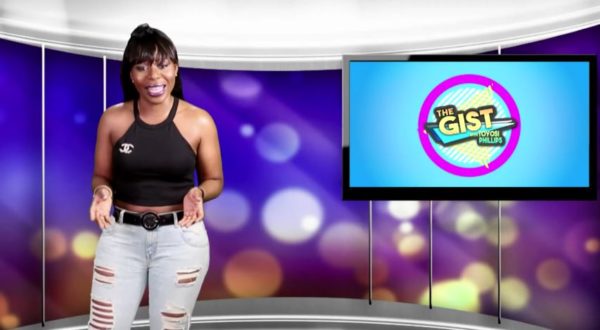 Basketmouth gets a day named after him in Houston, Bobbi Kristina's family members banned from hospital room, Nollywood actor Emeka Ike allegedly beats wife into coma, Tyga's 'fetish' exposed, Alibaba launches new TV show and more!
PLUS a candid, hilarious interview with Waconzy! Waconzy graced The Gist set with his wit and fun stories.
Here are some tidbits from the interview,
He's a born again Christian.
"No to premarital sex. Sex is more spiritual than physical. Sex is the biggest weapon of the devil. The girl I'll get married to will be a virgin. I've already found one."
When Toyosi asked if he's a virgin, he laughed and said, "that's a question for another day".
He's lost a lot of weight,
"Girls like it when guys don't go too fat."
People 'dash' him money all the time. Someone gave him $50,000 last week.
He's been to "about 90% of the world" promoting his music, and has an album out in America.
"I could be in a country for just one day."
"Wacky" and "zany"
Him and Diddy met in Miami and took a photo together.
He once said he wants Seyi Shay to have a baby for him! But she's no longer his celeb crush.
Watch the interview to find out who, and more!
Watch!