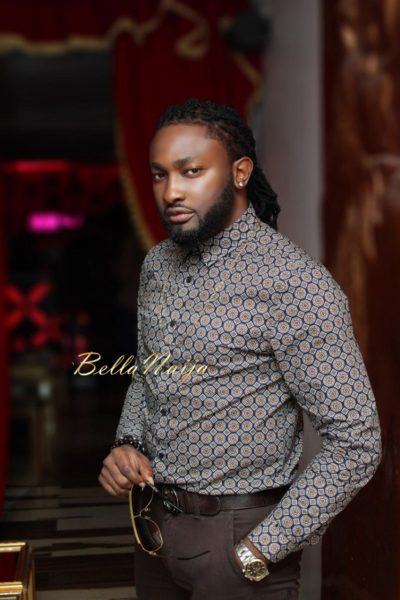 Model, actor and TV host Uti Nwachukwu had his birthday a few days ago and to celebrate he hosted a private dinner for close friends and family.
Known for throwing a lavish party every year for his birthday, Uti shared the reasons for making things pretty lowkey this year.
According to him:
'This year I decided to go back to how it all started. Actually I wasn't going to do anything for my birthday this year because I've been so so busy and I really wasn't in the mood for those huge parties. I was due in the UK and a lounge there had made plans with me but I had a serious workload here so I had to stay back.  About a day to my birthday I spoke with one of my mentors and he said EVERY BIRTHDAY is a sign that God is renewing you so you should at least acknowledge that with some sort of thanksgiving and celebration, no matter how small. I sat and thought about it and realized he was right. So I decided to just have a very intimate home cooking style dinner with MY family and very few Pals from primary, secondary school, University, NYSC & my early days as young hustling entertainer – PLUS those who were there for me before the fame and people who have supported me one way or the other. So it went exactly the way I pictured it. I was filled with so much joy gratitude happiness and peace. It felt good to bond with them all over again. I left there feeling so elated.'
The event was attended by Enyinna Nwigwe, Frank Osodi, Onah Nwachukwu, Annie Idibia, Ifeanyi Nwune, Yolanda Okereke, 2face Idibia, Ebuka Obi-Uchendu, Muna Abii and more.
Uti also shared with us his thoughts on getting married. According to him 'I meant every word I wrote about marriage in my exclusive article for Bella Naija. It isn't about age or what not. Until I find the person who makes me feel that way. I am not going to bother. But by God's grace and his will. It shouldn't be too long from now. Hahaha. I'm just grateful to be Alive, Healthy, Happy, at peace with myself and I can afford to pay my bills. God has been too kind and faithful to me'
The Dinner took place a new spot called BLD by Play and we've got the exclusive photos!
***
Guests
Uti & Guests
Nom nom!!
Photo Credit: Efe Lopez (@Efelopezfotography)