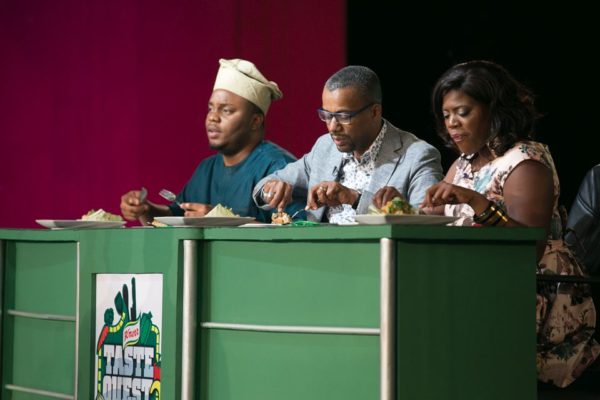 Contestants went through a training session by the judges on the previous episode of Knorr Taste Quest and after the task, they were officially admitted into the 'Master Class'.
On this episode, a guest Judge – Chef Imoteda came on board for the first time on the cooking reality show, Knorr Taste Quest. Viewers were given the opportunity to determine ingredients which will be used to prepare meals. The battle became real as the ingredients used were sent in by fans on Facebook from Kaduna, Port- Harcourt and Lagos. Viewers requested that Garri should be a part of the ingredients needed for the three course meal in this episode.
The contestants were given 60 minutes for the three-course meal which should include Garri, Sweet Pepper and Garlic chives as compulsory ingredients for the starter. While Garri, Groundnut, Chicken, Cabbage, Peanut and Corn were compulsory ingredients for the main dish. The dessert should consist of 'Chocolate Mousse' and a dish prepared with Ata-rodo, Pineapple, Pear, Lemon, Coconut, Grapes and Garri.
After 60 minutes, Ugochi was first to present her dish. She was only able to come up with two dishes. Her main dish was Eba with vegetable soup and chicken, while her chocolate mousse did not turn out well. Balogun was scored high on his presentation even before the judges tasted his dishes. His starter was 'Vege Tempora'; the main dish included Asian mixed peppers, cabbage, diced chicken, boiled corn, and spring rolls with Garri. Dr. Robert, Chef Fregz and the guest Judge; Chef Imoteda enjoyed every bite of his dishes and jointly agreed that his dessert was an excellent take on Chocolate mousse.
Balogun unanimously emerged the winner of the day's task and was rewarded with N20,000 by the Knorr brand. Dapo and Onisarotu were placed on probation, while Zoey and Chidinma were evicted as their performances were far below expectations.
Check out photos from this episode below!
Visit the website at www.knorrtastequest.com, like and follow the Knorr community on Facebook www.facebook.com/KnorrNigeria | twitter @KnorrNigeria | Instagram @KnorrNigeria
_________________________________________________________________________________________________
Advertorial– Sponsored Content