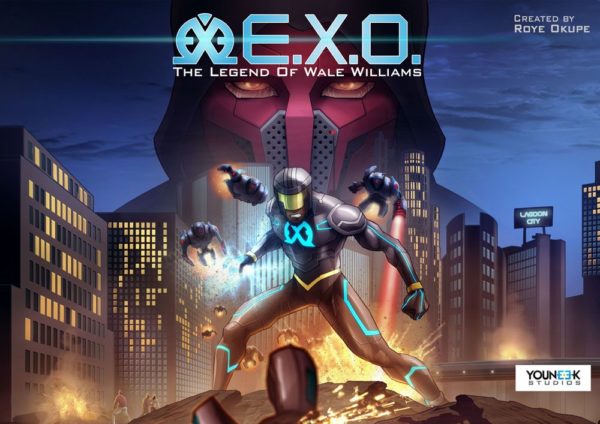 What do you think about the idea of an animated Nigerian super hero? Cool, right?
Well if you agree, then Roye Okupe, has created E.X.O: The Legend of Wale Williams – a super hero story set in futuristic Nigeria.
Synopsis
A superhero story about redemption, set in a futuristic, 2025 Africa! The 136 page graphic novel follows the journey of Wale Williams; an impetuous young man who inherits a suit with super powers after his father goes missing. Tricked into returning home to Lagoon City, Nigeria following a five-year absence, Wale embarks on a journey to investigate his father's mysterious disappearance. As he comes to understand the suit's powers, Wale realizes he must restore hope to his city by preventing catastrophic attacks from the sociopathic, Oniku, leader of an extremist group called The CREED.
Read the first chapter for free here.
Watch the trailer below:
Roye noted that his interest in superheroes and cartoons started from the'80s and Teenage Mutant Ninja Turtles. "I started E.X.O. for 2 main reasons. First of which was to finally step out and take a risk to make my dream come true. I have always had a dream to create a superhero from Nigeria where I was born and raised. The second reason was pride. I wanted to do something positive and inspiration for my country (Nigeria) and my continent Africa. When people see E.X.O. either animated on screen or read as a graphic novel, I want them to see a different side of Africa (our booming tech industry, amazing city architecture, unique culture, African humor, Afrofuturism etc.), a side that is not regularly shown in mainstream media."
He explains more in this video below:

Like what you've seen and want more? Click HERE to buy the full novel.