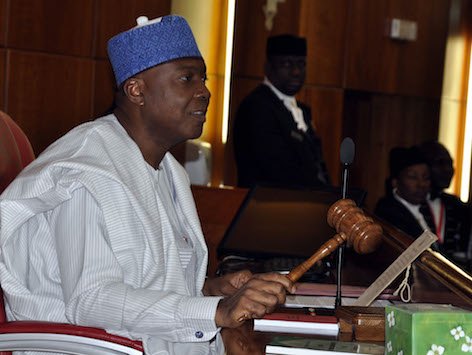 After failed attempts to avoid appearing before the Code of Conduct Tribunal, Senate President, Bukola Saraki, has finally acquiesced, and will appear before the tribunal today, Punch reports.
Speaking on his predicament, Saraki told newsmen:
"I will be there, I have nothing to hide. One was exercising his own right both at the Federal High Court and the Court of Appeal. So, I will appear before the tribunal. The most important thing is that I believe in the process and I will ensure that I am there tomorrow morning."
Furthermore, a statement released by the Senate president's spokesman, Yusuph Olaniyonu, reinforced Saraki's promise to finall appear before the tribunal:
Following the adjournment for the determination of the motion on notice and the substantive suit before the Federal High Court to 30th of September and the appeal pending before the Court of Appeal adjourned to the 29th of September 2015, the Senate President has decided, as a law abiding citizen, to appear before the Tribunal in the interim.

Dr. Saraki has taken the decision to attend the Tribunal sitting to demonstrate his respect for the rule of law in spite of his personal reservation on the process of his trial and the purpose it may be intended to serve.

Dr. Saraki wishes to assure Nigerians of his absolute belief in the judicial process and is therefore confident that the course of justice would be served at the end of this matter.