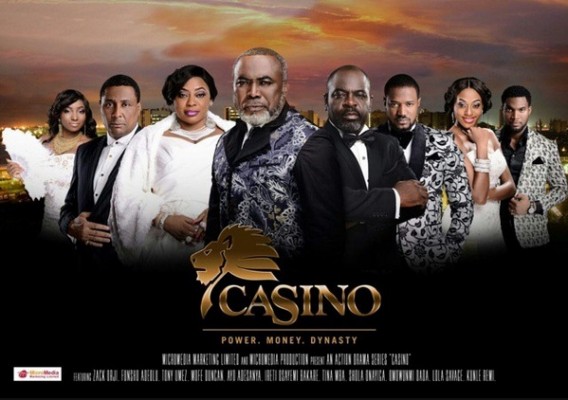 We love how new serial features are springing up in the Nigerian film industry – it's so exciting!
BN has got the scoop on another drama series called 'Casino'. It is going to be action-packed and unlike any other series.
It features Nollywood stars like Zack Orji, Ireti Osayemi Bakare, Ayo Adesanya, Shola Onayiga, Funsho Adeolu, Mofe Duncan, Tony Umez, Omowunmi Dada, Lola Savage, Kunle Remi and more.
'Casino' will be released as both a movie and a drama series.
It is an action drama series revolving around the control of a political dynasty, economic wealth of a state & family business which fosters infidelity, assault, seduction & betrayal. It is built around a pseudo State named Coastal State controlled by a Godfather that everyone must obey and bow down to. The glamour and wealth of his business interest across coastal state sets the players, haters, and innocent and underworld gangsters inside the famous Grand Casino.
Plot:
Prof. Emeka C. Douglas is a Billionaire Businessman & Industrialist; a Political Godfather who controls the entire economic activities of his State. His son, Patrick Douglas is being groomed to inherit his father's conglomerate especially his Political Kingdom. Patrick is married to Adamma whose best friend, Monisola's ambition is to attain the exalted position of Mrs. Douglas.
'Casino', produced by Micromedia Marketing Limited, was unveiled at a media parley held recently at Federal Palace Hotel.
See photos from the media parley below.