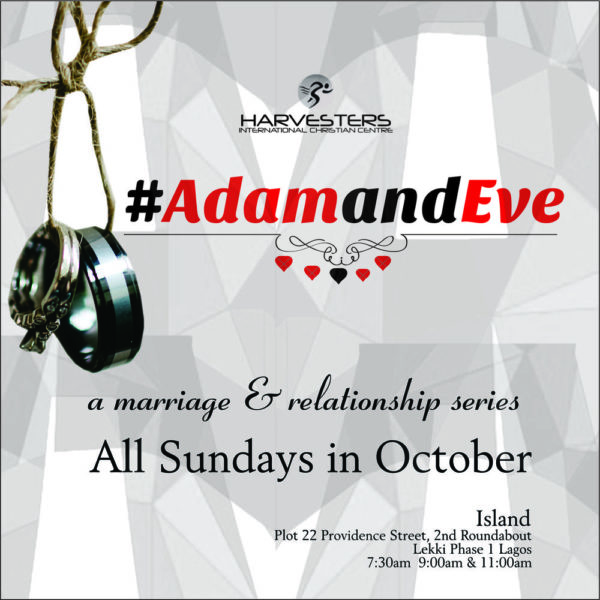 Few days after hosting one of the largest gathering of Lagosians with Pastor Nike Adeyemi, the Island centre of Harvesters International Christian Centre is set to commence its third service this Sunday with #AdamandEve; a relationship and marriage series with Pastor Bolaji Idowu.
Harvesters is fast becoming a home for the young and upwardly mobile Lagosian, as thousands throng to its Sunday services at the mainland and island centres of the church. The relationship and marriage series at Harvesters is one of the most attended events in Lagos as it is always a great time of insightful teachings for singles, counsel for the engaged and helpful tips for the married. This is in keeping with the mission of the church in changing lives and raising pacesetters.
Date: Every Sunday in October
Time: 7.30 AM, 9 AM & 11 AM
Venue: Harvesters Christian Centre, Plot 22 Providence street, 2nd Roundabout, Lekki Phase 1, Lagos
So if you are single, then don't miss the first service series tagged 'Singles Revolution' which starts at 7:30AM with an after-service hangout at Oasis in Ikoyi for all Singles to mingle. And if you are married or engaged, then don't miss either the second service (9:00am) or the third service (11:00am).
________________________________________________________________________________________________
Sponsored Content