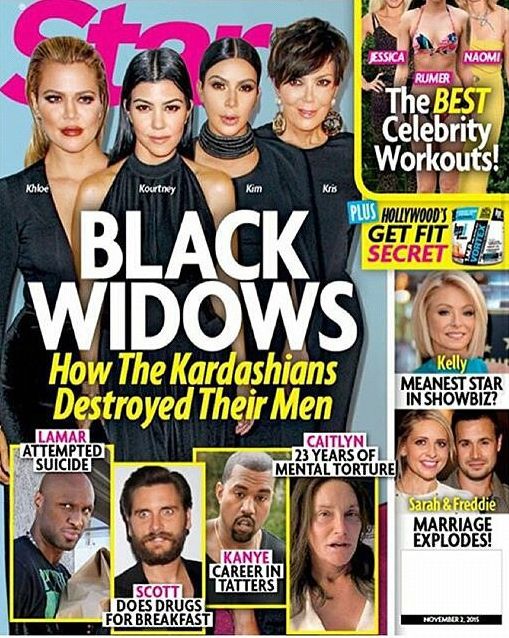 Celebrity fashion, news and gossip magazine – Star, is attacking the Kardashians and is saying they have destroyed their men.
In a recent issue, they referred to the family, specifically Kim, Khloe, Kris and Kourtney as "Black Widows", and goes on to say "How the Kardashians destroyed their men".
We can't deny there has been a lot of drama when it comes to the Kardashains. Lately;
Lamar Odom was checked into a hospital after ingesting a dangerous amount of drugs. The incident is also been rumored to be attempted suicide. He and Khloe have reportedly called off their divorce and are looking at working out their marriage in their Los Angeles home.
Scott Disick, Kourtney Kardashian's partner, has been checked back into rehab for drug and alcohol addiction. After their split, he had been spotted travelling with several women, soon after which he checked himself into rehab around the time Lamar was discovered unconscious.
The magazine claims Kanye's career is "in tatters" The music artist, just threw a lavish and fun pregnant birthday for wife, Kim. There have been no rumours of Kanye's career losing steam, so we're not sure what they're talking about.
Lastly, the mag claims Caitlyn Jenner (Bruce Jenner) has been through 23 years of mental torture. Now, the transgender has been speaking at several inspiration events and seems to be finally living her life.
Do you think Star magazine is right? Did the Kardashians have a hand in the unfortunate turnout of their men? Share your thoughts.