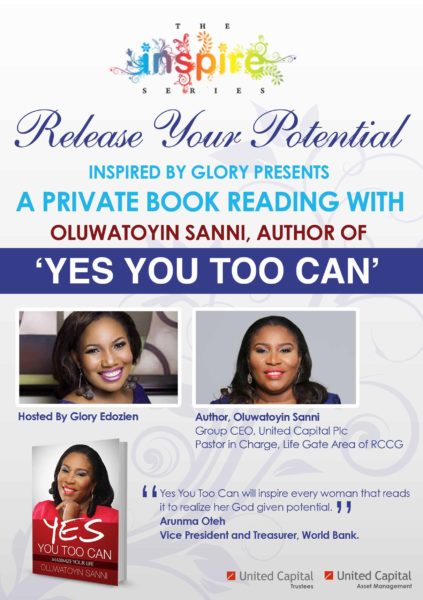 Understanding who you are- your skills, talents and attributes, is vital to accessing and maximising life's opportunities. Many times women feel confined to roles society places on them, we are unsure of how to utilise our talents and take steps necessary to filling our goals and ambitions.
Oluwatoyin Sanni's book- Yes You Too Can– provides a blue print to understanding how to maximise life's opportunities. In her book, she shares her experience not just as a woman, but an African woman, which in itself can be a complex dynamic. While women around the world have recorded modest progress in the fight for equality, the African woman is arguably still far behind. Her book shares real life scenarios with encouraging advice to African women. She draws on her life experiences and the Bible for secrets to living a successful and fulfilled life. She teaches that life is a gift to be maximized and provides a roadmap for this. Highlights include, Choose Your Path, Depth of Character and Sharpening the Sword.
According to Arunma Oteh, Vice President and Treasurer, World Bank: "Yes You Too Can will inspire every woman that reads it to realize her God given potential. Toyin, a Proverbs 31 woman, an ordained Pastor, an outstanding wife and mother as well as successful professional shares personal tips on how you indeed can. The most powerful tip is maintaining a strong personal relationship with God".
Your Invitation to the Event: This event is by invitation only. However we are giving interested BellaNaija readers an opportunity to attend. To receive a personal invite please send an email to [email protected] with a specific question you'd like to ask Toyin Sanni.
________________________________________________________________________________________________
Sponsored Content