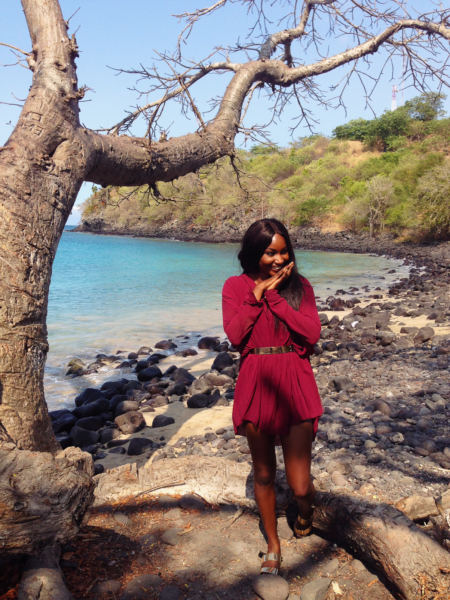 I wrote all that you read last week after being inspired by the children of the fishermen. Their joy and laughter broke through to the part of me that did the writing, and like an opened-up dam, the words begun to flow.
It is true that I didn't quite know what to expect in Sao Tomé. The first morning I spent in Sao Tome, I made a cup of tea, and sipped it slowly on the balcony. It really was a beautiful island. This, quite factly, was the first place I had EVER been to that was more beautiful in reality than it was – captured in a photo or on film. There was the water, the volcanic rocks, the intimate beaches and vast expanses of trees upon trees on hills upon hills. Once, I was driven past a saw-mill, and I saw these HUGEEEEEEEE tree-trunks and I started bouncing and pointing at them with excitement… All I could see in my mind were the many basic furniture I could make and sell with all those beauties! Walahi, if I wasn't a woman, and if the ganglion in my wrist didn't press against my nerve and hurt so damn much, I would turn one of my gardens into a carpentry workshop. My landlord go just kukuma tayah for me kpata-kpata.
But I digress…
I liked it here. I thanked God for leading me to this place. Sometimes, I think that what I appreciate the most, are a beautiful moments in extraordinary places, a simple life and a great love – a life free of anxiety, regrets and unending toil. This is my dream. And this is what I choose for myself – as much as possible. And at that moment, on that terrace nestled on the hills of Sao Tomé, I experienced all three to be true – all of it together, all-at-once and completely. I loved it.
Breakfast was fresh. Freshly baked buns, lemon tea and fresh fruits… The birds buzzed a lot. My ear-drums started to buzz. City-girl problems. We have adapted to extra-loud sounds booming from extra-large speakers at events… we have even adapted to the generator- noises, and we barely flinch when we are seated by booming speakers at weddings, but alas! A little bird was singing merrily and my ear-drums were vibrating seriously. Hehehhehe! The irony…
I had nothing better to do than explore the island. I tried to compare the "feel" of Sao Tomé to all the island-cities I had been to and realized that it was like a mix of Zanzibar and Mauritius with a distinct European vibe. That reminded me of the Italian town – Porto Venere. Beautiful town, but strange place. All the oyinbos there were just staring at me like I was an extinct specimen, pstchewwwwwww.
Anyways, back to ST. I decided to get some fresh fish from the locals, and so we (myself, the host and the guest) decided to set out to the fisherman's bay area where we met a few dozen locals gathered together. There we met the locals having a heated meeting that led to the writing of the article Climate Change and Its Effects on Africa's Smallest Island published on BN here.
The bottom-line of the whole issue that had gotten the fishermen so riled up was that they (the locals) were environmentalists and conservationists at their core. Anything that threatened the balance of their environment for worse was illegal.
I was distracted watching a little girl build a castle in the sand when the crowd broke into an excited chatter that disrupted my thoughts. I looked over my shoulder, and saw a military truck pull-up and four soldiers step out of it. The Nigerian in me was fully prepared to pick-race – because let's be honest, I expected the crowd to disperse like smoke. And just in case they did decide to take off, I sharpingly bent down to pick my slippers.
But… no such thing happened.
The soldiers simply came, confiscated the illegal fishing net and asked how the guilty fishermen had come to own such a thing. When the guilty fishermen refused to come out of the water and answer query, the soldiers simply thanked the locals, gave them their numbers and asked that any more of those incidents were to be reported to them and simply drove off.
I bought two red snapper fish and we went on our way. We spent the afternoon touring many local businesses… Na e fear no catch me, me con waka enter a boat-building shop, con dey price markiiit – as a proper Naija girl. The boat-builder offered me a boat for a "good price".
I said, "Okay, how much?" It was a beautiful, 20-foot, dual-engine, decked boat.
Oga say na 7,000 EUROS, I just laugh, take style shift…  I tell am say I dey come. Bros no know say me I dey count my kobos for future use… We left his shop and continued our waka.
BOAT. 7,000 Euros. A very beautiful wooden boat though. Hand-crafted by a French-Sao Tomean boat-builder… Ezzzzzz, not bad, but I am still waiting for the price of the car of my dreams, to come down God to surprise me before the end of this year with a WHITE 2014 FORD EXPLORER.
Oghene Chineke God, see how I wrote it in capital letter, dazzit. See how I have been begging you since last year for this car nau, ahn ahn. Please just vex and do this for me naaaa, haba. Oya, bring 2013 own. I no shakara again.
Before I digress again, but thank you in advance OCG (Oghene Chineke God).
I have to say, that it was a most pleasant day. We also went to the cocoa factories. For the first time in my life I ate some roasted cocoa beans, and sucked on fresh cocoa seeds from a newly harvested pod, given to us by a group of elder women whose job it was to harvest cocoa pods from a 40-hectare plantation. I found the taste of fresh cocoa seeds surprisingly sweet – that is until you bite into the seed (to your immediate regret), because that sh*t is so bitter that you cannot spit it out fast enough.
Next stop, PALM WINE time!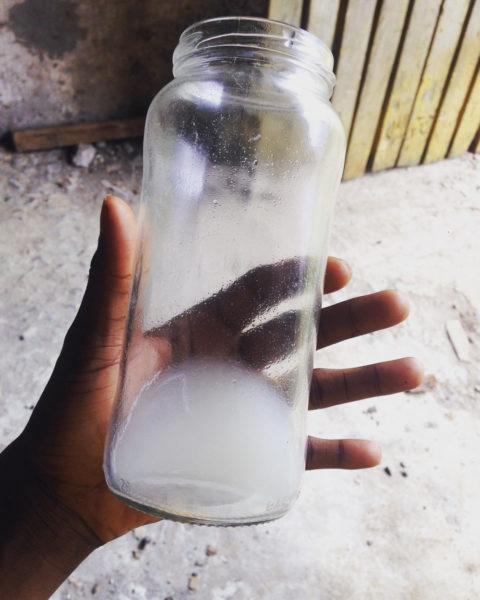 We headed to the home of a local palm-wine tapper. His teenage daughter sold to us two jugs cups of freshly tapped palm-wine. And the taste… I can't describe it. Let's just say that half-way into my jug very modest cup, my eyes turned into two squinty slits, and everyone teased me about it. We continued… visited even more plantations, climbed through rocks and hills to find lost, hidden gems… the remnants of generations of a once-thriving, now past-colonial era. Stone houses, sunken ships, what was left of a battle-tank and many old cars now abandoned to rust.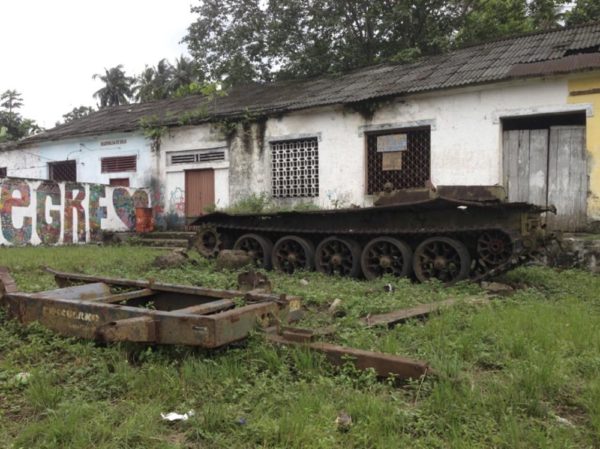 Over the next week, it was mostly about exploration, and even more exploration. We cut through dense jungles on a rented 4 x 4. The Suzuki brand seemed to be a favourite of the islanders – don't know why, and they seemed to love the 2-door mini 4 x 4s (there were soooooooooooo many of them on their roads). But cutting through dense vegetation, navigating through narrow roads and bumpy stone paths, I soon found out why. Those babies might have looked small, but were hella strong. And ideal for their environment.
And so we went, many a-times in the island's favourite machine. We went through the longest bamboo farm (I had ever seen in my life) to visit a local brewery where men manually made rum from sugar-cane sticks.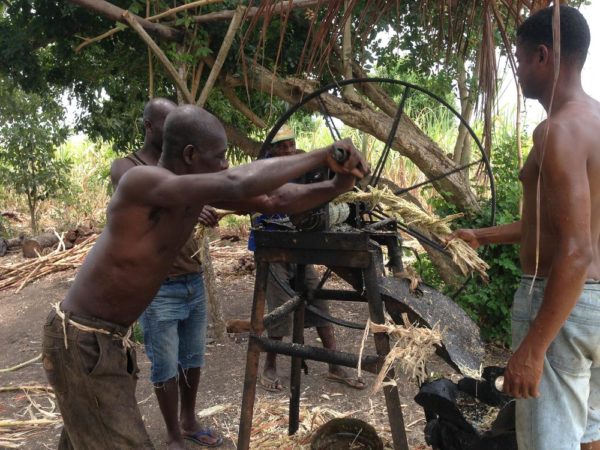 We visited the blue lagoon and its waterfall, we also visited at least a dozen beaches, at least twice as many farms and families, we ate calamari and fish in a local shed…
And continued our exploration through the hills to the middle of the forest – to see a most beautiful, ethereal abandoned stone-house that had been reclaimed by nature. The drop from the edge of the walls to every tree below could make your heart skip.
It was truly breath-taking… Such a glorious place!
To be continued…