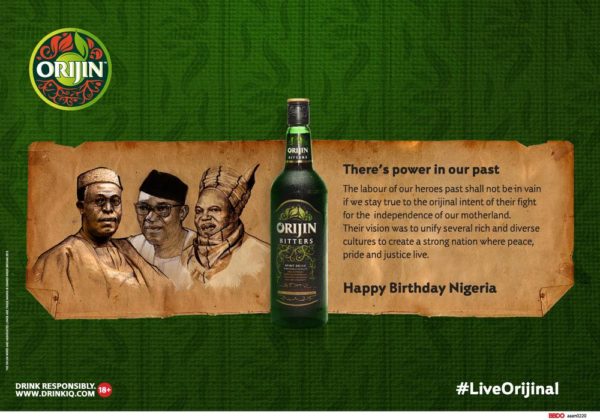 Orijin, your premium contemporary alcoholic blend with the flavours of African herbs and fruits celebrates with Nigeria on her 55th Independence anniversary.
Orijin acknowledges all the labors of everyone who has been a part in making this country great. We should endeavour to remember and celebrate the "Founding Fathers" who made it possible. The most famous leaders of the struggle for national independence–Chief Obafemi Awolowo, Dr. Nnamdi Azikwe and Sir Ahmadu Bello -and their peers who have been forgotten are worth remembering and celebrating today.
Beyond the struggle for our emergence as a sovereign nation, the founding fathers of sovereign Nigeria played important roles in setting up political structures, systems of governance and drafting a constitution for the nascent country.
Why don't you follow the conversation and send out your own Independence message on Twitter #liveorijinal. Orijin celebrates Nigeria's heros both past and present.
In this season of independence Orijin urges all Nigerians to "Live Orijinal".
Remember, drink responsibly.
________________________________________________________________________________________________
Advertorial– Sponsored Content