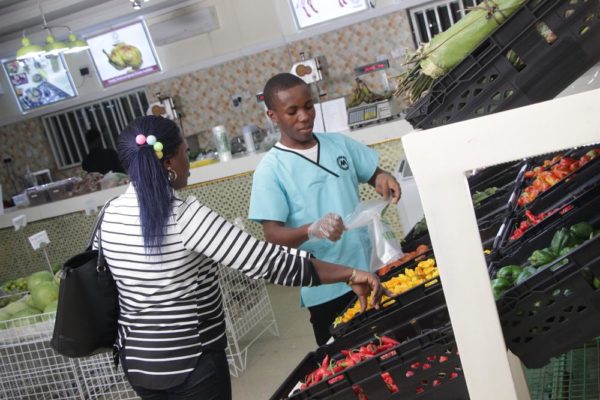 Shopping for food items in Nigeria can be quite a hassle. At Mudase Urban Market, shopping for food stuff is something to look forward to.
The creation of Mudase Urban Market was in response to the growing demand in our communities for a clean, and cosy natural food market with extended Open hours (8.00 am to 9.00 pm). Mudase Urban Market is committed to providing the highest quality of the finest fresh, natural, and hard to find food & grocery items from around the country sold in a clean, cosy, comfortable environment, at the best prices. Discover everything from regular staple food stuff (plantain, yam, garri, rice, beans) fruits, vegetables, dairy products, meat and poultry to scarce traditional spices and seafood. Apart from food stuff, you can often find cooked local food including bread and snacks. We preserve perishable food stuff in optimal conditions to maintain freshness and superior Customer Service is guaranteed.
We understand your busy schedule and have made provision for  Personal Shoppers- our Staff who will be allocated to each customer. They will understand your regular shopping needs and keep in touch to ensure you have all the food stuff you need even without coming to the Market!
Presently, all items for purchase can be found on our catalogue available on our website and ordered by calling in. The option of making payment on Delivery of items is available.
Our Services include:
Sale of Fresh food stuff and grocery items
We process and blend everything –
We process everything you've bought while you relax
Bulk blending of wet or dry items. The days of blending beans in dirty environments are over!
Frozen foods from our Cold room – Retail and Wholesale
Special cooking service –
You can order whatever you feel like eating and we prepare it in 1 hour maximum!
We can make you meal with food stuff you buy from us
Point, kill and cook service for live fish and chicken
Ready to eat meals – everything from regular meals to packs of soups, stews and sauces
We deliver everything – Lunch packs, cooked meals and raw food items everywhere in Port Harcourt
We are located at The Autograph Mall, 30/33 Sani Abacha Road, G.R.A Phase 2, Port Harcourt approximately 5 minutes' walk from Agip junction. We are open EVERYDAY! Mondays to Saturdays at 8.00 am to 9.00 pm and Sundays at 12 noon to 7.00pm.
Call us on 0815 162 0000 or 0809 162 0000 or visit our website www.mudase.market for details. Keep in touch on Instagram, Twitter and Facebook @Mudasemarket.
Below are some retail experiences of our clients:
_________________________________________________________________________________________________
Advertorial– Sponsored Content