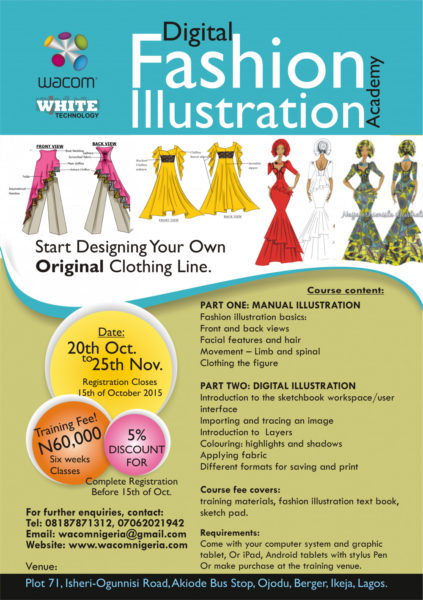 Register for the Digital Fashion Training for an Intensive Course on Digital and Manual Fashion Illustration.
Date: Tuesday 20th October to Wednesday 25th November, 2015
Venue: Plot 71, Isheri-Ogunnisi road, Akiode Bus-stop, Ojodu, Berger, Ikeja, Lagos
Duration: Six weeks training (2 days a week)
Course content
Part One: Manual Illustration
Fashion illustration basics:
The 9-head figure
The Angular figure
The fully fleshed-out figure
Front and back views
Facial features and hair
Movement – Limb and spinal
Clothing the figure
Part Two: Digital Illustration
Introduction to the sketchbook workspace/user interface
Importing and tracing an image
Introduction to Layers
Colouring: highlights and shadows
Applying fabric
Different formats for saving and print
Course fee covers training materials, fashion illustration text book, sketch pad and crouqui (template book).
Registration Closes 15th of October 2015.
For further more enquiries, contact: 08187871312
Requirements:
Come with your computer system and graphic tablet
Or iPad, Android tablets with stylus Pen
Or make purchase at the training venue
_______________________________________________________________________________________________
Sponsored Content